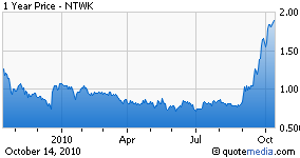 NetSol Technologies (NASDAQ:NTWK) was added to the Barchart Van Meerten Speculative portfolio. They are a multinational provider of enterprise software and IT services to the financial services industry. NTWK helps clients to identify, evaluate and implement technology solutions to meet their strategic business challenges and maximize their bottom line. By utilizing its worldwide resources, NetSol delivers high-quality, cost-effective equipment and vehicle finance portfolio management solutions.
The Company also delivers managed IT services ranging from consulting and application development to systems integration and development outsourcing. NetSol's commitment to quality is demonstrated by its achievement of both ISO 9001 and SEI (Software Engineering Institute) CMMi (Capability Maturity Model) Level 5 assessment, a distinction shared by only 94 companies worldwide. The Company's clients include global automakers, financial institutions, technology companies and governmental agencies.
This is a very speculative play and has a 96% Barchart overall technical buy signal along with 16 new highs in the last 20 sessions. The stock had a 78.85% run up last month alone and trades around 1.87 well above its 50 day moving average of 1.16. The stock has a Relative strength Index of 77.53%.
At the present time only one brokerage firm is following the stock and has a buy recommendation based on an estimate that the earnings per share will grow 20.00% annually for the next 5 years. Even without broad coverage the stock is expected to out perform the market by the Motley Fool CAPS members vote of 92 to 8 and the All Star vote of 31 to 3. This is a highly volatile and thinly traded issue so it should be watched closely.
Disclosure: Author long NTWK