Market Forces
The Calm Before the Storm
Many are familiar with the phrase "the calm before the storm." It refers to that eerie period when the air suddenly goes still, the birds stop singing, and even the insects seem to disappear. Intuitively, most people are attuned to it because more often than not it is followed by a period when the wind suddenly picks up, the skies turn ominously darker, and a downpour commences; generally, right about the time you have placed the hamburgers on the grill.
One can argue a somewhat similar sense of foreboding developed in the markets during the second quarter of 2014. Domestically, the economic releases appeared to be improving. Although, outside of the U.S., various economic challenges remained firmly in place and nascent concerns about inflation even began to pop up. Geopolitically, the situation in the Ukraine remained unsettled and Iraq was suddenly caught up in sectarian battles. As has been the case over the past few quarters, there were multiple discussions about when and how the Federal Reserve would unwind its extraordinarily easy monetary policies. Even with these various cross currents, market volatility fell; the VIX dropped to levels not seen since 2005 - 2006, as did the Merrill Lynch MOVE Index, a weighted index of implied volatilities in the U.S. Treasury marketplace.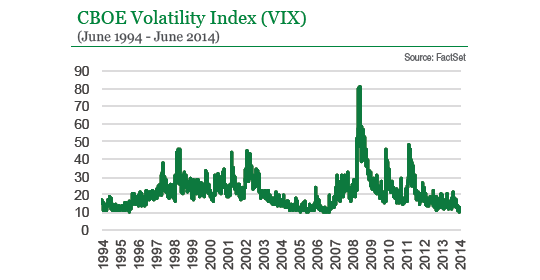 Regardless, the equity markets drifted higher and long-term interest rates drifted lower, which meant investors fared just fine during the quarter. While welcomed, some could not help but wonder if maybe this was the "the calm before the storm."
On the economic front, there was little doubt that a harsh winter contributed to the drop in economic activity. GDP growth during the first quarter was negative on a seasonally adjusted annualized basis. The question to be answered during the second quarter was if the economic drop-off was simply weather related or indicative of other economic issues.
Non-farm payroll growth averaged about 250,000 new jobs in October and November of last year. The number of new jobs dipped to an anemic average of about 115,000 in December and January, but has averaged close to 230,000 new jobs per month since February. The Institute of Supply Management's Composite Indices, Manufacturing and Non-Manufacturing, which are robust coincidental indicators, both dipped noticeably during that January and February time frame, but have since rebounded to elevated levels. Various branches of the Federal Reserve conduct surveys of the manufacturers within their districts - Philadelphia, Richmond and Dallas all reported winter-time drops, and all three have bounced back this spring. Most would agree that the dip in the economy was mostly weather related.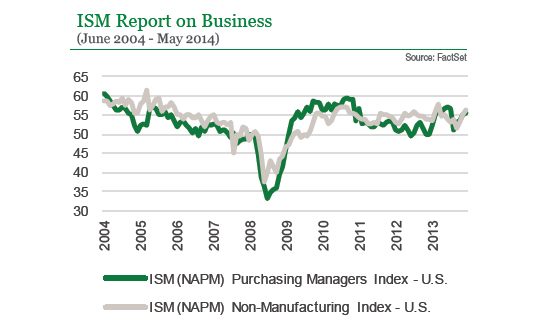 That said, it has not been all good. The housing sector has been drifting sideways since the start of last year, retail sales disappointed in May, and as mentioned there have been numerous problems outside of the domestic economy. In Europe, the European Central Bank (ECB) enacted a new round of easier monetary policies in an effort to prevent deflation and to spur economic growth in the region. Japan has been struggling with a stagnant economy for more than 20 years, and during the most recent quarter the deleterious effect of a value-added tax increase. As for the emerging markets, there are economic problems in China, (its growth rate is slowing), Russia (likely entered a recession this year), India (inflation) and Brazil (social unrest).
As for inflation, an unemployment rate above 6%, muted wage pressures, and the disinflation associated with an increasingly interconnected global economy all suggest that inflation should remain benign. However, it is important to remember that inflation is already at a very low level and given muted inflation expectations, small shifts are likely to create angst. The fact that the CPI has recently moved higher and the CPI release for May came in above expectations triggered just a little angst during the second quarter.
Regarding the counter-intuitive move in interest rates, there is a supply and demand story that helps to explain that. Tax receipts are the highest in the spring, so during those months the Federal Government is actually running a surplus. That means net borrowing/issuance by the U.S. Treasury tends to be the lowest; that's the supply side. As mentioned, the ECB eased monetary policy in June. That move was widely anticipated. It pushed European yields lower, and made U.S. Treasuries relatively more attractive - that is the demand side. While not the whole story, that helps to partially explain falling interest rates in the face of an improving economy and slightly higher inflation.
Moving on to the equity markets, the Dow Jones Industrial Average, the S&P 500 and the Nasdaq Composite all dropped by about 5% early in April. The Dow and the S&P 500 had recovered by the end of the month, but it took the Nasdaq a bit longer. In the end, all three measures were up a few percentage points from where they started the quarter.
As for whether or not this is the calm before a market storm, time will tell. If it is any consolation, when it comes to thunderstorms, sometimes it is the calm before the storm, and sometimes it isn't; ultimately it depends on the prevailing meteorological conditions. Similarly for the financial markets, the conditions (i.e., the fundamentals) ultimately dictate what happens. That is why investors are best served by applying fundamentally based investment strategies that are proven over time, exactly what we have done for 40-plus years.
Investment Approach
Equity Valuations
Valuations in the U.S. stock market continued to creep higher during the second quarter as prices advanced against the persistent slow economic growth backdrop. The price to sales on the S&P 500 approached 1.7, a new high watermark for the current bull market and a level not seen in domestic stocks since early 2001.
Despite the ascent in domestic valuations, our indicators continue to show little evidence of the types of market excesses that would suggest a deep and lasting bear market is around the corner. Additionally, the expensiveness in a small pocket of very high growth "story stocks" we wrote about last quarter that had become a concern is largely diminished after pricing across that cohort descended back toward reality during recent weeks.
From a sentiment perspective, signs of investor complacency are a key focus area for us at present. Market participants seem to be enjoying the relative tranquility of the past several months that is evidenced by low levels of volatility. By mid-June, the S&P 500 had finished more than 40 consecutive trading sessions without moving more than 1% higher or lower for the day. A similarly mundane stretch has not occurred since 1995. A survey conducted by Investors Intelligence also shows that the prevalence of bearish attitudes is near multi-decade lows. This serene atmosphere requires careful monitoring because the potential for disappointment rises as the market becomes increasingly tilted to one-side in the opinion that calmness is here to stay and prices will continue to grind upward. New data or developments that run counter to the market's generally optimistic outlook are likely to disrupt the peace, even if they are temporary.
While keeping watch for complacency, the signal from our indicators remains consistent historically with modest positive absolute return environments. Going forward, the caveat is that subsequent returns in the broad market will be more difficult to achieve assuming valuations continue to trend higher. Flexibility is essential in this type of environment, and discipline on valuation is equally so. We do not view capital risk in domestic stocks as a major near-term concern, but as we saw with the aforementioned high-flying growth stocks, risk can build in specific areas rather quickly. Diligence and consistency in the application of our time-tested investment strategies and absolute return pricing methods will help us navigate around problem areas as they develop.
A related challenge in the current environment is a shrinking opportunity set. Stocks are no longer universally cheap and much of the low hanging fruit that was available several years ago when Treasuries and high dividend paying equities were the choice du jour has been picked. A valid question clients might ask is if we need to relax the stringency employed when estimating a company's fair value given that valuations are up across the board. To be clear, the answer is no.
While clients cannot benefit when we avoid a stock because the valuation was too demanding, but then miss a strong upside move, or if we sell one early because fundamentals do not support the price and then it continues higher, our restraint on price is in place for distinct risk management purposes. Through the years it is how we earned our stripes. We are not momentum or speculative investors hoping to ride the wave and get off before it breaks. Rather, we invest when we think the market price is below what a company is actually worth based on the fundamental opportunities available to it and the cash flows it generates, and we sell when the price reflects the business' full potential.
How we adjusted exposure to technology companies during the late 1990s is perhaps the foremost example of our pricing disciplines in action. Recall that investor ebullience led prices deep into overvalued territory and our move to reduce allocations to technology appeared to be the wrong call for awhile. The S&P 500 Information Technology Index advanced almost 80% in both 1998 and 1999. At the same time, exposure to the sector in our strategies§ was descending into the mid-single digits such that clients became meaningfully underweight the broader S&P 500 Index. However, enduring the short-term pain of limited upside participation is what helped us preserve client assets when the tech bubble burst and prices came crashing down. The S&P 500 Information Technology sector went on to lose about 41% in 2000 and another roughly 26% in 2001.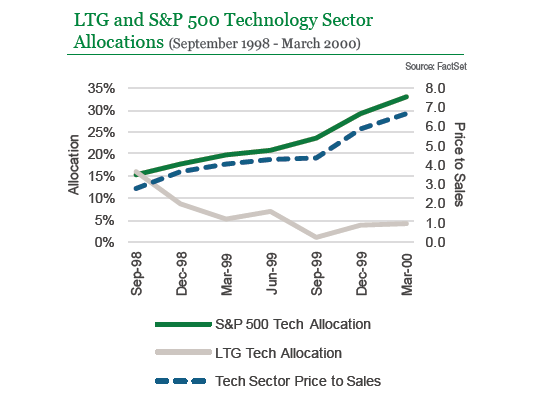 The situation in financial markets today is much different than the late 1990s, but the advantage of being able to adjust portfolios to changing market conditions and shifting valuations is no less important. Actively managing the position size of individual investments is one way we use the flexibility in our process to manage risk. We know we are not always going to time entry and exit points perfectly, but if we get the big picture right, and have the conviction to buy more if the price weakens while our thesis is playing out, or reduce into market strength, we can help capture more upside and limit participation in the downside. Moreover, while we are known for taking a long-term view, this does not preclude us from being nimble and proactive when the analysts believe a smaller or larger position size is warranted in the short-term.
A good example of tactical position size adjustments from recent years is Qualcomm (NASDAQ:QCOM). QCOM is held in certain of our equity-only and multi-asset class portfolios under our Strategic Profile strategy. The company is a leading provider of wireless communications technologies and fits the Strategic Profile strategy well given our view of its impenetrable competitive position in CDMA-based technology, as well as its strong position in 4G wireless standards. Any vendor that wants to produce handsets or infrastructure for related wireless networks must license QCOM's patents.
Following a brief period of weak performance from May to July of last year we made the decision to add to the QCOM position. The valuation had become more attractive and we continued to have conviction in our long-term view that the company would be a key secular beneficiary of wireless proliferation. The stock then rallied sharply, and later that quarter we decided it was in the best interest of clients to take some profits. Investor sentiment specific to QCOM had become very optimistic in a short period of time and our assessment of the risk/reward balance at that point argued for a smaller position size. From there the stock continued higher, and with the rising valuation in view, we reduced the QCOM allocation further earlier this year. While we continue to think QCOM shares are trading below fair value, we are sensitive to the stock's higher valuation today and are comfortable with the relatively smaller position size. If the stock were to weaken going forward we would likely add to the position once again.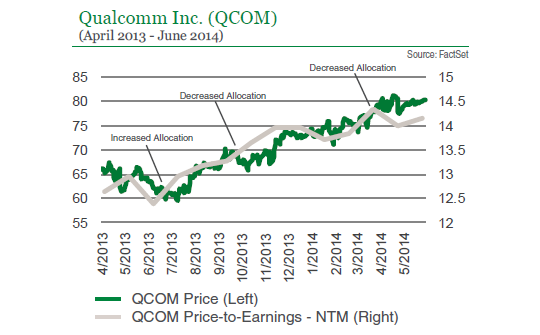 Fixed Income Focus: Corporates and Short Duration
With respect to our current focus in fixed income markets we continue to think corporate bonds, investment grade securities in particular, represent the best relative value. Broadly speaking, portfolios are concentrated on the shorter end of the yield curve and portfolio durations are generally shorter than their respective benchmarks. Our outlook is for longer-term interest rates to drift higher while short-term rates should remain anchored by accommodative monetary policy.
Longer-term interest rates went the other way early this year with 10-year U.S. Treasury yields dropping from 3% in January to 2.5% by late May. However, we argue that this was mostly attributable to technical factors such as supply and demand that prevailed in the short-term, and not fundamental factors including expectations about economic growth and inflation. The latter tends to win out in the long-run and is therefore the basis for how we are positioning bond portfolios and the fixed income segment of multi-asset class portfolios today.
Looking forward, returns in both stocks and bonds could face headwinds. The likelihood of higher interest rates will pressure fixed income markets and the higher equity valuations go, the harder it will be for stocks to continue ascending without quicker economic growth to propel sales and earnings. Identifying opportunities is becoming more of a challenge, but we continue to find good values in today's market by being selective. In our view, flexibility will remain essential to any successful investment program in this environment.