Recently, reports have surfaced that Microsoft's (NASDAQ:MSFT) Windows 8 has been losing market share. The evidence is based on the following statistics from Net Market Share: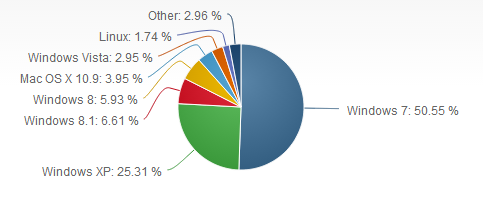 Above: Desktop Operating System Market Share of June 2014, from NetMarketShare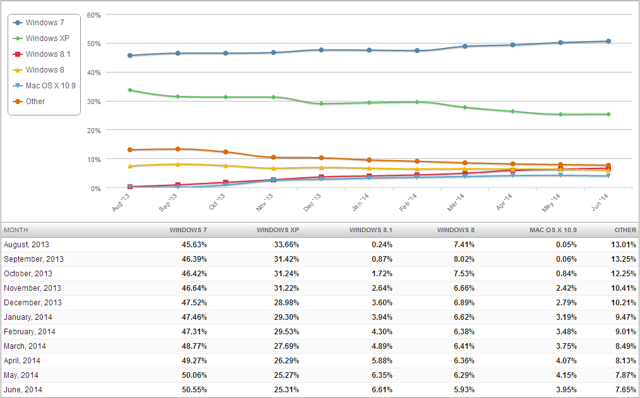 Above: Desktop Operating System Share Trend, from NetMarketShare
From this data, Windows remains to be the dominant desktop operating system with 91.5% market share. However, something quite odd has happened to Microsoft's latest installments of Windows products, Windows 8 and 8.1.
Collectively, Windows 8 and 8.1 have lost one-tenth of a percent in market share over the last month and their usage rate has dropped from 12.6% to 12.5% of all desktop operating systems. As the latest products of the Window OS, one would expect them to see the greatest increases in usage rates; however, it's clearly not the case here.
This is all the more surprising considering that its older sibling, Windows 7, has seen consecutive increases in usage for the past four months, with its usage rate skyrocketing to 50.55% in June 2014 from 47.31% in February 2014. And even Windows XP, an ancient OS that Microsoft no longer supports, has seen a minor surge in market share over the past month.
What is going on here?
Well, it's obvious from the data that Windows 8 is performing quite pathetically in attracting users. In terms of usage rates, it lags far behind both of its older brethren. To put it in perspective, Windows 8's usage rate of 12.5% is still less than half of the usage rate of Window XP, which currently stands at 25.3%.
On the bright side though, the stagnation that Windows 8 has experienced is probably due to a regression to Window 7 (and not from people jumping ship to Mac OS or Linux).
This view is supported by the usage growth that Windows 7 has experienced over the past four months. Probably, customers were buying more Windows 7 computers instead of upgrading to Windows 8. Here, it may be worth noting that most computer makers, such as HP (NYSE:HPQ), still have Window 7 available as an alternative option to Windows 8, despite the former being many years old. It is clear that a strong demand remains for Windows 7 even though it is an older product.
Should Microsoft feel happy about the continued success of Window 7? I do not think it should, as it attests to the failure of Window 8 in attracting customers.
Clearly, many consumers are not ready for the drastic changes in Windows 8 and it might do the company some good to reflect upon what it has done wrong here so that it could avoid making a similar mistake the next time around.
Disclosure: The author has no positions in any stocks mentioned, and no plans to initiate any positions within the next 72 hours. The author wrote this article themselves, and it expresses their own opinions. The author is not receiving compensation for it (other than from Seeking Alpha). The author has no business relationship with any company whose stock is mentioned in this article.