The summer earnings season officially kicks off Tuesday after market closes with Alcoa Inc. (NYSE:AA) set to report its financial results from the 2nd fiscal quarter. Alcoa, also known as the Aluminium Company of America, is the world's third largest producer of aluminum. So far this year has been studded with plenty of action in mergers and acquisitions and Alcoa has been no exception. In an effort to step up its aerospace product sales, late last month Alcoa announced the acquisition of UK based jet engine part producer Firth Rixson in a deal valued at roughly $3 billion. The market seemed to react positively as shares of Alcoa rose nearly 3% the day of the news.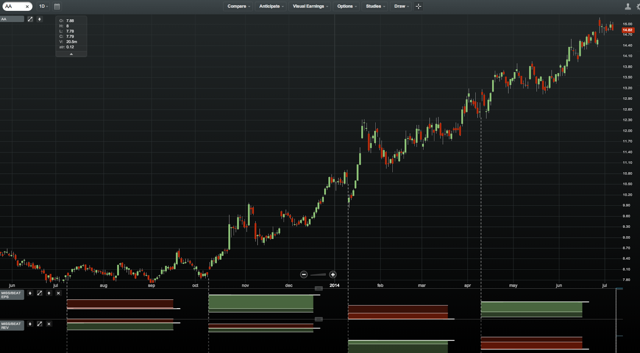 Click to enlarge
The graph above from ChartIQ Visual Earnings shows that recent financial results at Alcoa have been mixed news, but that hasn't stopped company stock from being hot since October. Since the beginning of the year, shares of Alcoa have soared 40%. On Tuesday, Wall Street is expecting Aloca to report 13c in earnings per share, a gain of 2c compared to FQ2 of last year. However, Alcoa's revenue has been slipping on a year over basis in 7 of the past 8 periods. On Tuesday, Wall Street is expecting sales to fall over 3% compared to FQ2 2013.
The information below is derived from data submitted to the Estimize.com platform by a set of Buy Side and Independent analyst contributors.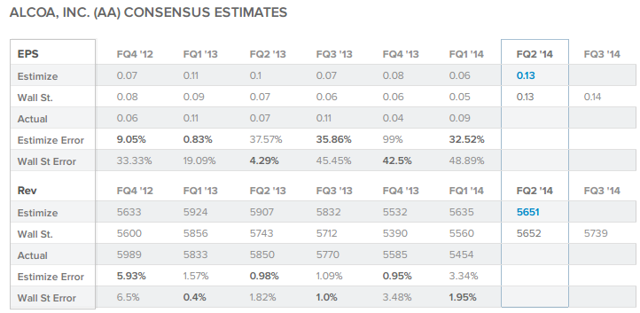 Click to enlarge
(Click Here to see Estimates and Interactive Features for Alcoa)
The current Wall Street consensus expectation is for Alcoa to report 13c EPS and $5.652B revenue, while the current Estimize.com consensus from 19 Buy Side and Independent contributing analysts is 13c EPS and $5.651B in revenue. This quarter the buy-side as represented by the Estimize.com community is expecting Alcoa to report almost perfectly in-line with Wall Street's expectations.
Over the previous 6 quarters, the consensus from Estimize.com has been more accurate than Wall Street in forecasting Alcoa's EPS and revenue 4 and 3 times each respectively. By tapping into a wider range of contributors including hedge-fund analysts, asset managers, independent research shops, students, and non-professional investors, Estimize has created a data set that is more accurate than Wall Street up to 69.5% of the time.
More importantly it does a better job of representing the market's actual expectations. It has been confirmed by Deutsche Bank Quant. Research and an independent academic study from Rice University that stock prices tend to react with a more strongly associated degree to the expectation benchmark from Estimize than from the Wall Street consensus.
The magnitude of the difference between the Wall Street and Estimize consensus numbers often identifies opportunities to take advantage of expectations that may not have been priced into the market. Here we are seeing no practical difference between the groups' forecasts.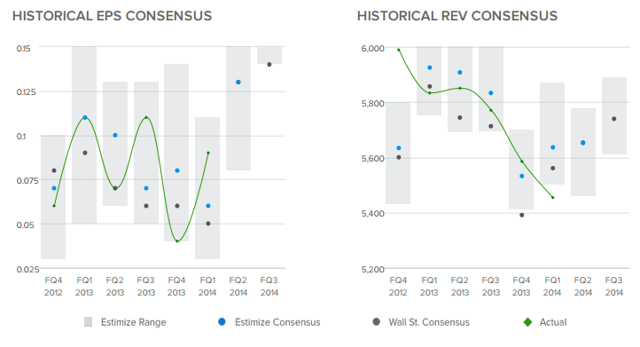 Click to enlarge
The distribution of earnings estimates published by analysts on the Estimize.com platform range from 8c to 17c per share and from $5.458B to $5.777B in revenues. This quarter we're seeing a moderate to wide range of estimates on Alcoa compared to previous quarters.
The size of the distribution of estimates relative to previous quarters often signals whether or not the market is confident that it has priced in the expected earnings already. A wide range of earnings estimates signals less agreement in the market, which could mean greater volatility post earnings.
Click to enlarge
Over the past 3 months, the Wall Street and Estimize EPS consensuses both started the period at 11c before rising to 13c. Meanwhile, the Wall Street revenue forecast fell from $5.821B to $5.652B, while the Estimize sales consensus dipped from $5.736B to $5.652B. Timeliness is correlated with accuracy and the directionality of analyst revisions at the end of the quarter are often a leading indicator. In this case, we see a small increase in EPS forecasts from both groups alongside declining revenue estimates.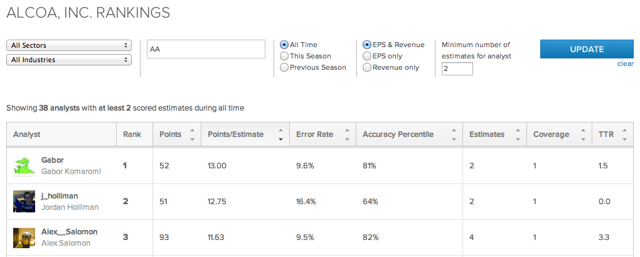 Click to enlarge
Among the analysts with at least 2 estimates scored on Alcoa, Gabor has been the most accurate with an average of 13.00 points per estimate. Gabor is an analyst with over 250 scored estimates on the platform and is ranked 41st overall among over 4,550 contributing analysts.
This quarter contributing analysts on the Estimize.com platform have expectations that are in-line with Wall Street for Alcoa's FQ2 earnings release. Over the previous 6 quarters, the EPS consensus from Estimize has been higher than Wall Street's 5 times. The only instance where the community had lower expectations was back in FQ4 of 2012, when they correctly called an earnings miss and a revenue beat. Tuesday afternoon an in-line report from Alcoa will likely be enough to keep investors satisfied.
Disclosure: None