Sales of Arena Pharmaceuticals (NASDAQ:ARNA) prescription anti-obesity drug Belviq are in and are okay this week. However, the focus of the week has shifted from script sales to a sale of shares by the CEO of the company, and that has driven the stock down almost 10%. Before getting into this week's prescription sales data, we should look into what transpired with CEO Jack Lief in a planned sale of 225,525 shares at a price of about $5.85. The sale of shares happened early last week, but the SEC filing was after the market closed going into a holiday weekend. The sale was the subject of much discussion, and despite a holiday weekend, I saw a large number of communications posing a myriad of questions, concerns, spin, and counter-spin.
On the face of it, a CEO selling a substantial number of shares is not typically well-received by the street. This is oft the case, even when a company insider sells options that are about to expire worthless. There are a number of reasons why an insider might sell. Not all of them mean that the insider is bearish. We need to remember that insiders typically have a lot of stock options, and company stock can often represent a substantial chunk of financial reward for what is often years of hard work.
What I found most interesting about the sale is that it was not based on options, but rather on shares already held. The sale was a planned sale, so in theory, there is no easy way to change the sale without raising flags in some form or another. What I wonder about is when the planned sale was initiated. Arena management gets projected sales data each month for the subsequent 18 months. Part of the reason for this is that Arena manufactures Belviq itself. Eisai gets two opportunities each year to change the projections. One opportunity is on October 1st, and the other is on April 1st.
We know that Eisai changed their projections on October 1st of 2013. We can assume that the projections at that point were lowered. This assumption is safe in that the sales pace up until that point was much lower than initially projected. Further evidence of this can be found in that the "Accounts Payable To Eisai" were at $19 million as 2013 closed out. Arena (on paper) was over-paid by Eisai, based on projected sales. At the end of Q1 of 2014, the "Accounts Payable to Eisai" was at $19.3 million. When the April 1st opportunity came, Eisai did not make any changes. Essentially, this means that Eisai was sticking to its adjustment made last October. Why is this important?
If Jack Lief initiated a planned sale prior to October 1st of 2013, it could very well mean that he was anticipating that by this time the stock would be doing better. If he made the plan after October 1st, he would have a knowledge of lowered expectations. If he made it after April 1st of 2014, he would know that the pace established in October was remaining intact. Thus, in one situation, the planned sale could be expecting to garner some cash because the stock price would be higher, while in the other, it could be because he felt there was weakness and wanted to be out before it manifested itself. Bear in mind, I simply gave you the ultra-bull and ultra-bear situations. The reality is likely somewhere in between.
No matter what the reason, the news was not very well-received by the street, was poorly timed, and smelled of trying to bury the news on a holiday week. Adding insult to injury, the script sales next week will be off due to the 4th of July. Simply stated, things could get more ugly before they get more pretty.
Now, getting to the sales of Belviq. It should be very clear to investors that the seasonality of the weight loss sector is now coming into play. Sales usually peak in June, and then fall off for the remainder of the year. Last week, I outlined that what the street will be watching for is the degree of the fall-off. Last week, Belviq sales fared better than other agents on the market, and were actually up just over 1%. While not overly impressive, we are indeed seeing some traction, and when compared to the sector, the 1% gain is actually positive. The problem is that we have still not seen a demonstrated inflection that points to 2014 sales getting above the $100 million gross sales pace that is baked into the price of the stock.
What has Belviq showing a slight positive, while most other agents in the sector are flat or beginning to decline? The re-launch of Belviq, which started at the beginning of the month and is evidenced by the airing of television ads. This past week (From June 30th through July 6th), we saw ads increase to 338 airings. The week prior, the television ad ran just 178 times. If nothing else, the 93% increase in television ads on a week-over-week basis should put to rest any debate about the re-launch of Belviq. What iSpot.tv also showed was a shift in the times that the commercials are airing. There has been a jump in morning airings, and also a shift to a bit more prime time airings.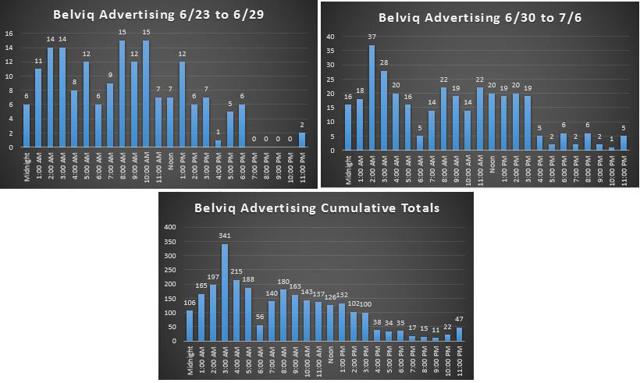 (Chart Source - Spencer Osborne with Data from iSpot.tv)
While it may seem odd to celebrate a 1% increase in scripts week-over-week, the fact is that Belviq sales are holding ground and presenting modest gains in a season where slight declines would be seen as normal. The importance of the re-launch of Belviq cannot and should not be underestimated. The sales data is still tracking to the $100 million in gross sales level. In the chart below, the orange line that represents IMS sales (used to tabulate revenue, etc.) is still running lock-step with the green line representing $100 million in gross sales. As I have stated repeatedly, it will take a demonstrable inflection in the sales numbers to a level of $120 million or so in gross sales to allow the equity to appreciate. That inflection has now gained more importance after the negative catalyst of the CEO selling over $1.3 million in stock.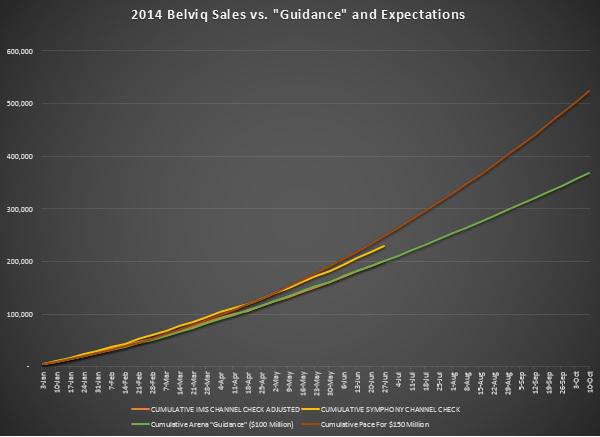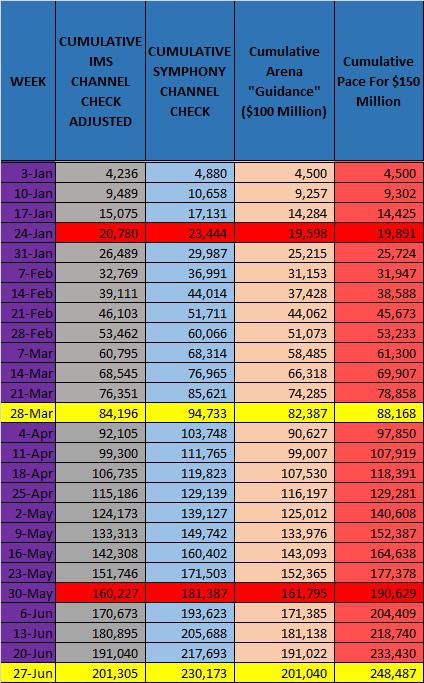 (Chart Source - Spencer Osborne)
The data this past week essentially closes out the second quarter. With that, I can provide an estimate for the quarterly and year-to-date revenue for Belviq sales.
Belviq Gross Sales YTD - $40,160,362
Belviq Net Sales YTD - $22,088,199
Arena's Share of Net Sales YTD - $6,957,783
Belviq Gross Sales Q2 - $23,363,295
Belviq Net Sales Q2 - $12,849,812
Arena's Share of Net Sales Q2 - $4,047,691
In looking at the current run rate we can see that on an annualized basis, the gross sales remain above $100 million, but are still below $120 million. As stated, the street is looking for concrete indication that thresholds that outpace expectations can be met.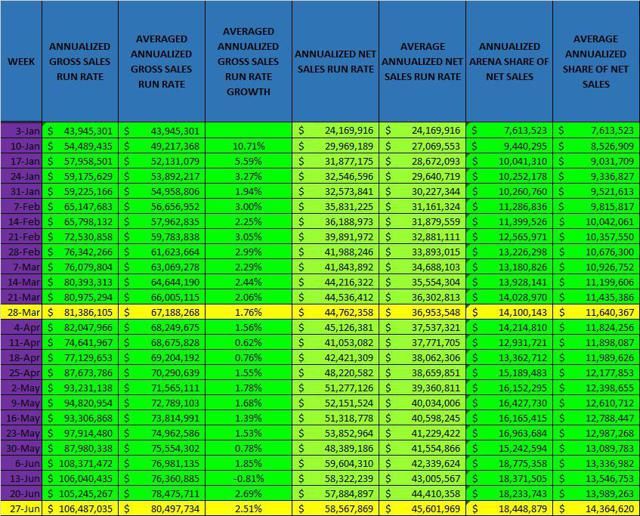 (Chart Source - Spencer Osborne)
Looking at a quarter-over-quarter comparison, the sales in Q2 were about 44% better than what we saw in Q1. In fact, quarterly sales topped 100,000 for the first time in Q2, an accomplishment that puts Belviq on a pace to match competitor Vivus (NASDAQ:VVUS) with Qsymia in the next quarters or two, if the company can keep outpacing the competition as the summer continues. Belviq sales in Q2 were just under 110,000 scripts. In Q1, Qsymia did about 120,000, and is paced for about 130,000 in Q2. On the conservative side of things, another 44% quarter-over-quarter increase may seem difficult with the seasonality, but that is what would be needed to simply maintain the $100 million pace. That should give readers some perspective on realistic projections. Seasonality is real, and it is being demonstrated by flat sales for the last month. In fact, the sales peak was 4 weeks ago.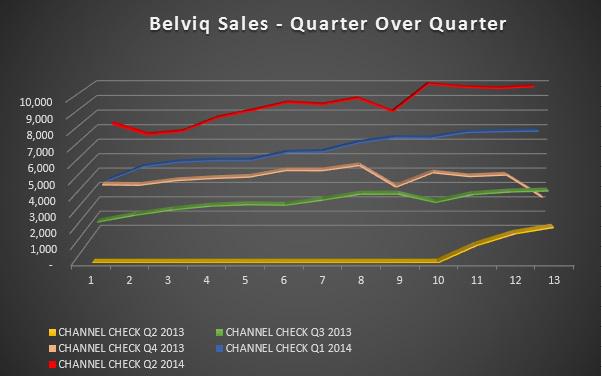 (Chart Source - Spencer Osborne)
Summary
Like it or not, the CEO selling over 200,000 shares is real and was a negative catalyst for the equity. Like it or not, seasonality is real, and simply maintaining the growth pace is more difficult now with each passing month. The Eisai re-launch is showing itself in increased advertising, as well as what appears to be ads aired at better time slots. Next week, this equity will face a very real short-term hurdle in that the sales data will include the 4th of July holiday. Look for a substantial dip in the numbers, and look for the street to react. Arena's stock is in for a tough spell in the short term. One potential positive catalyst will be getting results of the Belviq and phentermine safety study, but I would not put too much weight into that just yet. We have yet to see if such a study can be monetized in such a way that it makes the equity appreciate. Over the coming weeks, I will be assessing the second quarter and refining my projections. At the moment, it looks like gross sales will be at a level to deliver about $4.3 million in Belviq revenue. That means that other revenue will need to be $5.5 million to hit analyst estimates. That is lofty, in my opinion, as Arena has guided to the bulk of revenue coming from the sales of Belviq. At the moment, I anticipate about $4 million in other revenue, meaning that the quarter will be in the neighborhood of $8.3 million, representing a $1.5 million miss. It is still early, though. Lastly, I encourage investors to begin to look at cash burn and model it. My regular readers are already doing just that. Stay Tuned!
Disclosure: The author is long ARNA. The author wrote this article themselves, and it expresses their own opinions. The author is not receiving compensation for it (other than from Seeking Alpha). The author has no business relationship with any company whose stock is mentioned in this article.
Additional disclosure: I have no position in Vivus