The moment Prospect Capital Corporation (NASDAQ:PSEC) announced that it may have to restate its financial statements, the stock took a nosedive. Apparently, the SEC felt that certain wholly-owned holding companies were considered investment companies, and as such, were required to be consolidated in the historical financial results and financial position of the company. The SEC asserted that restatement of historical financial statements was needed. This is usually not good for a company and certainly an unknown risk for investors. Naturally, investors dumped the stock quickly.
The company immediately disagreed publicly with the SEC opinion and not long afterwards, the company announced it had come to an agreement with the SEC and that it would not have to restate financials. On hearing the news, some investors jumped back in and the stock rebounded.
Bottom line is that if you carefully read the SEC issue at hand, it all had to do with accounting and how certain transactions were structured. It had nothing to do with the fundamentals of the company. While I understand investor's fear of SEC investigations, there was never any question regarding the underlying fundamentals of the company, only how they were being reported.
The facts are that the company still has solid fundamentals and in my opinion is still a solid investment for investors looking for dividend yield.
Business Description
Prospect Capital is a business development company, or BDC, as they are often called. It typically invests in private companies through debt or mezzanine loans with some sort of equity kicker that provides it with some upside potential. As of the latest company presentation, the company had an investment portfolio of over $6 billion, of which 78% was allocated to secured loans.
PSEC invests in companies with EBITDA between $5M and $150M, usually for refinancing, acquisitions, recapitalizations, capex and later stage growth. Management looks for solid businesses, favorable industry trends, recurring cash flow, barriers to entry, product and counterparty diversity, and experienced management with skin in the game.
It invests capital across 7 different channels, one of which makes up for 50% of the portfolio.
Private equity sponsor finance - lending to companies controlled by private equity firms. This strategy typically makes up about 50% of the portfolio and usually takes the form of 1st lien, 2nd lien, or mezzanine loans. Many of these loans are sponsored by prominent private equity firms such as HIG Capital, High Street Capital, North Castle Partners, Century Park Capital Partners, Park Avenue Equity Partners, and Apax Partners, to name a few.
Direct non sponsor lending - lending to companies owned by the company founder, management team, or family, but not a private equity firm. This strategy requires a higher level of diligence and has less competition than the private equity sponsor deal mentioned above.
Operating buyouts
Finance buyouts
Structured credit
Real estate Online lending
Thesis
Besides the negative news that provided quick fingered investors to snatch up shares on the sharp decline, the company has very strong fundamentals and operates in a strong growth sector of the economy. Prospect has a strong network of deal makers that provide it with ample opportunities for investments at favorable terms. With an investment grade rating and ample access to capital, it is well positioned to continue to expand its portfolio, which has already grown more than 10 times since 2008 and has grown by 50% in just the last 9 months.
It would have been nice to pick up a few shares during the temporary decline after the SEC news, but investors should not assume they already missed the opportunity. The company trades at a substantial discount to peers on a PE basis, which when combined with potential earnings growth, can result in 50% upside.
Robust deal flow
The company still has an incredible pipeline of opportunities in order to put capital to work and grow net interest income. According to management, they are presented with over 3,000 opportunities per year, 80% of which come from established relationships. If approximately 1-2% advance to closing, as per management estimates, that results in 30-60 new deals per year. I would be skeptical of this number of new deals if it wasn't for the rapid growth shown by the company over the last few years. Since 2008, Prospect has grown its portfolio from $498 million to over $6 billion, with a whopping $2 billion in growth in the last 3 quarters alone. Net interest income has followed suit, growing from $50 million in 2008 to $350 million in FY 2014.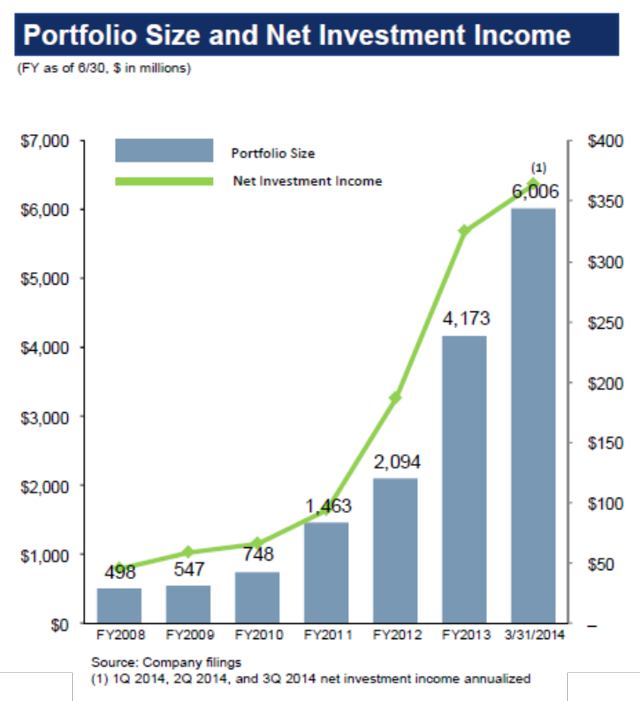 Deals also come from a variety of different channels, which indicates that the potential flow of deals can continue regardless of market conditions and competitive dynamics.
The diagram below highlights the different sources of deal flow available to Prospect. The company boasts over 800 private equity sponsor relationships, which drive deal flow for approximately 50% of the portfolio. Other intermediaries consist of business brokers, financial advisory firms, investment banks, and accounting firms.
The company also has an active cold-calling process, which identifies companies in need of financing and contacts those companies directly. (See diagram below for a summary of deal flow sources)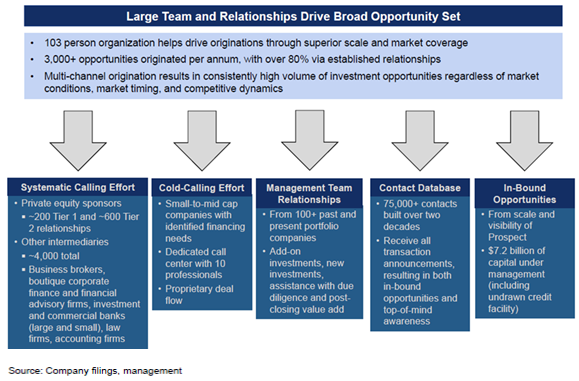 The benefit of having such broad sources of deals results in a very diversified portfolio and allows the company to choose only the best deals based on risk/return parameters and how the deal fits into its portfolio. The largest exposure in the portfolio is to diversified financial services companies at 19%, but the exposures drop considerably for the rest of the portfolio.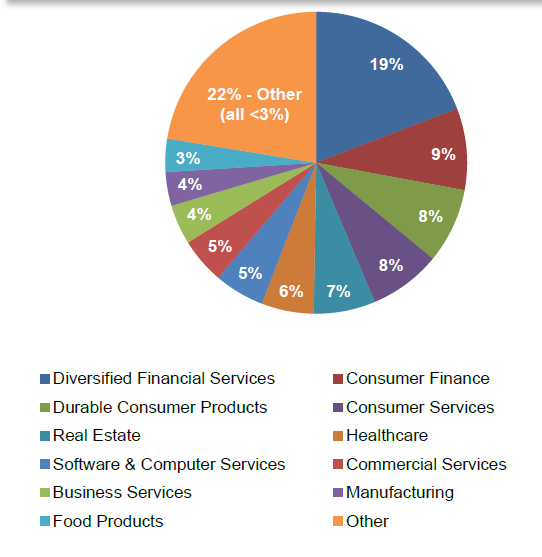 Source: Company filings and investor presentations
As of May 2014, the company had almost 140 investment counterparties, many of which are actively involved not only in the deal, but in the ongoing operations of the companies it is lending to. This 'oversight' provides an additional level of monitoring for those companies sponsored by private equity firms.
Approximately 93% of the current portfolio consists of floating rate terms so concerns about rising interest rates should be somewhat mitigated even if we can still expect financing costs to increase in such a scenario.
Access to Capital
A steady flow of deals won't do much good if there is no capital to invest. But Prospect has a BBB S&P credit rating that allows it to issue debt at reasonable rates. It also has the luxury of being able to tap an $850 million credit facility across 28 different lenders. At a rate of LIBOR +2.75%, even if current deals don't offer the same level of returns, the spread is still considerable. And if needed, the company still has access to the capital markets and maturities that seem to be quite manageable. There are a couple of tranches maturing from late 2015 to 2019, but its debt structure doesn't pose any risk of losing access to capital.

Source: Morningstar
If all else fails, the company has access to an additional $4 billion in potential issuance through its at-the-market (ATM) program.
Debt/equity for Prospect is at about the midpoint relative to BDC peers and is slightly lower than ARCC.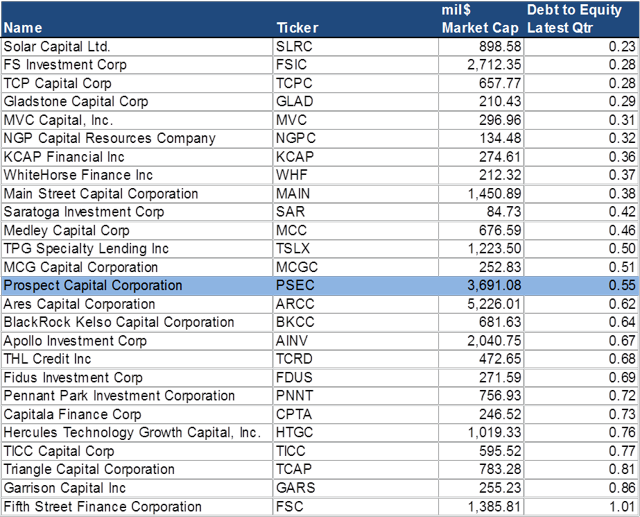 Valuation
On a price to book basis, the company looks fairly valued, indicating that investors should expect price appreciation to come from increases in book value, not an expansion of the price to book ratio. The stock currently trades at a Price/Book ratio of approximately 1, which is its 5-year average.
More importantly, the stock also looks cheap compared to other BDCs. Considering Prospect is the second largest BDC behind Ares Capital Corporation (NASDAQ:ARCC), you might assume it would be trading at a premium to its peers. But it's trading at a substantial discount to its peers and a discount to the slightly larger ARCC. Combined with a dividend yield of 13%+ this translates into a potential return in excess of 50%, if the stock merely reaches the average multiple for the peer group.
At a multiple of 11.3x and EPS of $1.27, the target price would be approximately $14.35 and investors would be receiving an additional $1.32 per share in dividends.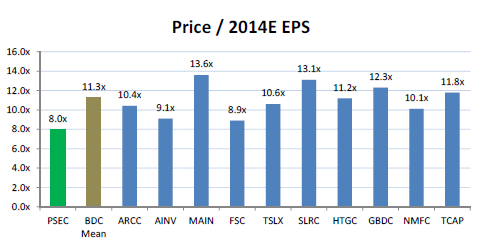 Source: Company filings and investor presentations
The stock has traded as high as 18.4 times earnings in 2007, but has since stayed range bound between 8 and 9.7 time earnings. The only exception was in 2011, when the average PE for the year was a historically low 5.7 as Asset Management firms in general were down over 14% for the year.
Since then, the stock returned 30% in 2012 and 15% in 2013, outperforming the broader market in 2012 but trailing both the broader market and Asset Management peers by a substantial margin in 2013. At a PE ratio of 8x, the company is trading at a discount to all of its peers. I find this surprising and unsustainable.
The stock has continued to underperform on a YTD basis, trailing the S&P 500 by over 11%, with a YTD loss of 6.5%, compared to a gain on the S&P of 5%. With such strong deal flow and access to capital, I don't see this multiple staying depressed for much longer even if earnings stay flat as expected.
Dividends
For investors looking for dividend consistency and high yield, you don't have to go much farther than PSEC to find it. Dividend growth has not been great, but the company has announced 77 consecutive cash distributions to shareholders and currently yields 13%, a considerable margin above BDC peers and 4% above the larger ARCC.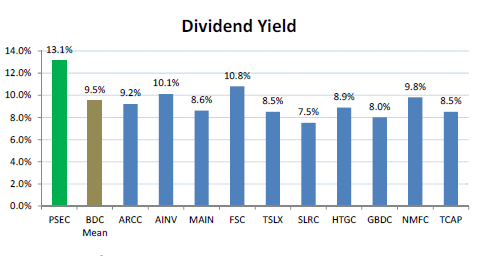 Source: Company filings and investor presentations
Risks
The recent Chapter 7 filing by New Century Transportation seems to have investors worried about an increase in defaults. Management's underwriting process has come into question after New Century deteriorated so quickly after the initial investment. The reality is that investors are earning a 13% dividend yield because the company makes risky investments. It should not be surprising that a company or two default on their debt. It would be more surprising that they don't default.
Historically low accruals and currently at multi-year low. This may pose two risks actually. With default rates at multi-year lows, there is really only one way for them to go. The risk is that the company does not manage these risks appropriately and they result in higher than expected losses. The second risk is the company's accuracy in estimated the proper level of accruals. In the event that there is a higher number of defaults than anticipated or the estimates of losses are underestimated, there could be an adverse effect on earnings.
Catalysts
Despite the quick recovery on the stock once the SEC restatement issue was put to rest, I think many investors are still waiting on the sidelines for how the company will report the wholly owned investment companies in the future and how it will affect its financial statements. After the next quarterly filing, analysts and investors alike will have a new baseline to use in their models. In other words, the cloud will be lifted.
The company is seeing a strong pipeline of deal flow that could drive continued growth in assets and net interest income. If the last 9 months are any indication, the growth trajectory of the company is still robust and the next few quarters will reveal that.
Conclusion
When we see a 13% dividend yield, we often salivate at the possibility of receiving a nice income stream into our investment accounts. Deep down, we know there are risks of investing in stocks that pay a high dividend yield. Let's not forget the first lesson in finance, higher return equals higher risk. Just because it comes in the form of a dividend make no difference to that theory.
The bankruptcy filed by New Century will not be the last challenge the company will have to recoup some of its investments. It would be a fallacy to think so. The more likely scenario is an increase in defaults from a historical low. The question then is whether Prospect has the proper due diligence process in place and underwriting guidelines to minimize those situations, and whether as investors we trust management to deliver.
It's a risky investment and I caution investors considering an allocation to consider the investment as exactly what it is… a high yielding, high risk security. And if the fundamentals aren't enough, note that management has not sold a single share of the stock.
Disclosure: The author has no positions in any stocks mentioned, but may initiate a long position in PSEC over the next 72 hours. The author wrote this article themselves, and it expresses their own opinions. The author is not receiving compensation for it (other than from Seeking Alpha). The author has no business relationship with any company whose stock is mentioned in this article.