Cue the AC/DC, it's time to get "Back in Black." BlackBerry (NASDAQ:BBRY) that is. And while it may seem like it's been 30 years since BlackBerry was relevant, it's really only been a few years since this smartphone pioneer was on the top of the heap.
I'll spare you the gory details of the demise and instead look at the last year or so and the changes that have taken place. First off, the end of RIMM. The company did us all a favor by changing its name from Research In Motion to BlackBerry and changing the stock ticker to BBRY. Helps connect the product to the stock in the minds of investors, at least the retail side.
The real problem for BlackBerry has been how do you shore up your balance sheet and get your cash flow positive in the face of a device business that has gone decidedly against you recently? The answer is to slash your costs and bring another new product to the market. BlackBerry's return to profitability ultimately hinges on the loyalty of its subscriber base and the appeal of its next product.
Great Q1 Results
The last earnings report is what has sent the stock rocketing skyward. Q1 smartphone unit volume came in at 1.6 million. CEO John Chen came out and declared the "magic number" for profitability is 10 million units per hear. Given forecasts for 7.8 million units this year, this is an aggressive 28% year over year increase.
Gross margins have increased as well. Last quarter gross margin came in at 47.9% versus consensus estimates for 41.9%. Cost reduction is also on target to achieve cash-flow breakeven by the end of this Fiscal Year.
Hope for Z3
BlackBerry said it is seeing strong interest in Indonesia for its Z3 "Jakarta" handset. As a result, BlackBerry is launching the Z3 in a number of additional countries and with a likely release in India forthcoming. The Z3 is manufactured under an arrangement with Foxconn and therefore carries very little downside risk for the company. Mr. Chen also has a comprehensive monetization plan for BlackBerry Messenger, targeting $100 million in revenues in FY2016.
In the aftermath of the Q1 report, 13 analysts revised their Q2 and Q3 guidance to the upside. Consensus for Q2 sees the loss narrowing from 28 to 17 cents per share. Q3 looks similar, with estimates calling for a loss of 17 cents versus previous consensus of a 26 cent loss. The revised earnings have helped push BlackBerry to a Zacks Rank #2 (Buy).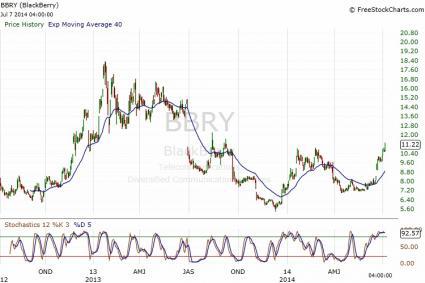 The BlackBerry chart is one of those that has you looking at it, scratching your head, and asking yourself, "Why didn't I catch that?" First, in mid-May there was a stochastic "Buy" signal from oversold territory. Then the stock traded above its 40-day exponential moving average in early June, enticing anyone watching to jump on board. Since then, the stock has rim up from below $8 per share to over $11 where it trades today.
The best part is there could very well be more left on the table. The recent leg up has pushed BBRY up through the February 2014 resistance at $11. The stochastics are overbought right now but could remain that way for quite some time while the stock rallies. The August 2013 high of $12.18 is now the next target to the upside.
Other Ideas
If you believe in the BlackBerry comeback but you're not ready to go all-in, take a look at some of the companies that have historically made component parts for their phones. Also a Zacks Rank #2 (Buy) is Qualcomm (NASDAQ:QCOM). Qualcomm's dual-core 1.5GHz processor powered the BlackBerry 10.
Qualcomm offers diversity well beyond the BlackBerry brand. With a market cap of $136 billion it is one of the largest chipmakers in the world.
Another component-maker for BlackBerry in the past is Avago Technologies (NASDAQ:AVGO). This Zacks Rank #1 (Strong Buy) makes LTE Power Amplifiers and BAW filters to support 4G bands. This smaller company offers more growth potential than Qualcomm.
QUALCOMM INC. (QCOM): Free Stock Analysis Report (email registration required)
BLACKBERRY LTD (BBRY): Free Stock Analysis Report (email registration required)
AVAGO TECHNOLOG (AVGO): Free Stock Analysis Report (email registration required)