On Monday, PetSmart (NASDAQ:PETM) announced that it is considering returning cash to shareholders. This news comes days after activist investor Jana Partners announced a 9.9% stake in the company and had been reportedly pushing for a sale of the company or alternative actions to boost shareholder value. I have already gone on record with my bullish view in a piece entitled Why I Followed Jana Into PetSmart.
PetSmart Would Need To Borrow To Fund Dividend
Currently, PETM has just $236 million, or $2.39 per share, in cash. In my view, this amount is not significant enough to move the needle for PETM and the company would likely need to raise additional funds for a special dividend payment. It is important to note that, as shown by the chart below, PETM shares responded favorably to the news. PETM shares would not have moved higher if investors thought the company was simply going to pay out a special dividend of $1 or $2 per share. This is especially true given the significant price increase following news of Jana's stake.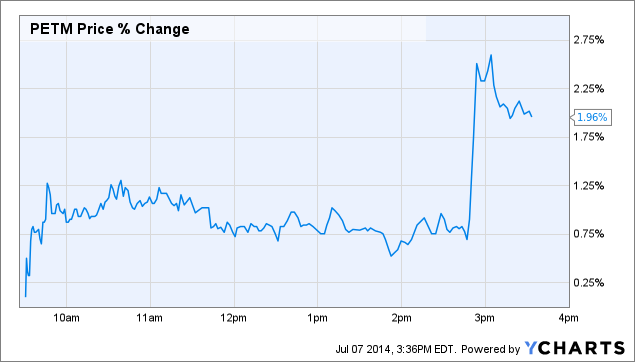 PETM Price data by YCharts
PetSmart Could Borrow $1-2 Billion
Right now, PETM has just over $500 million in debt against an equity value of $6.8 billion and nearly $500 million in free cash flow. Based on these figures, I believe PETM could easily raise $1-2 billion of debt at a relatively favorable interest rate due to the low interest rate environment. PETM has just under 100 million shares outstanding so a $1 billion special dividend would amount to nearly $10 per share while a $2 billion special dividend would amount of nearly $20 per share.
My Take
Dividend recapitalization plans are quite commonly used by private equity companies as a way to withdrawal cash from privately held companies. However, the strategy is much less common among public companies because it is not a long-term strategy for value creation. Borrowing money for share repurchases is a somewhat more common event among public companies as a reduction in the number of shares outstanding can increase EPS. I had been hoping for a sale of PETM, however, I believe a dividend recapitalization can send shares nicely higher from current levels as well. Of course, the size of the dividend recapitalization will be the determining factor in whether or not shares of PETM react favorably to any such plan. While a special dividend would put a significant amount of cash into shareholder pockets, it would also make a sale much less likely if not impossible over the short-term. This is likely the reason why PETM management is pursuing a dividend recapitalization strategy. The next part of the PETM story to play out will be the reaction from Jana Partners. Another large PETM shareholder, Longview Asset Management, which owns over 7.5% of PETM, also made news on Monday by saying that it would be willing to roll its ownership stake of PETM into any buyout. The PETM story will continue to unfold over the next few weeks and I believe PETM shares will continue to move higher as the company either announces a dividend recapitalization or plans to explore a sale.
Disclosure: The author is long PETM. The author wrote this article themselves, and it expresses their own opinions. The author is not receiving compensation for it (other than from Seeking Alpha). The author has no business relationship with any company whose stock is mentioned in this article.