Overview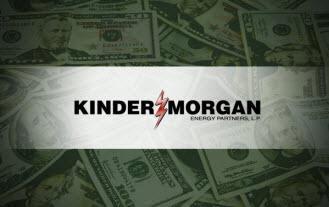 Kinder Morgan (NYSE:KMI), (NYSE:KMP) has had a nice run of approximately 10% since my first bullish article was published approximately three months ago. Nonetheless, there appears to be much more room to run at this point. In the following sections I will make my case as to why now may be just the beginning of a major bull run.
New developments
Since my last article there have been several new developments that underpin the stock at this point. The following are the top three as I see them.
The U.S. is now the world's largest producer of oil and gas
According to a recent Bloomberg report, Bank of America (NYSE:BAC) stated:
"The U.S. will remain the world's biggest oil producer this year after overtaking Saudi Arabia and Russia as extraction of energy from shale rock spurs the nation's economic recovery. U.S. production of crude oil, along with liquids separated from natural gas, surpassed all other countries this year with daily output exceeding 11 million barrels in the first quarter."
Bank of America's Francisco Blanch went on to say:
"The U.S. increase in supply is a very meaningful chunk of oil. The shale boom is playing a key role in the U.S. recovery. If the U.S. didn't have this energy supply, prices at the pump would be completely unaffordable."
This is great news for Kinder Morgan. This is one area where bigger is better. Many have dismissed Kinder Morgan's growth potential due to the fact the company has so much infrastructure already in place. But the fact of the matter is this gives Kinder Morgan a distinct first mover advantage. Kinder Morgan's ability to leverage the company's current infrastructure will be the key to factor for growth going forward. Kinder Morgan essentially has a huge head start in several key areas that will allow the company to quickly amplify throughput. There are actually several instances where it's not even feasible at this point for other pipeline companies to even consider entering the fray. Kinder Morgan already has the major pipelines in place. All that's left is to expand them at this point.
The U.S. may eventually start exporting oil and gas
There has been a lot of discussion recently regarding the U.S. loosening the ban on oil exports. According to a recent report in the WSJ:
"The private rulings by the Commerce Department define some ultralight oil as fuel after it has been minimally processed, making the oil eligible for sale outside the U.S. The Brookings Institution estimates that as much as 700,000 barrels of ultralight oil per day could be exported starting next year. Eventually, the exemption could grow to a substantial portion of the three million barrels a day of oil that energy companies are pumping from shale, industry experts say. From 2011 to 2013, U.S. oil output soared by 1.8 million barrels a day, with 96% of new production in the form of light or ultralight oil, according to the Energy Information Administration."
I believe this is just the tip of the iceberg so to speak. Eventually, the export bans will be lifted as U.S. oil and gas production continues to boom. Right now there is still opposition in congress regarding lifting 5the oil export ban. Some believe lifting the ban will cause the prices at the pump to increase for Americans. I believe at some point this theory will become a moot point when the true nature of the production growth becomes evident. Either way, it's a win/win for Kinder Morgan. No matter what new infrastructure will be needed.
Tectonic shifts in the world's oil supply chain
Several huge developments have taken place regarding global oil and gas supply recently.
Russian invasion of Ukraine
Russia's invasion into Ukraine has spotlighted Europe's weakness due to its dependence on Russia's natural gas supplies. The rift caused by geopolitical tensions between Russia and the West has given rise to a 30 year $400 billion Russia/China oil and gas supply deal. I haven't seen anyone mention this in relation to Kinder Morgan as of yet. I surmise this will be a huge catalyst for lifting the export ban at some point.
The continued drama in the Middle East
There are several new developments in the Middle East that concern me greatly. Nonetheless, it seems as though the turmoil has been going on for so long many have become conditioned to the negative headlines. I believe this has caused a substantial mis-pricing of the risk premium related to a supply chain event occurring in the Middle East. On top of this, I don't think Saudi Arabia has as much oil and gas as they say they do. I don't have any explicit evidence to back up this claim. It is just my gut feeling. If at some point my theory is proven true, the price of oil and gas may go through the roof.
Is now a good time to buy?
The stock has been on a tear over the last quarter and is up nearly 10%.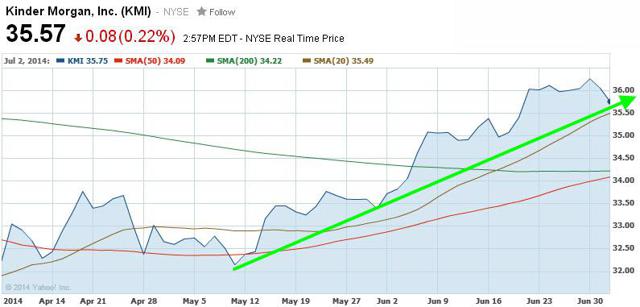 Click to enlarge
(Source: Yahoo.com)
Nonetheless, this is slightly misleading due to the fact the stock was severely beaten down prior to the recent run.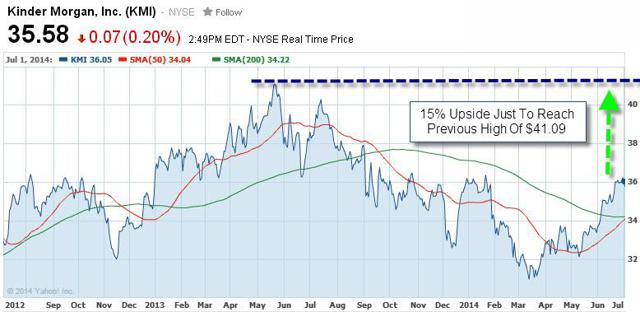 Click to enlarge
(Source: Yahoo.com)
The stock currently has 15% additional upside just to reach the previous high of $41.09 set in 2013. Furthermore, The stock has recently achieved the coveted golden cross. This is where the 50 day SMA crosses above the 200 day SMA.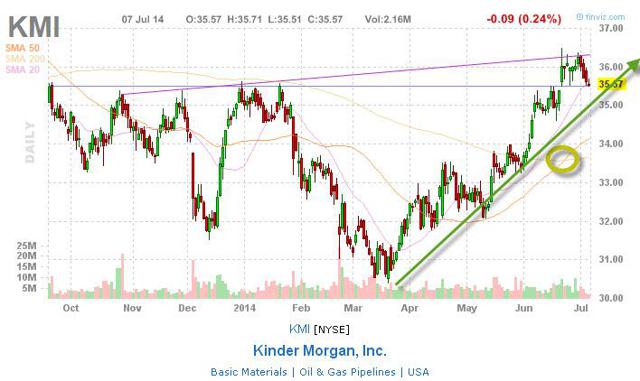 Click to enlarge
(Source: Finviz.com)
Based on these factors, I believe the current move in the stock is only the start of a much larger bull run.
Downside risks
There are always downside risks to every situation.
If geopolitical tensions evaporate and everyone starts getting along this may cause the price of oil to drop.
Regulatory risks related to Products Pipeline FERC / CPUC cases, Natural Gas FERC rate cases, and potential legislative and regulatory changes.
Upstream operator crude oil production volume uncertainty
Commodity price uncertainty
An economic downturn
Rising interest rates - The full-year impact of a 100 basis point increase in floating rates equates to an increase of approximately $53 million in interest expense for KMP.
Conclusion
Kinder Morgan is well positioned to take advantage of the tremendous growth prospects offered by the revival of the North American oil and gas industry. The company has an unparalleled asset footprint and a well-diversified midstream energy platform that provides stable, fee-based cash flow. This will underpin dividend and distribution growth for years to come. Kinder continues to focus on maintaining a strong balance sheet, has an attractive project backlog, an established track record, and is the preeminent midstream industry leader. Furthermore, geopolitical and macroeconomic developments bode well for the company. I believe this is only the beginning of the run for Kinder Morgan.
Disclosure: The author has no positions in any stocks mentioned, and no plans to initiate any positions within the next 72 hours. The author wrote this article themselves, and it expresses their own opinions. The author is not receiving compensation for it (other than from Seeking Alpha). The author has no business relationship with any company whose stock is mentioned in this article.