Over the past six weeks or so, my interest in EpiCept (OTC:EPCT) has heightened since the company was dealt a unexpected regulatory setback with their new drug application (NDA) for Ceplene, a novel cancer drug indicated to treat patients with Acute Myeloid Leukemia (AML) following first remission or CR1.
Click images below to enlarge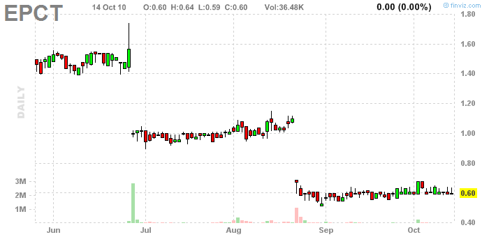 Click to enlarge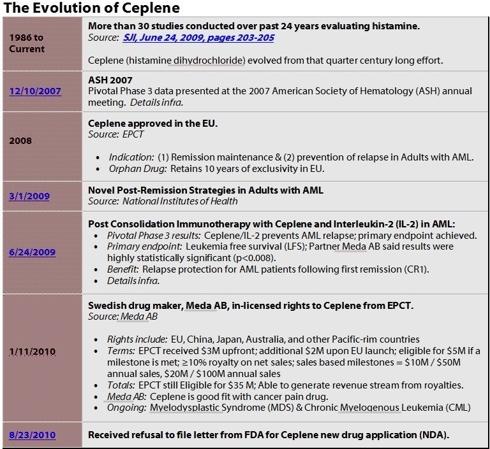 Click to enlarge
Regulators Punt
After carefully reviewing the facts surrounding Ceplene, it is evident that the FDA's first round team could not determine how Ceplene -- when combined with IL-2 -- prevents relapse in certain AML patients that have already achieved remission. Rather than reviewing Ceplene and giving EPCT a fair shake, US regulators dismissed the NDA and advised the company to conduct yet another expensive Phase 3 trial to evaluate the drug.
Why in the world the agency could not find some way to review the Ceplene application? What might AML patients, here in the US, say about the agency's decision?
Lets's take a look at AML: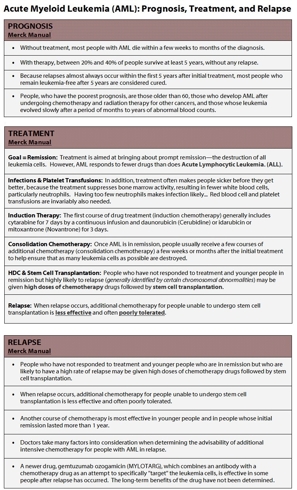 Click to enlarge
Ceplene Deserves Regulatory Review
In simple man's English, I have briefly outlined the case for Ceplene below. EPCT's efforts deserve the agency's attention. At the very least, regulators should allocate the appropriate amount of time and review the Ceplene application and provide the company with a decision.
Here we go.
There are no approved treatments for AML patients following first remission (CR1).
While most AML patients can achieve a CR1 after induction therapy with chemo, most relapse. Why? Minimal residual disease (MRD) - all of the cancer cells are generally not eliminated entirely with current treatments. MRD = Relapse in AML. Make sense?
Only 30% of AML patients respond to existing therapy and are able to achieve durable, long-term remissions. So, the remaining 70% relapse and most end up dying from the disease.
Past studies have shown that IL-2, alone, is not an effective treatment for AML. However, when Ceplene is combined with IL-2 and administered as a post-consolidation immunotherapy, the magic begins. The details are revealed in the pivotal Phase 3 results below.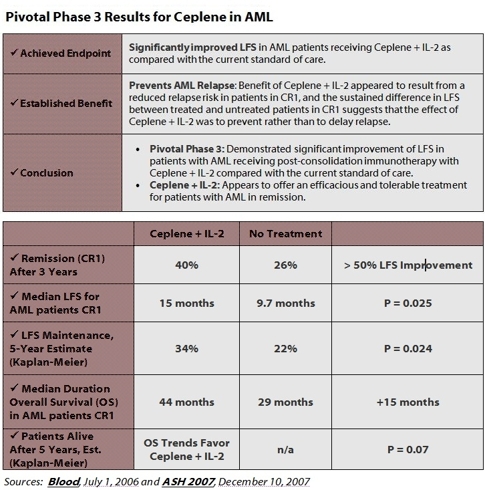 Click to enlarge
Overcoming Refusal
Only after a brief preliminary review of the Ceplene application in late August, the FDA sent EPCT packing and issued the company a refusal to file letter. In their press release, EPCT stated that regulators told the company:
(1) The application did not establish Ceplene's therapeutic contribution in its combination with IL-2, and (2) recommended that an additional confirmatory pivotal trial assessing Ceplene's contribution and (3) using overall survival as a primary endpoint be conducted.
EPCT said it would request a meeting with the agency ASAP to discuss the application. The company also noted that the Ceplene NDA can be filed with or without the blessing of the agency's preliminary reviewers.


Know the Rules
The rules applicable to refusal to file letters are found in the Code of Federal Regulations. The most relevant sections have been listed below: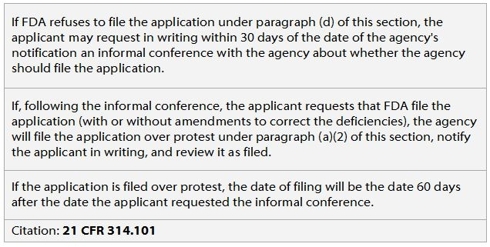 Click to enlarge
Plan Accordingly
Itinerary 2010-2011:
Assuming the rules above were followed, the company's written request to meet with regulators was likely submitted some time on or before September 23, 2010.
During its meeting with the agency, EPCT may end up filing amendments to the Ceplene application in order to strengthen their case for approval and to hopefully avoid having to conduct a second, costly Phase 3 trial.
As indicated in the rules, supra, the Ceplene NDA is likely to be filed automatically and "over protest" with the agency.
Based on the dates of the past developments, the new filing date for the Ceplene NDA is estimated to fall on or before November 23, 2010. This means, EPCT should provide an update on the status of the application to investors and shareholders prior to year-end 2010.
If the dates estimated in this itinerary prove to be accurate, then the FDA could deliver a decision on the Ceplene NDA during the first half of 2011 and prior to June 30, 2011.

Pipeline: Cancer and Pain
Interested investors should also take a moment to review EPCT's pipeline which also features two other cancer drugs in addition to Ceplene, and Epicept NP-1, a potentially promising drug for neuropathic pain.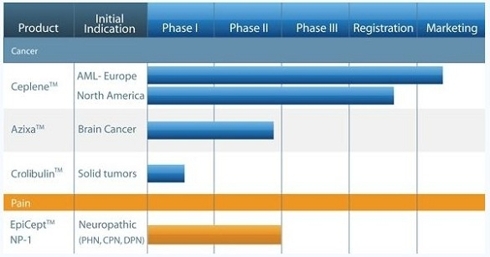 Click to enlarge
Conclusion
Despite EPCT's recent setback in the US, I continue to like the prospects for Ceplene in AML, worldwide. For this reason, I contend EPCT is undervalued while trading at a market value less than $30 million. With negative news, I suppose shares could fall a bit further. Nevertheless, I believe EPCT will end up proving to be a good bet. And here's why:
Under agreement with Sweden's Meda AB, EPCT is still eligible to receive an additional $35 million in milestone payments.
Plus, the company will also receive 10%+ in royalties on net sales of Ceplene in the EU, Asia and Australia. Please note, regulatory approval in certain countries is still pending. In time, the royalties should provide EPCT with a relatively decent revenue stream, one that is sufficient to enable the company to advance some of the other drugs in its pipeline.
Meda AB could also take the leap and acquire EPCT. Such a move would enable Meda to diversify as well as strengthen its pipeline of pain and cancer drugs. Since Meda already has an interest in Ceplene, the company could seek to obtain US rights and thereby secure complete control over this promising cancer drug. Armed with more regulatory experience and resources, Meda is in a much better position than EPCT to take on FDA demands in order to obtain approval for Ceplene in the US. Notably, Meda, who is employing a long-term growth strategy, has been on a deal making spree this year. Acquiring EPCT would make for a very affordable bet on the Swedish drug maker's future.
Positioning EPCT: Responsibly-sized long positions under $0.69 are best.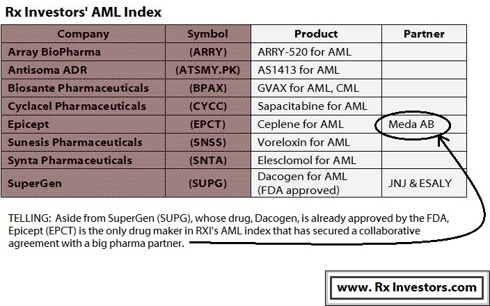 Click to enlarge
June 30, 2010 -- Eisai (OTCPK:ESALY) Announces Results of Phase 3 Study of Dacogen for Injection in Acute Myeloid Leukemia (AML) -- Based on preliminary results, Eisai ESALY Plans to submit a supplemental new drug application (sNDA) to the FDA on or before March 31, 2011.
Disclosure: No positions