InvenSense (NYSE:INVN) has been trying hard to land a slot in Apple's (NASDAQ:AAPL) devices, but up till now, the company's efforts have been a waste. However, recent reports indicate that InvenSense may have finally landed a spot in Apple's upcoming iPhone 6. Craig Hallum recently said that "there is a good chance InvenSense iPhone 6-axis motion sensor and that it could result in $50M in sales and $0.25 EPS over a year's time."
This report came in just a few weeks after Pacific Crest said it was confident that InvenSense has landed a spot in the iPhone 6 and the iWatch. Pacific Crest analyst John Vihn noted, "InvenSense remains extremely well-positioned to penetrate Apple this year." Vihn is positive because InvenSense announced that it is expanding its capacity from 400 million units to 1 billion units.
Obviously, the news isn't official yet, but it's certainly looking more and more likely. A spot in the upcoming iDevices can be a huge growth driver for InvenSense, which is why investors should consider adding it to their portfolio.
Apple's potential will benefit InvenSense
Undoubtedly, penetrating iDevices will prove to be an enormous growth driver for InvenSense. Although Apple is known for pressuring its suppliers for lower-priced chips, it will still largely benefit InvenSense primarily because of the fact that everyone expects the iPhone 6 and the iWatch to be a blockbuster product. Why? Let's take a look.
First, let's take a look at the factors which will contribute to the success of the iPhone 6. Multiple reputed sources have claimed that the iPhone 6 will possess a bigger screen. In fact, rumors indicate that Apple will launch two versions, a 4.7-inch and a 5.5-inch, of the iPhone 6.
According to Canalys, roughly 32% of the total smartphones sold worldwide had screen sizes ranging between 5-inches and 6-inches. Moreover, this segment witnessed over 90 million in unit sales and is the fastest growing segment of the smartphone market. As of now, Apple is yet to tap the large screen smartphone market, and a 5.5-inch iPhone will certainly prove to be lucrative for the company.
In addition, Statista claims that nearly 70% of Apple's iPhone 6 sales can come from buyers who want to replace their older iPhones. Apple derives more than half of its revenue from the iPhone and a 70% replacement sales ratio will ensure that the iPhone 6 hits the ground running. In fact, Morgan Stanley (NYSE:MS) predicts that sales of the iPhone 6 will surpass its predecessor by 20%. Thus, being an iPhone 6 supplier can prove to be a game changer for InvenSense.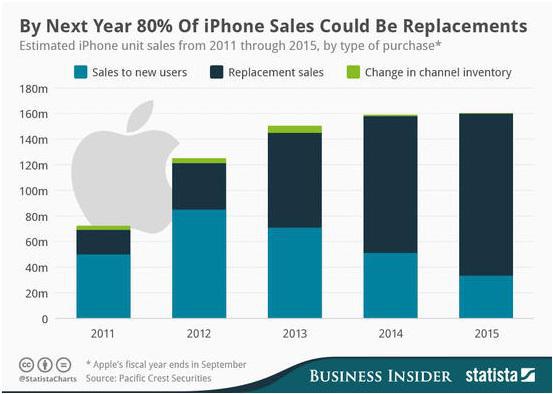 Source: Statista
Moving on, Apple's iWatch is expected to hit the market during the end of 2014, and like the iPhone, analysts expect it to be a massive hit. Morgan Stanley analyst Kate Huberty expects the iWatch to rake in close to $17.5 billion in yearly sales. Assuming that the iWatch has a selling price of $300, the total sales in volume will be just under 60 million units.
This means that the iWatch can have a bigger impact on InvenSense than the iPhone. That's because a recent report from The Wall Street Journal implies that Apple is planning on incorporating about 10 sensors in the much-awaited iWatch. And given that InvenSense is a sensor expert, it is quite possible that it will supply more than one sensor.
The worldwide wearable device market is estimated to be worth somewhere around $30 billion by the end of 2018. InvenSense already supplies sensors to Samsung's (OTC:SSNLF) smartwatch and since it has a high chance of landing a spot in the iWatch, the company can benefit largely from this rapidly growing industry.
Conclusion
InvenSense's expertise and product innovation are important reasons why the company can land a slot in Apple's devices. Moreover, rumors on the Street indicate that InvenSense is close to becoming an Apple supplier. If the rumors turn into reality, InvenSense can soar to new highs.
Disclosure: The author has no positions in any stocks mentioned, and no plans to initiate any positions within the next 72 hours. The author wrote this article themselves, and it expresses their own opinions. The author is not receiving compensation for it (other than from Seeking Alpha). The author has no business relationship with any company whose stock is mentioned in this article.