Company Overview
The Clorox Company (NYSE:CLX) is a multinational manufacturer and marketer of consumer and professional products with approximately 8,400 employees. Clorox sells its products primarily through mass merchandisers, retail outlets, e-commerce channels, distributors and medical supply providers. It markets recognized brand names such as Clorox Healthcare, Pine-Sol, Glad, Hidden Valley, KC Masterpiece, Brita, and Burt's Bees. The company manufactures products in more than two dozen countries and markets them in more than 100 countries. However, Clorox derives approximately 80% of its revenues from the United States making the Company less geographically diverse than its public peers (Kimberly-Clark less than 50% and Colgate-Palmolive less than 20% according to public filings).
Levered Returns Cash Flow Model
A price target of $76.96 was concluded using Levered Returns' three-year projection model which implies Clorox is trading at approximately a 16.3% premium to its latest trading price as of July 6th. An Enterprise Value ("EV") of $12.1 billion was determined by applying a discounted cash flow approach. A total equity value of $9.9 billion was concluded after deducting net debt.
Overview EV Projection Assumptions:
Revenue reaches $5.9 billion in year three which represents a three-year compounded annual growth rate "CAGR" of 1.3%.
Operating income margin expands to 18.0% by year three.
Capital expenditures as a % of revenue remain at 3.7% throughout the projection period which is equal to the Company's 10-year average.
Working Capital as a % of revenue, excluding cash and debt, remains at 4.8% throughout the projection period which is equal to the company's average over the last four quarters.
Tax rate of 34.0% which is in line with the company's LTM effective tax rate.
Depreciation as a % of capital expenditures remains at 95.0% throughout the projection period.
Terminal value concluded by applying a perpetuity formula to the free cash flow in year three using a terminal growth rate of 3.0%.
Discounting the terminal value and discrete cash flows using a weighted average cost of capital of 9.0%. The WACC is discussed further in the Discount Rate Build-Up section below.
Clorox vs. Public Peers
Clorox currently trades at around 12.0x latest twelve months "LTM" EV/EBITDA multiple and a 21.2x LTM PE multiple which is illustrated in the table below. These multiples appear rich in comparison to Kimberly-Clark's (NYSE:KMB) multiples which trade at 11.4x LTM EBITDA and 20.0x LTM PE. Colgate-Palmolive (NYSE:CL) multiples trade at a premium to both Clorox and Kimberly-Clark but this is reasonable given their higher margins and projected growth. Illustrated in the table below, research analysts are projecting Colgate-Palmolive's EBITDA to grow 8.0% in fiscal year 2015 and 8.9% in fiscal year 2016 which is considerably higher than Clorox. However, Clorox's multiples are in line with Colgate-Palmolive's drawing me to conclude that their trading multiples appear rich.

Additionally, Clorox has lagged its peers in total shareholder returns. Looking simply at total dividends paid over the last five years, Clorox's compounded annual growth rate "CAGR" of 8.0% is in line with Colgate-Palmolive's 9.3% and Kimberly-Clark's 5.2%. However, Clorox has underperformed its peers when adjusting for net share repurchases. Clorox's 5-year total shareholder return CAGR of -20.8% is significantly below Colgate-Palmolive's and Kimberly-Clark's 8.2%. The table below illustrates these total shareholder returns over the past five years: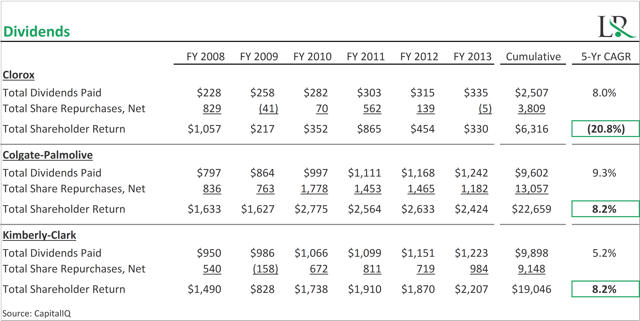 Levered Returns Gordon Growth Model
Clorox's interactive Gordon Growth Model "GGM" provided by Levered Returns is illustrated in the stock price analysis table below. I assumed a long-term expected dividend growth rate of 5.5% which I believe to be aggressive. I recently wrote an SA article on better performing peer Kimberly-Clark, applying an even lower growth rate. I assumed a levered cost of equity of 9.9% (build-up shown in the Discount Rate section below) which implies that the fair value of the company's share price is $68.10; a 25.9% discount to Clorox's latest trading price of $91.90 as of July 6th.
Discount Rate Build-Up
Clorox's levered cost of equity and WACC was determined by applying the Nobel Prize winning Capital Asset Pricing Model "CAPM." This is the estimated return that equity stakeholders require for their investment in a company. I'm calculating the levered cost of equity of 8.6% which is calculated in table (1) below.
I'm estimating the WACC of 9.0% using a range of assumptions highlighted below.
Discount Rate Assumptions:
Levered beta of 0.60 to 0.70. The selection covers the range of betas observed in the financial markets as provided by CapitalIQ, Google Finance, and Yahoo Finance.
Risk free rate of 4.0%.
Additional risk premium adjustment of 1.0% to 3.0%.
Company's cost of long-term debt of 6.0% to 7.0%. Reflects current yields on the company's fixed income per CapitalIQ.
Tax Rate of 34.0%.
Cost of equity weighting of 80.0% to 90.0% to conclude the WACC which reflects Clorox's current capital structure.
Conclusion
Clorox is a respectable company that owns well recognized brands and delivers consistent cash flows. However, the company's financial performance has lagged its public peers and currently trades at premium multiples. Applying an average to the Levered Returns models implies an intrinsic value of approximately $72.50 representing a 21.1% discount to Clorox's latest trading price of $91.90 as of July 6th. I recommend value investors wait for a pull back before considering buying shares of Clorox at current prices. Try your own inputs in the Levered Returns' models and let me know your thoughts in the comments below.
Disclosure: The author has no positions in any stocks mentioned, and no plans to initiate any positions within the next 72 hours. The author wrote this article themselves, and it expresses their own opinions. The author is not receiving compensation for it. The author has no business relationship with any company whose stock is mentioned in this article.