When a company announces the initiation or continuation of a share repurchase plan, many value-driven investors tend to take a closer look at that particular company. In this article, I not only wanted to examine the recent announcement by Bed Bath & Beyond (NASDAQ:BBBY) to initiate a $2 billion share buyback plan but also note a few reasons why I'm staying bullish on the company's stock.
Company Overview
Headquartered in Union, New Jersey, and together with its subsidiaries, operates a chain of retail stores that sell a wide range of domestic merchandise, including bed linens and related items, bath items, and kitchen textiles; and home furnishings, such as kitchen and tabletop items, fine tabletop, basic housewares, general home furnishings, consumables, certain juvenile products, health and beauty care items, gift ware, household items, as well as infant and toddler merchandise.
A Look At The Company's $2 Billion Share Buyback Plan
On July 7, Bed Bath & Beyond announced that its Board of Directors had authorized a new $2.0 billion share repurchase program and expects that the new share repurchase program will commence after the completion of its existing share repurchase program (which, as of May 31, 2014 had approximately $861 million remaining). It is anticipated that the new plan will be completed sometime during 2016, although no specific date was included in the company's announcement.
When it comes to a company's objective of returning value to its shareholders, Bed Bath & Beyond is certainly not the new kid on the block. How is that you ask? One thing that should be noted is the fact that since 2004 and through the fiscal first quarter of 2014, the company has actually returned an estimated $6.6 billion to its shareholders through these types of share repurchases, and if things stay the way they are that number could easily reach $10 billion by 2020.
Recent Trend Behavior
On Monday, shares of BBBY, which currently possess a market cap of $11.97 billion, a forward P/E ratio of 11.08, and a PEG ratio of 1.46, settled at a price of $59.26/share. Based on a closing price of $59.26/share, shares of BBBY are trading 1.18% below their 20-day simple moving average, 2.88% below their 50-day simple moving average, and 14.55% below their 200-day simple moving average.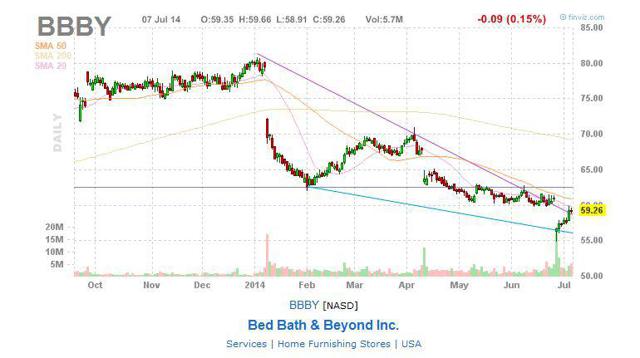 Click to enlarge
It should be noted that although these numbers indicate a short-term and mid-to-long term downtrend for the stock, I actually think the recent downtrend may present a buying opportunity for most investors. If the company can demonstrate a turnaround from its weaker-than-expected earnings performance that was announced on June 25 (FQ1 EPS performance missed the mark by $0.02/share and revenues missed estimates by a margin of $20 million), I strongly believe we could see a turnaround in the company's recent trend behavior.
A Look Ahead To FQ2 Earnings
When it comes to the company's upcoming FQ2 earnings, there are a number of things potential investors should consider. For example, analysts are currently calling for BBBY to earn $1.14/share when its latest earnings are released sometime in late September (which is $0.21/share higher than what the company had reported during FQ1 2014, and $0.21/share higher than the company had reported during the year-ago period). In order to meet and/or exceed its quarterly EPS estimates, I'd like to see a 2.0%-to-4.0% increase in the company's net income, a 1.7%-to-2.4% increase in the company's net sales, and lastly, a 2.0%-to-3.0% increase in its cash and cash equivalents.
Should investors be worried about Bed Bath & Beyond's FQ2 guidance? No they shouldn't and here's why. I actually happen to be a fan of conservative guidance, rather than guidance that consists of unachievable milestones. The fact that Bed, Bath, and Beyond's board gave a range of $1.08/share-to-$1.14/share, gives investors a pretty solid indication that management is confident in those numbers and our expectations should be for anything drastic in either direction. To be a bit more specific, the company's acquisition of Cost Plus in 2012 should begin to drive overall growth to a much higher level, but to what degree is still to be seen and if I were management I'd much rather want to under-promise and over-deliver rather than over-promise and under-deliver.
Conclusion
For those of you who may be considering a position in Bed Bath & Beyond, I'd actually look to keep a closer eye on any further developments with regard to its share repurchase initiative as well as its ability to generate higher revenues while reducing its overall costs on a quarter-over-quarter basis. By reducing overall costs while enhancing net income and continuing to drive its share repurchase initiatives to the next level, there's no reason why shares of BBBY shouldn't be trading at levels of at least $66/share by late-September, if not sooner.
Disclosure: The author has no positions in any stocks mentioned, but may initiate a long position in BBBY over the next 72 hours. The author wrote this article themselves, and it expresses their own opinions. The author is not receiving compensation for it (other than from Seeking Alpha). The author has no business relationship with any company whose stock is mentioned in this article.