Twitter (NYSE:TWTR) said that it will acquire cloud-based live-video platform SnappyTV in order to grow its video content business. SnappyTV offers video editing, distribution and live clipping tools, using which, TV broadcasters, businesses, and event producers will be able to share high-quality videos with customers efficiently.
Twitter's user growth is slowing at a rapid pace, which is worrisome. Despite that, we believe that the acquisition of SnappyTV will help the micro-blogging company accelerate its ad-revenue growth.
Accelerating Growth with Videos: Makes Sense?
Twitter CEO Dick Costolo said that photos, videos and other rich media elements should be a bigger part of Twitter for kick-starting user growth, which is expected to be translated into revenue growth eventually. The company already tried to boost growth rate by adding big photos and vine videos directly to the timeline. Now with the acquisition of SnappyTV, the company will further strengthen its content-line for users.
Twitter analyzed millions of Tweets sent by verified users in the U.S. in the areas of government, music, news, sports and TV for evaluating exactly what difference it makes if photos or videos are added to Tweets. The analysis confirms that if videos, photos or links are added to Tweets, the number of Retweets increases meaningfully.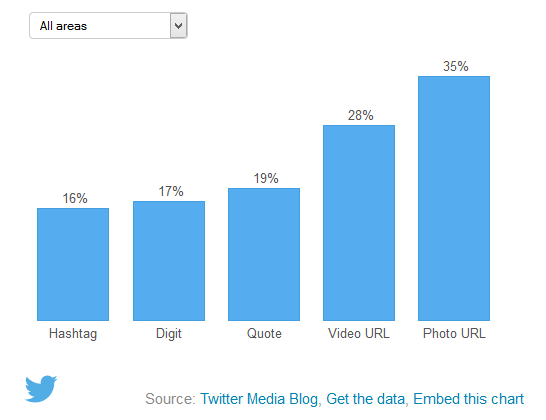 SnappyTV: Can it Boost Twitter's Growth?
We believe that SnappyTV, a company that was formed in 2010 to help its users clip, edit, and distribute videos, will be able to boost Twitter's user growth by allowing the company to help its users add videos in Tweets in a sophisticated way. Some of Twitter's media partners already use SnappyTV, most of which are leading business brands. With SnappyTV, Twitter users will be able to feed real-time videos in Tweets. Watching live clips from television will be possible also.
According to eMarketer, Twitter's worldwide user base will continue to grow over the next five years, albeit at a diminishing rate. Growth is expected to taper off from 24.4% in 2014 to 10.7% by 2018. In the U.S., Twitter's user growth has started to saturate. By 2015, eMarketer estimates that its growth rate in the country will taper off into single digits. However, the micro-blogging company is expected to gain significantly in terms of advertising dollars from the increasing inclusion of videos and other rich media into Tweets. We believe that the trend will help the company arrest diminishing user growth in the U.S. also, where Twitter still enjoys the largest number of individual users.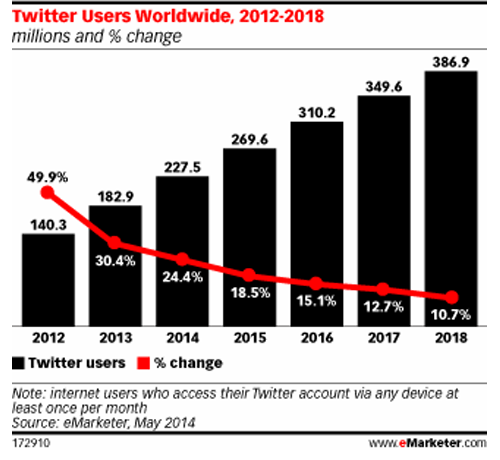 Should You Buy Twitter?
Internet advertising revenues in the U.S. reached $11.6 billion for the first quarter of 2014, a 19% increase year-on-year, according to IAB's (Interactive Advertising Bureau) Internet Advertising Revenue Report, conducted by PricewaterhouseCoopers. Sherrill Mane, senior vice president of research, analytics and measurement at the IAB said last year, "Video does capture the imagination of big brands, and big brands are looking to follow audiences."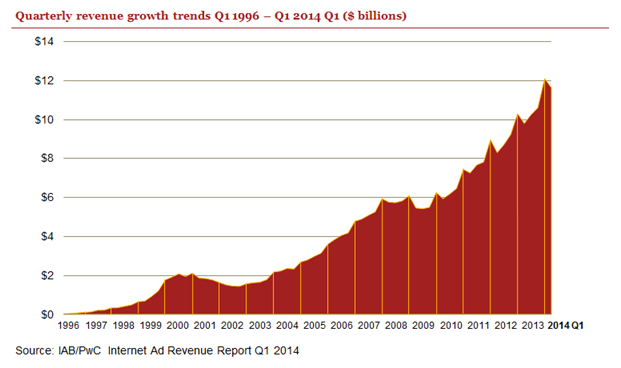 About 85% of Twitter's revenues come from advertising on its site, which increased 109.8% over the last year to $664.9 million at the end of FY13. Its shares are trading at a forward twelve-month EV/revenue multiple of 11.5x, which we believe is quite attractive, given its revenue growth prospects. As per the estimates of eMarketer, Twitter's user-base will grow at a CAGR of 14% and we believe that use of videos will boost its advertising revenues significantly going forward. Twitter's shares are currently trading around $40, which offers a compelling entry point for long-term investors.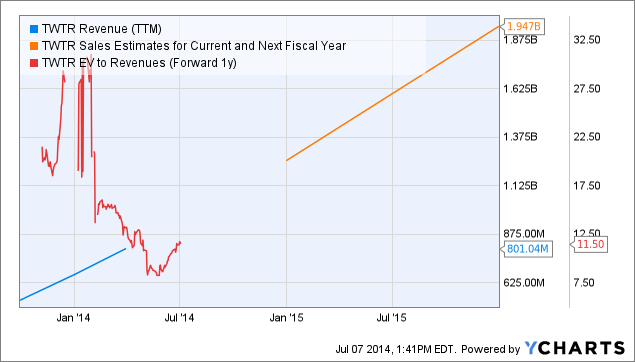 TWTR Revenue (TTM) data by YCharts
Final Words
The advantage of advertising on Twitter over traditional display advertising is that the company has worked hard to make sure that ads on the site are not interruptive. Following the acquisition of SnappyTV, Twitter is expected to see huge growth of advertising dollars.
Business relationship disclosure: The article has been written by a BB Research stock analyst. BB Research is not receiving compensation for it (other than from Seeking Alpha). BB Research has no business relationship with any company whose stock is mentioned in this article.
Disclosure: The author has no positions in any stocks mentioned, and no plans to initiate any positions within the next 72 hours. The author wrote this article themselves, and it expresses their own opinions. The author is not receiving compensation for it (other than from Seeking Alpha). The author has no business relationship with any company whose stock is mentioned in this article.