In an article I wrote last year I explained that "Taubman Centers (NYSE:TCO) is a "Rolex of a REIT" and I can't wait to own the shares, when the price is right." By comparing the Michigan-based REIT to a Rolex, I was alluding to the fact that Taubman's earnings history was as durable as the luxury watch brand and equally as predictable. I reasoned:
It seems that my brain has been trained to buy quality merchandise at discount prices. Or perhaps that is how my mentor, the legendary Ben Graham, would've also reasoned his choice in wrist wear. Maybe he would have visited an area pawn shop to explain to the clerk that he was looking for a classy watch, one that promises to hold a sound "margin of safety" or simply a 'favorable difference between price on the one hand and indicated or appraised value on the other.
Then in early January - thanks in large part to the REIT selloff last year - I was able to pick up shares of Taubman at a favorable price. As I saw the "margin of safety" moving my way I pounced on the shares of my only Mall-based REIT at a price of $64.29. I was attracted to the price of Taubman, but I was equally excited to buy a "blue chip" REIT with a powerful track record of dividend performance.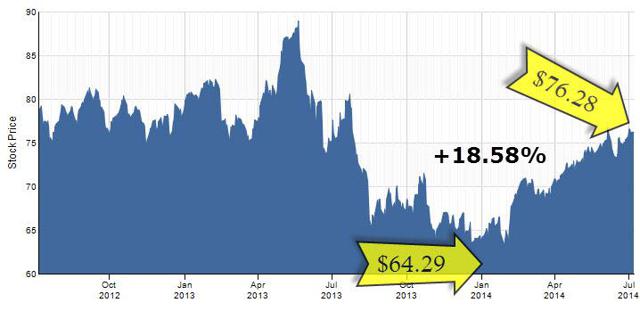 Click to enlarge
My patience paid off! Taubman has outperformed the peer group (since January 1) and more than doubled the performance of the S&P 500.

Click to enlarge
As I said, Taubman (and Tanger) are the only mall sector REITs that did not cut the dividend during the Great Recession. When I purchased shares in Taubman I was not excited to be getting the 3.1% dividend yield but I was more pleased to be investing in a SWAN (sleep well at night) performer with an extraordinary history of dividend safety.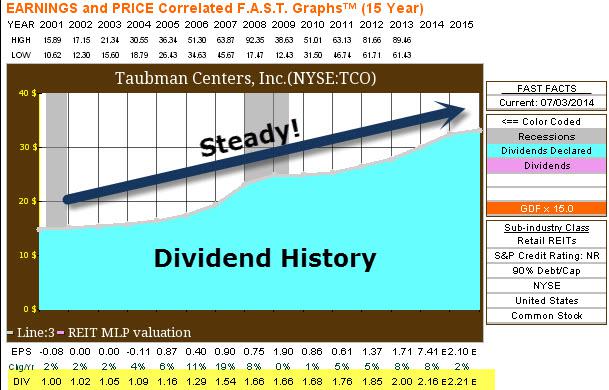 As I said, I bought shares in Taubman because of its "Rolex-like" track record of dividend performance. It's clear that Taubman is one of the few retail REITs that has demonstrated a stalwart record of corporate muscle and that history provides me with valuable insight into underlying performance. After all, a company's dividend represents a commitment to investors and any company that consistently increases its dividend is well-aligned with investors.
Taubman's History of Recycling Capital
A few weeks ago, Taubman announced that it was selling 7 of its shopping malls to Starwood Capital Group for $1.405 billion. Following the transaction, Taubman will own 17 properties (just 2 less than when the REIT went public in 1992). The Starwood deal is being acquired at a 6.6% cap rate (on 2014 NOI) and the targeted closing date is Q4-14.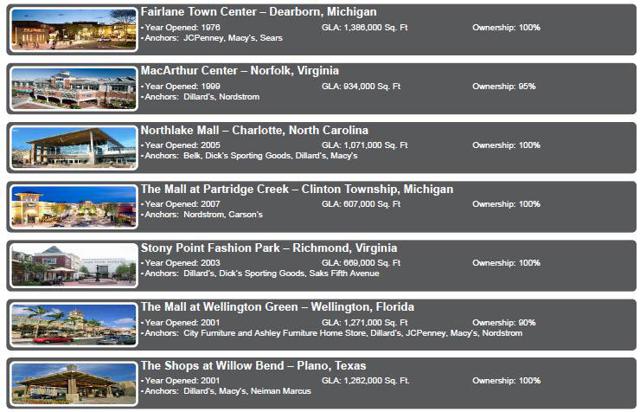 Click to enlarge
Taubman's remaining portfolio will be significantly enhanced with higher sales assets and the company's NOI should grow by around 50 basis points (post sale). Here is a snapshot of the geographic diversification, post sale with highly productive assets: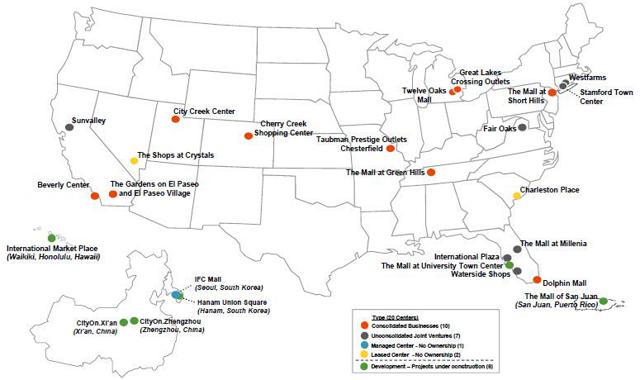 Click to enlarge
Taubman's portfolio (after sell to Starwood) will consist of 17 market dominant operating assets - over 17,165,000 square feet across the U.S. In addition, Taubman has 6 centers under construction so the portfolio will have the same number of properties when the construction has been completed.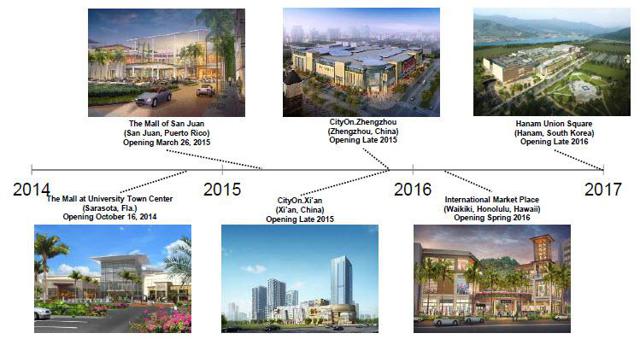 Click to enlarge
The properties that Taubman is selling represent around 14% of NOI and when the REIT completes construction of its 3 US developments (Sarasota, San Juan, and Waikiki) the NOI will be nearly the same as it is today. In addition, once Taubman completes all of its development, the NOI will grow much higher.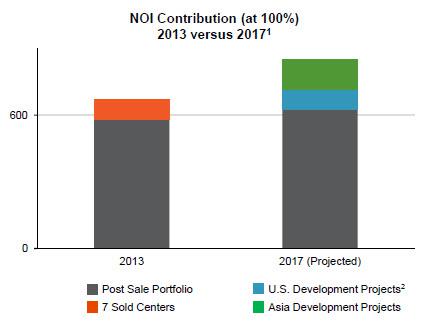 Taubman's portfolio metrics will also be enhanced as the company expects to generate tenants sales per square foot of $825 to $850.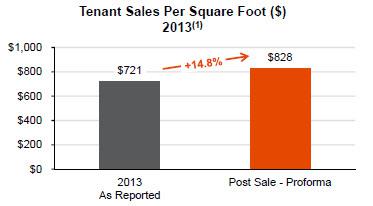 That translates to around 50 bps growth: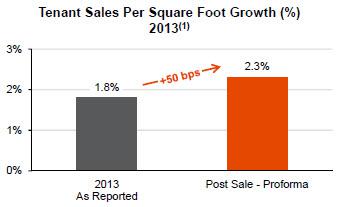 NOI growth should increase by around 120%.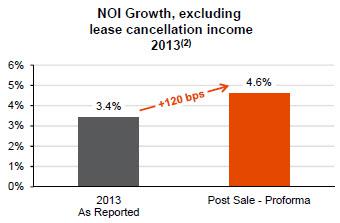 Taubman's occupancy rate should also increase by around 160 bps.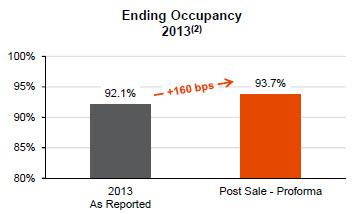 In addition, Taubman's operating performance should excel - average rent per square foot is expected to increase by around 16%.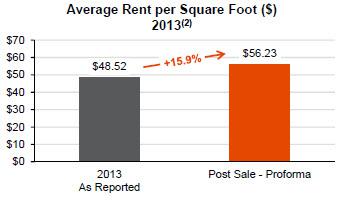 Releasing spreads per square foot should see enhanced growth of around 390 bps.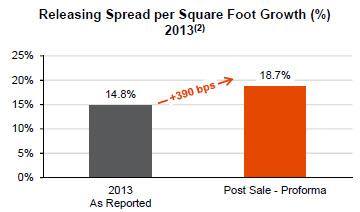 Occupancy cost ratio should be neutral.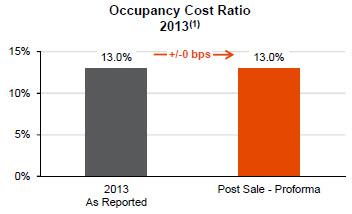 Currently Taubman has 44 anchors and post sale the number of anchors will drop to 35. That means that the post sale portfolio will have a higher percentage of department stores with superior "drawing power."

Click to enlarge
More Quality, Less Quantity
For Mall REITs, it comes down to "survival of the fittest" and the key ingredient for that measurement is demographics. Once Taubman closes on the sale of the 7-asset portfolio, the company will have improved demographics. For example, the portfolio average 30-minute drive population will increase by 7.4%.

Click to enlarge
In addition, the quality of the demographics improve based upon a more skilled labor force - the number of bachelor's degrees will increase by 90 bps.

Click to enlarge
Taubman's more affluent trade areas will see noticeable improvement:

Click to enlarge
I don't live near a Taubman Mall; however, even if I did I would not be a statistic with increased millionaires living 30 miles away.

Click to enlarge
What To Do With The Proceeds?
As mentioned above, Taubman plans to sell the 7-asset portfolio for a price of $1.405 billion and that includes $785 million in cash and $620 million in debt.

Click to enlarge
Taubman has two options to consider: (1) paying a special dividend of approximately $5 per share (distributed in 2015), or (2) structuring a Section 1031 exchange. Remember, Taubman has an extremely low basis in the portfolio so the optimal way to reward shareholders is to avoid paying Uncle Sam and reinvest the proceeds into a like-kind asset(s).
The problem with the 1031 exchange is that there aren't many Class A Malls for sale and the ones that are for sale are outrageously priced. With around $450 million of cash to deploy, Taubman could lever up easily and take down a $1 billion whale with no problem. But that's a tough order to fill.

Click to enlarge
The problem with 1031 exchange deals is that once the relinquished property closes, the seller must identify a replacement property (or properties) in 45 days (there is absolutely no flexibility written into the rule and no extensions are available).
Then, the replacement property must be received and the exchange completed no later than 180 days after the sale of the exchanged property or the due date (with extensions) of the income tax return for the tax year in which the relinquished property was sold, whichever is earlier. The replacement property received must be substantially the same as property identified within the 45-day limit described above. See IRS Code Section 1031 HERE.

As an investor in Taubman, I'm hoping that the company is able to locate an attractive acquisition for the 1031 exchange. It would be great to collect a special dividend; however, I believe that the most intelligent solution is to increase my wealth (share value) and provide an even more powerful platform of dividend repeatability.
Regardless of the 1031 or special dividend, Taubman's balance sheet should not be impacted by the sale. The $1.1 billion primary line of credit will be maintained with no outstanding borrowings (at closing). In addition, there will be significant cash upon closing. Here's a snapshot of the improved balance sheet metrics:

Debt maturities will not be impacted:

Click to enlarge
And the balance sheet will be preserved:

Click to enlarge
At the end of the day, the recent news related to Taubman's strategic portfolio sale simply validates my ownership stake in the trusted REIT brand. My decision to invest in this luxury-branded REIT had more to do with trusting management than trusting Mr. Market. Whether it's a REIT or a C-Corp., I always measure a company based on its track record of profitable operations and dividend safety.
Whether a normal dividend or a special dividend, I will sleep well at night knowing that my interests are aligned with Taubman's. Regardless of whether you're buying a Rolex, a REIT, or a rhinoceros, always remember to ask yourself if your price constitutes a "favorable difference between price on the one hand and indicated or appraised value on the other."
For more information on the Rhino REITs, check out my Special Report HERE (just $9.97).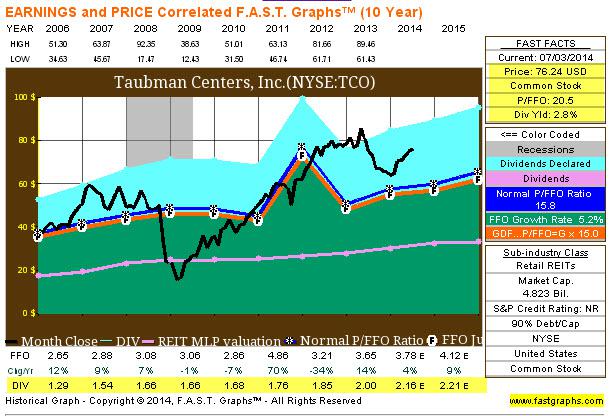 To Learn More About Intelligent REIT Investing, check out my newsletter HERE.
REITs mentioned:(NYSE:CBL), (NYSE:SPG), (NYSE:GGP), (NYSE:MAC), (NYSE:SKT), (GRT), and (NYSE:RSE).
Sources: SNL Financial, FAST Graphs, and TCO Presentation.
Disclaimer: This article is intended to provide information to interested parties. As I have no knowledge of individual investor circumstances, goals, and/or portfolio concentration or diversification, readers are expected to complete their own due diligence before purchasing any stocks mentioned or recommended.
Disclosure: The author is long O, DLR, VTR, HTA, STAG, UMH, CSG, GPT, ARCP, ROIC, HCN, OHI, LXP, KIM, WPC, DOC, UDF. The author wrote this article themselves, and it expresses their own opinions. The author is not receiving compensation for it (other than from Seeking Alpha). The author has no business relationship with any company whose stock is mentioned in this article.