As I have stated in my previous articles, I am pretty sure that Apple's (NASDAQ:AAPL) new iPhone 6 will have a sapphire display. However, I also believe that Apple's upcoming iWatch will also use GT Advanced Technologies' (GTAT) sapphire display. The recent UBS downgrade claims that Apple will not have enough sapphire to satisfy the demand of the iDevices; however, I think that this assumption is wrong. Let's take a look at the reasons why I think the iWatch, along with the iPhone 6, will have a sapphire display.
Increasing Production Capacity
Back in March, Appleinsider reported that Apple is planning to increase the production of the Arizona-based sapphire plant to 1,700 furnaces to make sapphire boules in bulk. However, as stated by analyst Matt Margolis, the number has increased to over 2,500 furnaces. Matt said:
GT's Salem, MA facility measures 50,000 square feet and is likely home to several hundred furnaces in addition to the 2,500 + furnaces that have been installed in the Mesa, AZ facility. GT's Salem sapphire facility may add up to 20 million sapphire screens on top of GT's annual capacity of 200 million plus annual units grown from inside the Mesa, AZ sapphire plant.
The UBS downgrade claims that the iPhone 6 will not use sapphire display due to supply constraints; however, as stated above, Apple will have enough sapphire to produce over 200 million iPhones. Apple sold approximately 160 million iPhones in the last 12 months, and analysts are expecting the iPhone 6's sales to be 20% more than its predecessors, which brings the figure to somewhere near 182 million iPhones. So, with a production capacity of over 200 million, I think Apple will have enough sapphire for both versions of the iPhone, as well as the iWatch. Thus, I think the UBS downgrade doesn't make sense.
Lower Cost
Due to the high cost of manufacturing, sapphire displays on a small device makes more sense. As the size of the device increases, the cost of making a sapphire display increases drastically. The estimated price of making an iPhone-sized sapphire display is $9-$12. However, the estimated screen-size of the iWatch is 1.7-inch to 2.5-inch, which means that the cost of producing a sapphire display for the iWatch will be $4-$6. Due to the low cost of production, I am fairly certain that the iWatch will feature a sapphire display.
Sapphire iWatch Makes More Sense
The primary advantage of a sapphire display is a scratch-proof screen, while the main disadvantage is that it gets shattered easily. Thus, I think a sapphire display in the iWatch makes more sense than in any other device. In my opinion, watches are more prone to scratches and less prone to shattering. Thus, it is important for a watch to have a scratch-proof display.
How Will GT Advance Technologies Benefit From The iWatch?
Apple's iWatch is likely to hit the market during the end of 2014, and analysts expect it to be a high-selling product. Morgan Stanley analyst Kate Huberty expects the iWatch to generate over $17.5 billion in annual sales.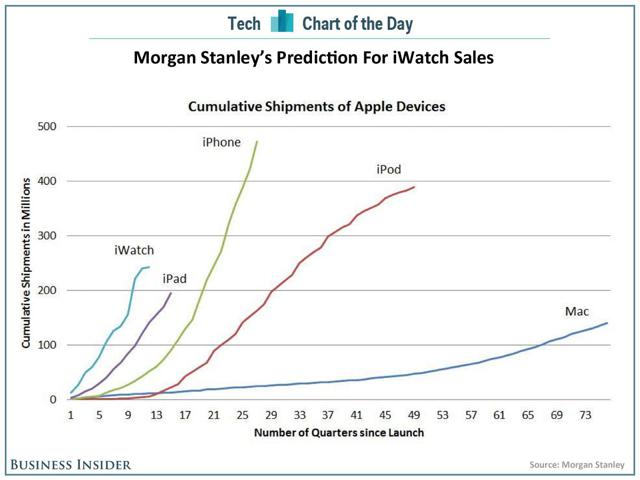 Source: Morgan Stanley
Assuming that the iWatch has a selling price of $300, the total sales in volume will be just under 60 million units, and this could potentially be a huge growth driver for GT Advanced Technologies.
Downward Risks
As Apple hasn't officially announced that it will be using sapphire in its upcoming iDevices, GT Advanced Technologies' share price could take a huge hit if Apple decides to dump sapphire. Moreover, Corning's (NYSE:GLW) Gorilla Glass is still cheaper than sapphire. Thus, Apple can choose to not use sapphire, in order to boost margins.
Conclusion
GT Advanced Technologies looks all set to benefit from Apple, and the UBS downgrade has created a buying opportunity for investors. The stock is down 15% since the downgrade, and this may be the best opportunity for new investors to buy GT Advanced Technologies, as I expect the stock to soar after the official launch of the iPhone 6 and the iWatch.
Disclosure: The author has no positions in any stocks mentioned, and no plans to initiate any positions within the next 72 hours. The author wrote this article themselves, and it expresses their own opinions. The author is not receiving compensation for it (other than from Seeking Alpha). The author has no business relationship with any company whose stock is mentioned in this article.