The following is a list of stocks that are oversold, according to the Relative Strength, or RSI(14), indicator. All of these stocks have conservative accounting practices, according to the ratings developed by forensic accounting firm Audit Integrity.

Audit Integrity was founded in 2002 to develop risk management tools based on a statistical analysis of corporate integrity. The Accounting and Governance Risk (AGR) rating is a forensic measure of the transparency and reliability of a corporation's financial reporting and governance practices. The closer the score is to 100, the more conservative the company's accounting practices, according to Audit Integrity.

All the companies in this list have high AGR scores above 60, i.e. more conservative and transparent accounting practices than most other firms. In addition, all of these stocks have RSI(14) values below 40.

RSI(14) and short float values sourced from Finviz, AGR ratings sourced from Audit Integrity.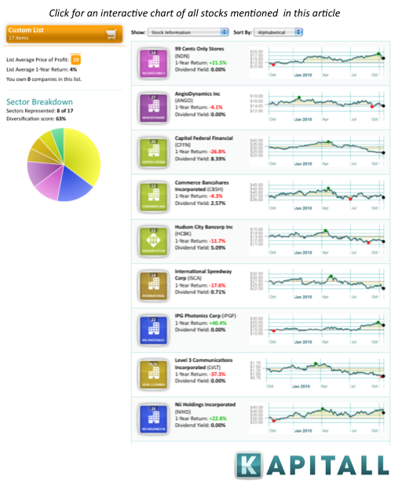 The list has been sorted by the AGR score. The closer the score is to 100, the more conservative the company's accounting practices, according to Audit Integrity.

1. Level 3 Communications, Inc. (NASDAQ:LVLT): Diversified Communication Services Industry. Market cap of $1.47B. RSI(14) at 37.24. Audit Integrity's models suggest the company's accounting practices are conservative, with an AGR score of 94. Short float at 6.55%, which implies a short ratio of 3.88 days.

2. 99 Cents Only Stores (NYSE:NDN): Discount And Variety Stores Industry. Market cap of $1.07B. RSI(14) at 34.32. Audit Integrity's models suggest the company's accounting practices are conservative, with an AGR score of 93. Short float at 8.84%, which implies a short ratio of 7.53 days.

3. AngioDynamics, Inc. (NASDAQ:ANGO): Medical Instruments & Supplies Industry. Market cap of $351.7M. RSI(14) at 39.46. Audit Integrity's models suggest the company's accounting practices are conservative, with an AGR score of 92. Short float at 4.85%, which implies a short ratio of 7.76 days.

4. Valley National Bancorp (NYSE:VLY): Regional Bank. Market cap of $2.05B. RSI(14) at 39.1. Audit Integrity's models suggest the company's accounting practices are conservative, with an AGR score of 92. Short float at 7.92%, which implies a short ratio of 17.78 days.

5. Capitol Federal Financial (NASDAQ:CFFN): Savings & Loans Industry. Market cap of $1.76B. RSI(14) at 30.91. Audit Integrity's model suggest the company has average accounting risk, with an AGR score of 83. Short float at 16.25%, which implies a short ratio of 11.63 days.

6. Hudson City Bancorp, Inc. (NASDAQ:HCBK): Savings & Loans Industry. Market cap of $6.21B. RSI(14) at 36.75. Audit Integrity's model suggest the company has average accounting risk, with an AGR score of 78. Short float at 3.04%, which implies a short ratio of 2.77 days.

7. Rite Aid Corporation (NYSE:RAD): Drug Stores Industry. Market cap of $793.27M. RSI(14) at 36.88. Audit Integrity's model suggest the company has average accounting risk, with an AGR score of 78. Short float at 5.18%, which implies a short ratio of 8.6 days.

8. Commerce Bancshares, Inc. (NASDAQ:CBSH): Regional Bank. Market cap of $3.05B. RSI(14) at 37.23. Audit Integrity's model suggest the company has average accounting risk, with an AGR score of 74. Short float at 2.39%, which implies a short ratio of 5.41 days.

9. NII Holdings, Inc. (NASDAQ:NIHD): Wireless Communications Industry. Market cap of $6.36B. RSI(14) at 37.44. Audit Integrity's model suggest the company has average accounting risk, with an AGR score of 72. Short float at 1.52%, which implies a short ratio of 1.32 days.

10. Synaptics, Incorporated (NASDAQ:SYNA): Computer Peripherals Industry. Market cap of $891.05M. RSI(14) at 39.67. Audit Integrity's model suggest the company has average accounting risk, with an AGR score of 72. Short float at 31.02%, which implies a short ratio of 16.39 days.

11. Textainer Group Holdings Limited (NYSE:TGH): Rental & Leasing Services Industry. Market cap of $1.27B. RSI(14) at 36.28. Audit Integrity's model suggest the company has average accounting risk, with an AGR score of 70. Short float at 13.64%, which implies a short ratio of 10.13 days.

12. IPG Photonics Corporation (NASDAQ:IPGP): Semiconductor Industry. Market cap of $999.83M. RSI(14) at 39.18. Audit Integrity's model suggest the company has average accounting risk, with an AGR score of 68. Short float at 5.92%, which implies a short ratio of 7.12 days.

13. TFS Financial Corporation (NASDAQ:TFSL): Regional Bank. Market cap of $2.71B. RSI(14) at 35.35. Audit Integrity's model suggest the company has average accounting risk, with an AGR score of 68. Short float at 3.29%, which implies a short ratio of 3.15 days.

14. International Speedway Corporation (NASDAQ:ISCA): Sporting Activities Industry. Market cap of $1.09B. RSI(14) at 33.42. Audit Integrity's model suggest the company has average accounting risk, with an AGR score of 66. Short float at 5.27%, which implies a short ratio of 9.37 days.

15. PAREXEL International Corporation (NASDAQ:PRXL): Medical Laboratories & Research Industry. Market cap of $1.23B. RSI(14) at 37.22. Audit Integrity's model suggest the company has average accounting risk, with an AGR score of 65. Short float at 6.11%, which implies a short ratio of 5.87 days.

16. World Acceptance Corp. (NASDAQ:WRLD): Credit Services Industry. Market cap of $606.04M. RSI(14) at 34.7. Audit Integrity's model suggest the company has average accounting risk, with an AGR score of 63. Short float at 26.13%, which implies a short ratio of 19.81 days.

17. Weyerhaeuser Company (NYSE:WY): Lumber, Wood Production Industry. Market cap of $8.51B. RSI(14) at 40.31. Audit Integrity's model suggest the company has average accounting risk, with an AGR score of 62. Short float at 3.96%, which implies a short ratio of 3.89 days.


Disclosure: No positions