Apple (NASDAQ:AAPL) investors, who are patiently waiting for the iWatch to become a reality, should take note that AT&T (NYSE:T) will start selling the LG Electronics (OTC:LGEIY) G Watch on July 11. Google's (NASDAQ:GOOG) (NASDAQ:GOOGL) wearable-specific Android Wear OS powers the LG G Watch. It will be important for investors if AT&T can sell the G Watch as easily as it sells iPhones to its post-paid subscribers.
AT&T, which benefits a lot from selling the iPhone, might be able to push down the G Watch to its existing Android phone subscribers. Furthermore, bundling the G Watch with the new LG G2 and G3 Android premium phones should be attractive to new subscribers.
AT&T's willingness to help sell smartwatches is more important than the news that Apple poached a Swiss watch sales director from Tag Heuer. AT&T's marketing muscle has proven itself with the early years of the iPhone.
Once the iWatch arrives, I expect Apple to tap AT&T again to help it distribute its first smartwatch product. An iPhone 6/iWatch bundle offer from AT&T is attractive.
AT&T's Role in Apple's Success
AT&T, no doubt, was crucial to the success of Apple's phone business. The late Steve Jobs failed at first to convince AT&T to support the iPhone. The initial rejection did not deter Jobs, because he believed that AT&T should be his partner for the iPhone.
As early as 2005, Jobs was already trying to find a wireless provider to help launch the iPhone. He needed a wholesale mobile virtual network operator (MVNO) that will give him favorable terms and flexible access on the iPhone's voice and data management. AT&T management was cool to the idea of giving control to Apple. Wireless carriers traditionally hold absolute control on the phones they sell to their subscribers.
However, Jobs was undeterred, and eventually recruited AT&T's support in 2006. Jobs also managed to persuade AT&T to share revenue with Apple. In return, AT&T got a 3-year exclusive contract for the iPhone, and the first iOS handset launched in June 2007.
AT&T helped Apple post giant gains over the last 7 years. The iPhone now generates more than 57% of Apple's revenue and most of the company's net income.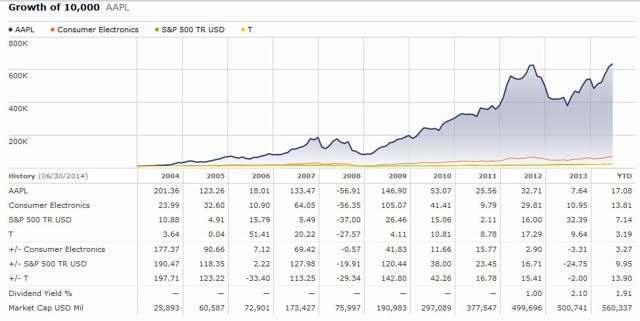 Source: Morningstar.com
Higher Price Tag, Higher Margin
Like the smartphone models existing today, the smartwatch concept will probably come with similar features and functions. However, Apple's high-margin policy and loyal bunch of customers may allow the iWatch to come with a higher retail price tag than AT&T's offer of $299 for the LG G Watch.
Apple is hiring Swiss luxury watch employees for a reason. The iWatch, like the iPhone, might come in as a luxury smartwatch to set it apart from Android Wear products.
The same Snapdragon 400 chip that is found inside mid-priced Android phones of today powers the LG G Watch. I do not think Apple will stoop down and start making mid-priced smart devices anytime soon.
Here is a picture of the LG G Watch.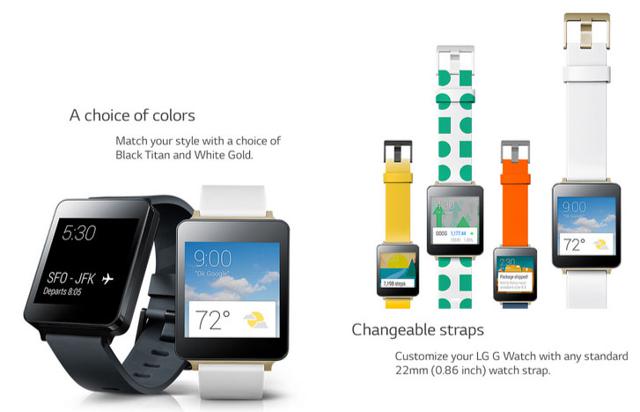 Source: LG.com
The changeable straps feature of the G Watch reminds me of budget Swatch products. The colorful and various straps option is attractive to young people. However, Apple designers never made candy-colored models of the iPhones like what Nokia (NYSE:NOK) did with the Lumia and Nokia X phones.
I am therefore assuming that the iWatch will come with luxury Swiss watch aesthetics - elegant, white, gold, or black matte, and with fixed brushed steel or genuine leather straps. The iWatch may also feature a sapphire display.
Another Android Wear smartwatch, the Moto 360, looks elegant and has the vibe of an expensive roundface Swiss watch. The Pebble Steel looks like Rado made it.
I hope that Apple's first smartwatch will have the same great features of the LG G Watch:
Compatibility and inter-operability with smartphones
Push notifications
Voice operation
Water & dust resistant
Long battery life
Bluetooth-enabled
Health Monitoring Sensors
MicroUSB port/Headset Jack
A higher price tag for an Apple smartwatch may elevate it to high-end status. Apple investors benefit more when Apple keeps selling a lot of its high-margin products.
The iLoyalists did not mind buying a more expensive iPhone 5C, in spite of the availability of cheaper high-end phones like the Nexus 5.
Conclusion
It is not important how soon Apple can release a commercial smartwatch. Apple, like what it did with the first iPhone, works secretively and according to its own schedule.
What is important is that AT&T is a potential ally in marketing the iWatch. High-end phones like the iPhone benefited a lot from carrier support.
Apple's upcoming iWatch may also benefit from carrier support. Giving a wireless carrier exclusive multi-year distribution deal may be a good selling point to attract wireless carriers like AT&T or Verizon (NYSE:VZ) to support the iWatch.
Google has an early lead with its Android Wear devices. However, Apple is still a Buy. Short-term, medium-term, and long-term Technical indicators still hint AAPL is a 100% Buy.
AAPL has greatly outperformed GOOG, T, and VZ this year. Apple's strong fundamentals and massive cash hoard makes it the best long-term tech-related investment at the moment.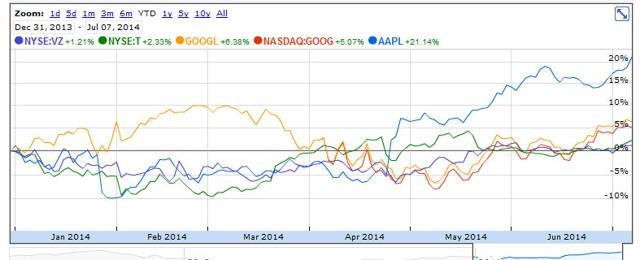 Source: Google Finance
Lastly, Google and Apple are fierce competitors in smartphones and tablets. However, Google employees still helped Apple fix security vulnerabilities in iOS and Mac OS X updates. Seeking Alpha users may appreciate that competing companies still help each other occasionally. It is not always about vicious patent litigation and propaganda warfare.
Disclosure: The author is long AAPL. The author wrote this article themselves, and it expresses their own opinions. The author is not receiving compensation for it (other than from Seeking Alpha). The author has no business relationship with any company whose stock is mentioned in this article.