Fifth Street Finance (NYSE:FSC) recently reported that it was increasing its monthly dividend by 10% due to increased returns from its "multi-point plan" discussed in my "FSC Articles". Part of this plan is its Senior Loan Fund (SLF) that is a similar structure that other BDCs use to provide increased yields from safer than average loans through taking a second lien position to a more senior partner such as Ares Capital (NASDAQ:ARCC) and its program with GE (NYSE:GE). This could also lead to higher fee income as well. The following statement was the most recent update on this program:
"We recently closed SLF JV I, a joint venture to co-invest with a subsidiary of Kemper Corporation, which should be a critical driver of future earnings growth. Joint ventures like this require a BDC to use its non-qualifying asset basket. We have plenty of capacity to grow the Senior Loan Fund, and other similar joint ventures, because less than 10% of our assets are non-qualifying versus a regulatory cap of 30% of assets."
FSC has consistently aligned its dividend with net investment income ("NII") as stated last year when it decided to reduce the dividend: "The Board's decision to re-align the dividend with net investment income reflects the higher quality and lower overall risk of the portfolio in an environment where investment yields continue to compress. Fifth Street's leading direct origination platform continues to generate assets with attractive risk-adjusted returns, but at lower yields and reduced levels of risk than in the past." I believe this shows that the company will make decisions that might not be popular among investors but are in the best interest of shareholders for the long run.
Basically FSC was paying around $1.15 per year for most of 2012 and 2013 before reducing it to $1.00 per year and yesterday increased it to $1.10 with the following statement:
"At FSC, we are executing on strategic initiatives intended to drive future earnings growth, including the timely funding of an initial portfolio in SLF JV 1, a joint venture between FSC and a subsidiary of Kemper Corporation (NYSE:KMPR). Continuing to fund additional investments in SLF JV 1 along with potentially completing and expanding other similar joint ventures have provided our Board of Directors with confidence in making its most recent dividend declaration. As a result, we are pleased to announce a 10% increase in our monthly dividend to an annualized run rate of $1.10 per share beginning in September 2014."
I have decided to compare FSC to Prospect Capital (NASDAQ:PSEC) for many reasons but mostly because they are among the most visible and larger BDCs with higher yields than most. I have recently surveyed a group of BDC investors regarding what keeps them up at night with regards to their investments and overwhelmingly "potential dividend cuts" was #1 followed by portfolio credit quality. The following table compares some of the key metrics for PSEC and FSC.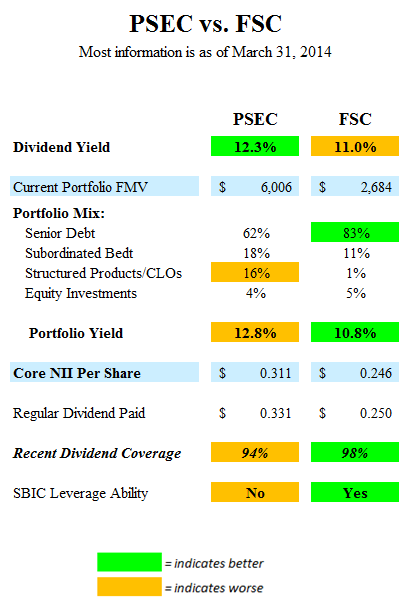 I have highlighted what I believe indicates better or worse indicators between the two. Obviously higher amounts of senior debt is preferred when investing in BDCs but this usually translates to lower portfolio yields and dividend coverage for shareholders. Over the last five quarters FSC has consistently increased the amount senior secured debt investments in its portfolio that now accounts for 83% of total investments compared to the average BDC with around 66%. These "safer" senior loans carry lower yields on average and as FSC has shifted the portfolio, its overall yield has recently fallen from 11.4% to 10.8% and was one of the key reasons that the company cut its dividend at the end of last year. However I believe a lower portfolio yield is a positive because it could indicate that there might be less declines in the future and potentially higher yields if FSC continues to successfully execute its plan.
As discussed in many of my "PSEC Articles" collateralized loan obligation ("CLO") investments are riskier than other BDC investments due to the following issues: less transparent than direct investments in portfolio companies, repayment priority of more senior debt holders, thinly traded, not listed on traditional exchanges, making them less liquid, difficult to value and more volatile. PSEC has larger amounts of these types of investments than most BDCs with the exception KCAP Financial (NASDAQ:KCAP) and TICC Capital (NASDAQ:TICC) both of which I consider to be among the riskiest BDCs. One of the largest issues with these types of investments is the amount of yield compression due to increased competition for higher yield assets. BDCs that rely on CLOs are likely to see much lower portfolio yields in the coming quarters.
I recently compared the dividend coverage potential for BDCs including the most recent "PSEC: BDC Dividend Coverage Part 18". The table below shows the dividend coverage results for PSEC and FSC from my "optimal leverage" analysis that uses the current cost structure and capital expenses for each BDC, along with the amount of equity as of March 31, 2014 (or most recent), a debt-to-equity ratio of 0.80 and the current portfolio yield to project income and expenses. For more information on this approach to projecting dividend coverage, please read "BDC Dividend Coverage Part 1".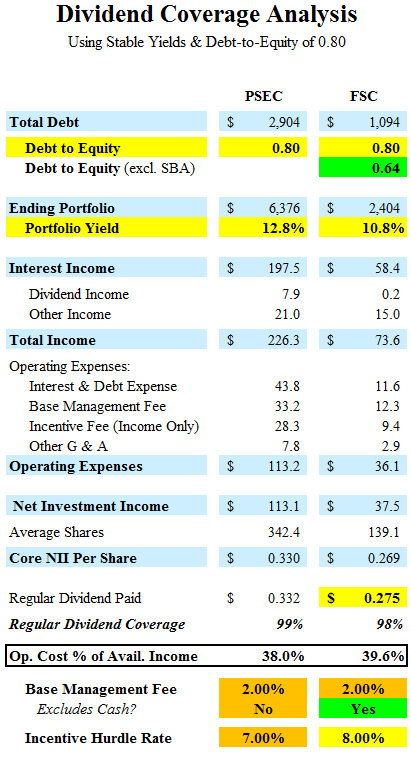 One of the most important factors shown in the table above is the debt-to-equity ratio excluding SBA debt for FSC. BDCs are limited to borrowings at 1:1 to equity but excluding SBA debentures that are 10 year low fixed rates interest only loans that are excluded from BDC lending ratios. This means that FSC has the flexibility to borrow much more than PSEC for dividend coverage purposes and BDCs with this ability usually trade at a premium compared to the others.
Summary
I believe that FSC has a much safer portfolio with much better dividend coverage potential than PSEC and that it will ultimately trade at higher multiples over the coming quarters.
Disclosure: The author is long PSEC, FSC. The author wrote this article themselves, and it expresses their own opinions. The author is not receiving compensation for it (other than from Seeking Alpha). The author has no business relationship with any company whose stock is mentioned in this article.