Traditionally, Amazon Web Services (AWS) is seen as perhaps the most attractive of Amazon.com's (NASDAQ:AMZN) entire story, more so than even e-commerce. This is a story where Amazon.com dominates the emerging public cloud services, leaving Google (GOOG, GOOGL) and Microsoft (NASDAQ:MSFT), among others, in the dust.
These kinds of competitors, however, don't give up easily. Such has been evident from the ongoing price war which, lately, Amazon.com has been forced to match.
The problem goes deeper than pricing
However, the problem presented by AWS goes deeper. There is an interesting slide from Microsoft's September 19, 2013 Financial Analyst Meeting which illustrates the larger problem facing Amazon.com. This is the slide: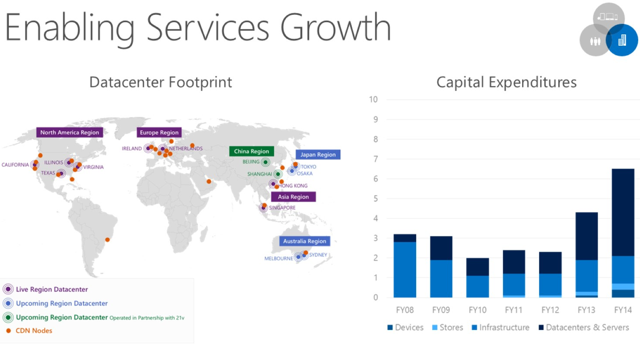 In it, we see something which is certainly happening over at Google as well, and inevitably would have to happen at Amazon.com if Amazon.com wants to stay competitive with AWS.
That something is a capex explosion. A capex explosion that's directly linked to data centers and servers, and which in turn is directly linked to compete in the cloud.
You see, the cloud is mostly about substituting the end user's capex spending for a rent. And what happens to the "landowner" charging that rent? He's got to make the capex himself. So as the cloud becomes more prevalent, a greater and greater share of what would otherwise be on-premises investment, now becomes capex for the cloud purveyors.
Therein lies the rub
While Google and Microsoft made massive amounts of income year after year, Amazon.com didn't. So Amazon.com doesn't actually produce the kind of cash to compete in this "infrastructure as a service" business once the spending explodes, as Microsoft is showing it will.
Amazon.com's trailing twelve month operating cash flow is already dipping from the previous quarter, and stands at $5.3 billion. Of this, capex already eats $3.8 billion, leaving free cash flow in the trailing twelve months at $1.5 billion. Now, Microsoft in that slide is seeing more than $2 billion in added data center and server spend over the next fiscal year. Were Amazon.com to have to match such an increase in spending, it would eat more than its entire remaining free cash flow! (Source: Amazon.com's Q1 2014 earnings report, red highlight is mine)

This doesn't even consider any of Amazon.com's other ventures like the Amazon.com Fire Phone that's falling off the face of the earth (at one point today it was not even in Amazon.com's top 100 electronics best sellers). Or Amazon Fresh. Or the drones.
At this point in its cycle, being in the cloud simply does not free up cash for the massive capex it implies. It remains to be seen how Amazon.com will choose to face this reality, perhaps letting its free cash flow evolve towards zero and then starting to take on debt?
Conclusion
Amazon.com's problems in the cloud space are not limited to the ongoing price war. The problems go deeper. An expected explosion in capex as the cloud gains size presents a problem to Amazon.com's lack of ability to generate the necessary cash.
As it stands, there's some likelihood that this capex explosion, illustrated by Microsoft's expected spend in data centers and servers, might eat Amazon.com's entire remaining free cash flow.
Disclosure: The author is short AMZN. The author wrote this article themselves, and it expresses their own opinions. The author is not receiving compensation for it (other than from Seeking Alpha). The author has no business relationship with any company whose stock is mentioned in this article.