Intel (NASDAQ:INTC) has been on my watch list since the beginning of 2014, where I went long and then sold out just a couple of months ago. I still like Intel for the long term, but am not going to chase the company now that it's peaked above $30 and is showing some momentum. I took some profits on the name, but clearly got out way too early. Even more so now than ever, however, I like the action behind the company's stock price and think it can continue its ascent for the time being.
I was dismissed a bit by SA commenters and even a couple of contributors when I came out and shared the reasons why I had sold out of my position. Rightfully so, in this case. Even though my cost basis was in the low $20s, selling at $25.89/share, it's safe to say that I missed the boat and I don't mind admitting that. The question now becomes what to do if you're on the outside looking into Intel - or if you've been holding while Intel has appreciated over the past couple of weeks.
Since upping their guidance during the middle of June, you can clearly see that Intel has been on a tear. The price action has been so unlike Intel, the RSI even points to the company being in overbought territory - for the last 5 weeks. This should go to show you what an aberration it is for Intel to be trading in the manner that it has been since gapping up in mid-June.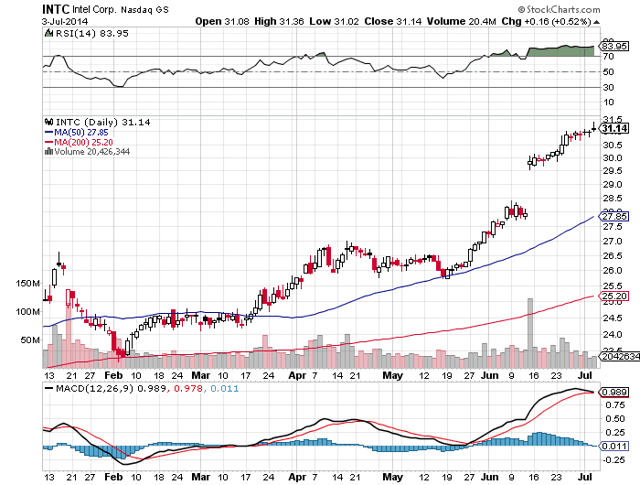 Click to enlarge
In essence, Intel has been chugging upwards for the better part of the last four months now. The question then becomes whether or not investors looking to buy Intel at these levels are going to be too late.
My prediction is that buying here for the long term is probably a fine idea, but buying in here for a short-term trade or hold may not yield the best results upfront.
As you can see, Intel is at the top of a multi-year run: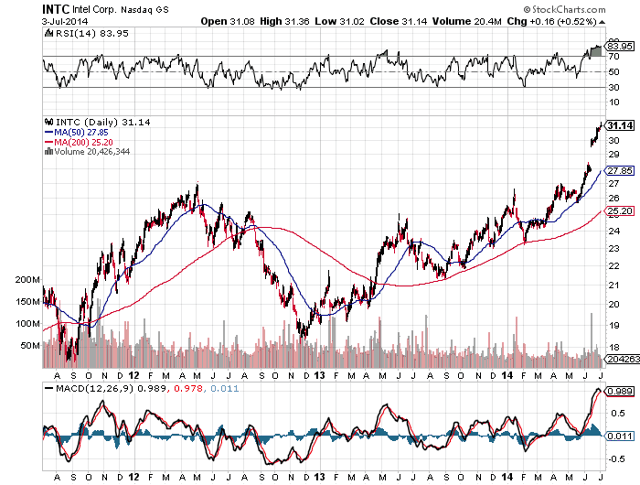 Click to enlarge
In addition to raising its guidance, Intel has been catalyzed by the anemic PC market finally seeming to find its bottom. It really doesn't matter whether you're a Microsoft or an Apple guy - the PC market bottom affects any and all machines that hold Intel's core chipset. Their consumer PC chipset remains the bread and butter for revenue, despite the focus of trying to monetize tablets and mobile.
With the addition of tablets and mobile devices being able to perform many of the functions that PCs once were needed for, you can see how the PC market has declined accordingly.
(click to enlarge - source: Statista)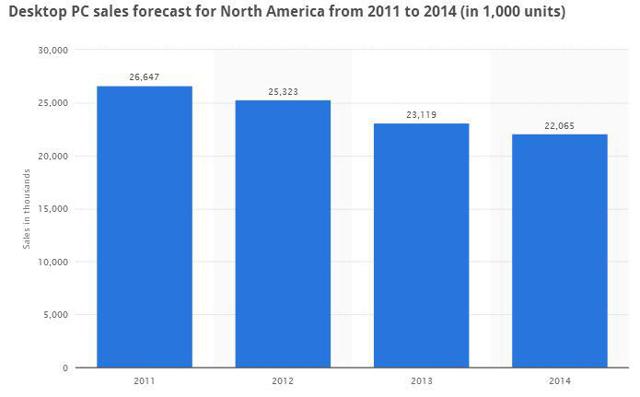 Click to enlarge
Hexus.net reported on the PC market's recent effect on Intel (with a shoutout to Seeking Alpha):
In Intel's case enterprise desktop PC demand is thought to be looking up. Also Intel is working to help vendors produce"price-friendly 2-in-1s in the second half," of this year. Furthermore a fanless 2-in-1 design featuring its 14nm Core M processor should be with us before the year is out. Progressing into 2015 entry level Braswell processors should start to replace the Bay Trail D series.

Financial news and views site Seeking Alpha also sees Intel on the up, thanks to PC market optimism but notes that Chipzilla's mobile prospects still aren't that hot. The site notes that Intel has recently forecast the first year-on-year sales growth for its PC client group since 2011.

AMD has new wares to help systems builders make attractive, powerful and keenly priced alternatives to Intel systems. DigiTimes notes the recent launch of processors such as mainstream Kaveri and the entry-level Kabini and Beema chips. AMD is also said to be working hard to win designs from the likes of Lenovo.

Finally PC giant HP is currently preparing a "blitz" on the business PC market, reports ITWire. HP has a number of new PCs, notebooks and 2-in-1s sporting Intel and AMD processors inside, heading towards Asia Pacific business customers. HP APJ PC category vice president Annelise Olsen told the IT news site that there has been a resurgence in desktop sales while a notebook sales decline has been offset by interest in hybrids, detachable and convertibles.
It does seem like a great time to be holding Intel.
Of course, Intel would remain susceptible to major market moves to the downside, but not as much as some other stocks would. As a safe haven for dividend investors, Intel offers some cushion in the event that the macro markets start to correct a bit.
Intel has always provided an impressive dividend yield, which you can see coming down here as a result of the company's stock moving upwards quickly.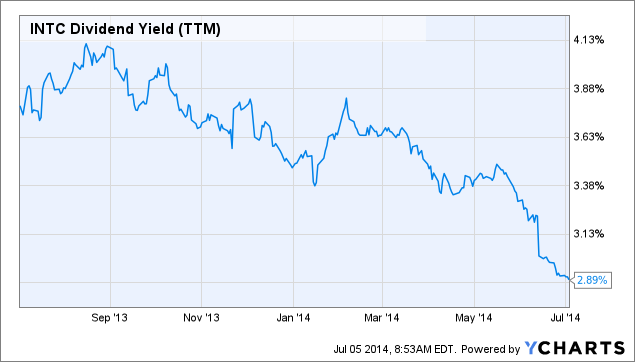 INTC Dividend Yield (TTM) data by YCharts
To conclude, I personally have a thing against chasing stocks that have already made their move upward. That's not to say that I don't think Intel is going to be a good long-term investment that takes advantage of the bottoming of the global PC market. Additionally, with the company gaining more and more of a foothold into mobile and tablet (at the expense of margins, right now), there is a good chance Intel can continue to chug along upwards, providing its considerable dividend on the way.
Disclosure: The author has no positions in any stocks mentioned, and no plans to initiate any positions within the next 72 hours. The author wrote this article themselves, and it expresses their own opinions. The author is not receiving compensation for it (other than from Seeking Alpha). The author has no business relationship with any company whose stock is mentioned in this article.