Monsanto (NYSE:MON) recently announced plans to buy back $10 billion worth of stock, which represents about 15% of Monsanto's current $66 billion market cap. Perhaps the most interesting part of this announcement was that Monsanto would be issuing $4.5 billion worth of notes to help fund the repurchases. I believe oil giants Exxon Mobil Corporation (NYSE:XOM) and Chevron (NYSE:CVX) should consider launching a similar debt funded accelerated buyback program.
Exxon & Chevron Are Under-leveraged
As shown by the charts below, relative to peers, and on an absolute basis, Exxon & Chevron use very little leverage. Other major oil giants such as Total (NYSE:TOT) and BP (NYSE:BP) are currently operating with significantly higher levels of debt relative to equity. While high levels of debt in a high interest rate environment might be problematic, the current low interest rate environment has made debt very cheap relative to equity. Due to Exxon & Chevron's high credit ratings and low current levels of debt, both companies would be able to issue a significant amount of debt at very cheap interest rates.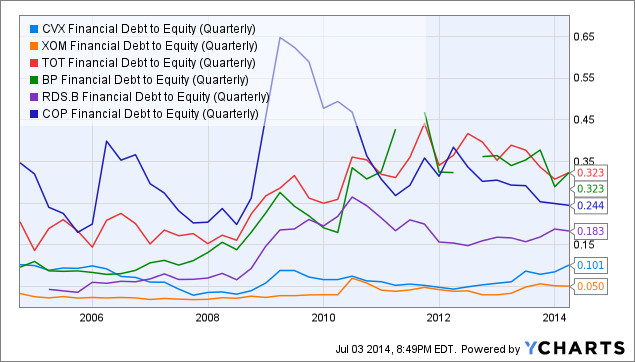 CVX Financial Debt to Equity (Quarterly) data by YCharts
Monsanto Sized Buyback
Monsanto is buying back $10 billion worth of stock, or about 15% of the company's current market cap. Of the $10 billion, Monsanto is financing 45%, or $4.5 billion with debt. If Exxon were to announce a similar plan, the size of the buyback would be $66 billion. If Exxon were to finance the deal with the same relative percentage of debt as Monsanto, 45% of $66 billion would be roughly $30 billion in debt that Exxon would need to issue. A congruently sized and financed buyback for Chevron would result in a roughly $37 billion buyback with nearly $17 billion in debt issuance. It must be noted that both Exxon and Chevron have been aggressive buyers of their own stock over the past few years. Exxon has repurchased more than $210 billion worth of stock over the past ten years, but has been reducing buybacks due to declining free cash flow.
Valuation
As shown by the charts below, based on multiple metrics, both Chevron and Exxon are trading at reasonable valuations. Both Exxon and Chevron trade at a P/E ratio that is well below the S&P 500 forward P/E ratio. Exxon and Chevron's current valuations are the main reason why I believe a massive buyback makes sense. However, it should also be noted that, in addition to reducing the share count which should increase EPS, Exxon and Chevron would also benefit from no longer needing to pay dividends on repurchased shares.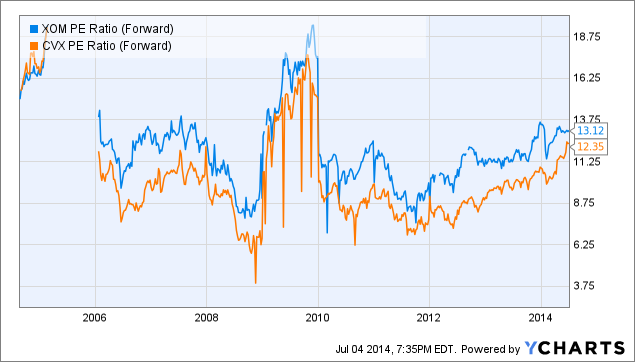 XOM PE Ratio (Forward) data by YCharts
XOM EV to EBITDA (TTM) data by YCharts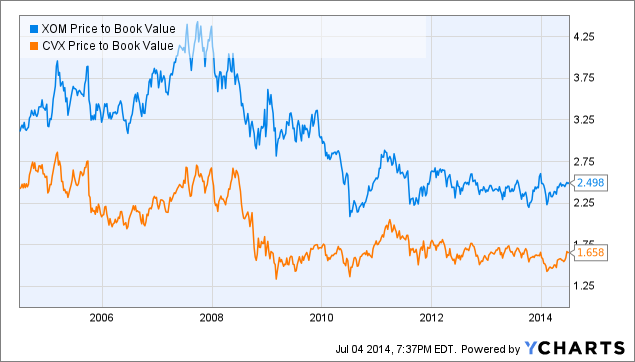 XOM Price to Book Value data by YCharts
Conclusion
Currently, Exxon and Chevron have an under-utilized balance sheet. Given the current low interest rate environment, along with Exxon and Chevron's high credit ratings, both companies could issue a significant amount of long-term debt at very low interest rates. Exxon and Chevron could even follow Coca-Cola (NYSE:KO), Disney (NYSE:DIS), and other well known companies who have issued 100-year bonds in the past. Despite a highly valued stock market in general, both Exxon and Chevron are trading at valuations that make share repurchases attractive. For this reason, I believe Exxon and Chevron are attractive long-term investments even if a massive increase in share buybacks is not announced.
Disclosure: The author has no positions in any stocks mentioned, and no plans to initiate any positions within the next 72 hours. The author wrote this article themselves, and it expresses their own opinions. The author is not receiving compensation for it (other than from Seeking Alpha). The author has no business relationship with any company whose stock is mentioned in this article.