Try to do your best to ignore the new slate of further recalls that came out of Ford (NYSE:F) this morning. Roughly 100k vehicles, as compared to the now "standard" for recalls in GM, isn't likely going to be enough to move Ford's needle right now. Unless you drive a 2013-2014 Ford - then I would obviously take a glance at the recall write-up, which you can find here.
My last article talked about Ford's June sales and why investors should likely look at its less-than-stellar numbers as simply a "bump in the road", as opposed to a sign of bigger problems. Our newly released China sales data on Ford supports my conclusions, as the automaker continues its momentum overseas.
Ford has tacked on about $.50 since my last article, where we were waiting for the automaker to eclipse $17. Sure enough, we closed yesterday at $17.32, and it looks more and more like Ford is going to keep inching along until it reaches my $20 price target - which would be where I would take a little off the table and re-balance according to how the macro markets are holding up and Ford's sales trends later in the year.
Ford has now traded up 7.6% in the last three months and 12.2% since the beginning of 2014. It's just now reaching levels that it was at almost a year ago, and looking like its getting ready to take on new highs. Ford remains modestly priced versus the S&P right now.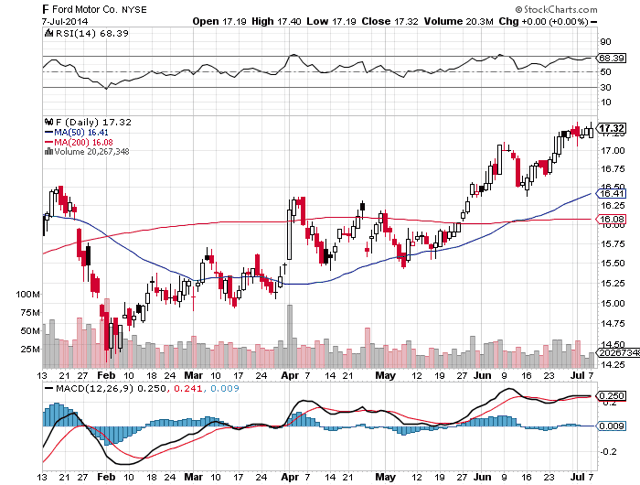 Click to enlarge
Ignore the recall. What I don't want you to ignore is the vital sales data that came out just yesterday for Ford in China. Ford's press release said:
Ford China first-half sales reach 549,256 wholesale vehicles, up 35 percent, June sales reach 87,783 vehicles, up 17 percent
CAF first-half sales reach 397,958 wholesales vehicles, up 39 percent, June sales reach 67,187 vehicles, up 23 percent
JMC first-half sales reach 132,938, up 21 percent, June sales reach 19,012, up 19 percent

Ford China raced to a record first half, with 549,256 vehicles sold in the first six months of 2014, up 35 percent compared to 407,474 sold during the same period last year. Driven by continued strong demand for the Ford Focus, Ford Kuga, Ford Mondeo and the Ford EcoSport, Ford Chinas June sales increased 17 percent with 87,783 vehicles sold, up from 75,166 sold in the same period last year.
Chinese growth and global growth are arguably the two most important metrics for Ford in its continued task of growth since the U.S. auto crisis ended. For those who read me, you know that they're an integral part of my bullish thesis on the company. Additionally, I liked that the Focus was in the spotlight, both internationally and here in the U.S. - it's slated to be the sedan that can perhaps dethrone the billion year incumbent in the Toyota Camry. And, just like in the U.S., Ford sees its Focus as its #1 brand in China:
Focus is Ford's best selling model as the Detroit automaker works to rev up its Chinese market. The model is also sold in the U.S., Europe and around the world. But Ford is also seeing demand for models found only outside the U.S. like Kuga, Mondeo and the EcoSport.

Ford says it also saw a 70% increase in demand for models imported from the U.S., despite the requirement for payment of import duties. They included the Focus and Fiesta ST performance cars, Edge and Explorer.

Overall, Ford says it sold 549,256 vehicles in China in the first half of the year, a 35% increase over the same period last year.
It's important to also note that Ford's product line is going to be experiencing turnover in the U.S. this fall. As I wrote in my last piece on Ford:
Lest we forget again that Ford is going to be overhauling nearly their entire fleetcome this fall. New models are going to be expected almost across the board. Let's take a quick look at the Fusion, too. The car that is slated to eventually replace the Camry as the top selling U.S. sedan had itself another great month.

Click to enlarge
Ford continues to penetrate into what is the biggest auto market in the world, and this continues to validate my bullish sentiments behind the company. As long as the international data continues to bode well for the U.S. automaker, I won't think twice in suggesting investors hold here and wait until we test $20.
Best of luck to all Ford shareholders.
Disclosure: The author has no positions in any stocks mentioned, and no plans to initiate any positions within the next 72 hours. The author wrote this article themselves, and it expresses their own opinions. The author is not receiving compensation for it (other than from Seeking Alpha). The author has no business relationship with any company whose stock is mentioned in this article.