Company growth rates vary tremendously. Walmart (NYSE:WMT), for example, has reached a gargantuan size and its growth rate has leveled off at 8.6% for the past 5 years. However, a company such as Netflix (NASDAQ:NFLX) was able to grow revenues 24% q/q as of Q1 of 2014. Thus, dismissing investment opportunities because of elevated earnings multiples, such as the price to earnings ratio (P/E) is not a prudent strategy. Determining the likelihood of continuing the tremendous growth is wise, as it will ultimately determine if the company lives up to the growth prospects priced into the security.
Netflix's Previous Growth
Netflix was the first to integrate the internet with renting movies. Their DVD mailing service was able to cannibalize Blockbuster and they enjoyed incredible growth over those years. Then, Netflix was able to pivot their business model, as they realized the market trend, streaming. Netflix was able to quickly capture this market and today boasts a strong user base with 48.3 million subscribers in Q1 of 2014. However, the U.S. represents 35.7 million of those subscribers and added only 2.25 million in the quarter and they project it to grow only by 520,000 in Q2 of 2014 as the market saturates. Further evidence of market saturation is found in q/q growth with 630,000 users being added in Q2 of 2013. NFLX's stock price has continued growth prospects priced in, which are unachievable in the current industry environment.
GS Upgrade
On July 1st, Netflix surged as Goldman Sachs (NYSE:GS) upgraded it to a buy and placed a lofty price target of $590 from $380. Netflix currently has 12.7 million subscribers internationally, but Goldman expects it to reach a staggering 61.7 million by 2017. The outlandish projection is based on Netflix penetrating 30% of a total addressable market of just over 200 million. The addressable market that it outlines is anyone with a broadband connection and a credit card in their new markets. Further, the price target is reliant on margins expanding to roughly 20% in these new markets. Today, international segments are negative contributors to net income, but GS believes it can improve by decreasing content and customer acquisition costs as well as by benefiting from technological innovation.
Netflix faces several headwinds that will prevent Goldman Sachs' price target from becoming a reality. First, the international growth expectations are ludicrous. Achieving 30% penetration of the generic "addressable market" outlined is overly optimistic. With increasing competition, that certainly will not come to fruition. Furthermore, margin expansion to a 20% level will be exceptionally difficult to obtain, as the market viewing preferences vary widely. Coupling that with higher costs, as competition bids up the prices for content, and the international future looks quite bleak.
Headwinds
Competition
In recent quarters, a number of competitors have announced plans to enter the streaming market. Brand loyalty remains low in this industry, and the most influential buying criteria for subscribers is the type of content that the network has. As those in the industry realize this, the competition for content has begun to heat up. Netflix has guided that it will spend $400 million on original content in 2014, but a new recent competitor, Amazon (NASDAQ:AMZN), announced that they will allocate $500 million in this avenue. Moreover, Hulu has announced 15 programs, Yahoo (NASDAQ:YHOO) has 2 new ones in the works, and AOL has 16. Microsoft (NASDAQ:MSFT) has taken a different strategy and is focusing on the development of 12 new programs for a millennial male niche.
Amazon is Netflix's most important competitor, with its Prime Service. Amazon recently signed a deal with HBO for older popular content, such as The Sopranos, to add to its network. Moreover, they recently announced Prime Music that will enhance the value of a subscription further. When those added benefits are coupled with a 2-day free-shipping option, Amazon is a serious competitor as customers receive substantial value for their subscription.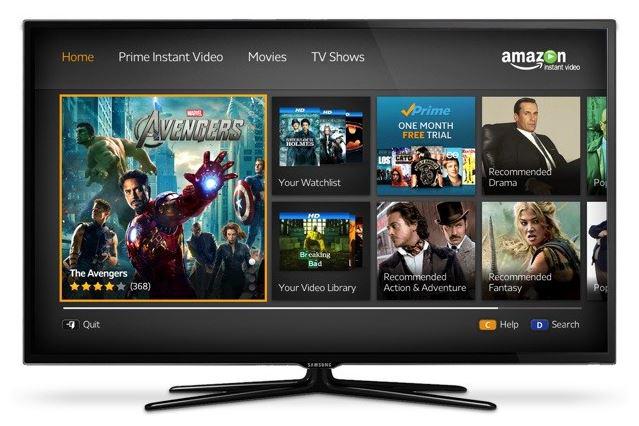 Source: Engadget
With an onslaught of competitors entering the space, margins will not expand, but compress.
International Markets Fragmented
Membership grew by 1.75 million, bringing total international subscribers to 12.7 million. Nonetheless, this strong growth came alongside losses of roughly $35 million for the quarter. Unlike the domestic market, entering these smaller markets is much more expensive, as the preferred content varies greatly. Investments in content do not generate the same return in these fragmented markets.
On May 28th, Netflix announced that they will be expanding into 6 new European markets: Belgium, France, Luxembourg, Germany, Austria, and Switzerland. Investors are expecting tremendous growth from these new markets, but in reality, it will be difficult to achieve. For example, House of Cards was Netflix's cornerstone original content to galvanize subscriber growth in the U.S., but it will not be available to Netflix in Germany and France. Netflix does not own the rights to this content in these markets and with them representing the two largest new markets, this is a significant negative for NFLX.
In France, Netflix faces an even greater risk than not having access to House of Cards. French laws prohibit the streaming of content for 3 years after their release in theatres. However, on set-top boxes, the content can be accessed just four months after the premiere. Another headwind Netflix faces is competition from smaller services in select countries. For instance, ProsiebenSat1 cut its price in anticipation of Netflix entering the market, and has grown subscriptions to its video-on-demand service by 120% in Q1 y/y in Germany.
DVD Segment Shrinking
Netflix still relies on revenue from DVD subscribers, with it contributing 58% of profit for the full year of 2013. Unfortunately for Netflix, this segment has been shrinking each quarter, and declined roughly 25% from Q1 of 2012 to Q4 of 2013. For a more in depth analysis on this trend, please refer to this article.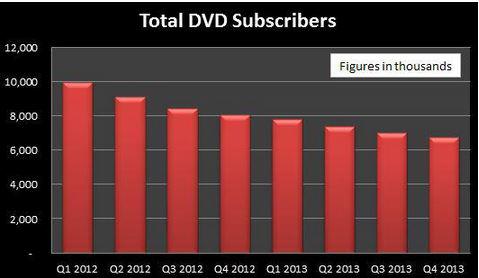 Source: Created by Author
Bottom Line
With the recent upgrade from Goldman Sachs, Netflix has been propelled to unsustainable levels. Netflix would need to experience several more periods categorized by exceptional growth to come close to justifying its P/E ratio of 250 and price to sales ratio of 6.4. Investors should not expect this situation to materialize, as Netflix faces many headwinds in the form of: fragmented international markets, acute competition, and declining revenue from the DVD segment.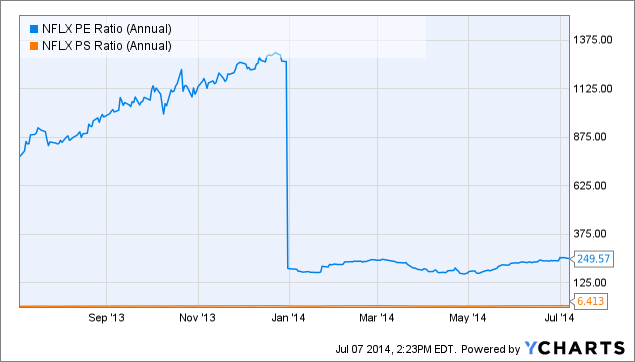 Disclosure: The author has no positions in any stocks mentioned, and no plans to initiate any positions within the next 72 hours. The author wrote this article themselves, and it expresses their own opinions. The author is not receiving compensation for it (other than from Seeking Alpha). The author has no business relationship with any company whose stock is mentioned in this article.