By G C Mays
Monsanto (NYSE:MON) unveiled a five-year plan along-side the company's fiscal 2014 third quarter earnings. Management has a good record of accomplishment over the years. However, is it truly the decade of the soybean or are the current record planted acreage increases temporary? Additionally, are the lofty goals of doubling earnings per share by 2019 and raising gross profits by $4 billion over the next 5 years too high? Finally, what should investors consider paying for that growth today?
Is it the decade of the soybean?
As part of Monsanto's five-year plan is a strategic initiative that the company calls the "decade of the soybean." Beginning in 2007, the average farm price for soybeans in the US has risen well above its long-run average as illustrated in figure 1.
These high prices have provided incentive to producers to grow more of the legume as illustrated in figure 3 below. In my opinion, the return of soybean prices to the long-run average price trend is inevitable and investors should expect a reduction in soybean acres planted once a reversion to long run average farm prices occurs. At the BMO Capital Markets 2014 Farm to Market Conference, Monsanto stated that for every 1 million acre shift from corn or cotton to soy, investors could expect an estimated $0.02 per share effect on average.
In the US current growing season we have seen soybean acres move higher by 8.3 million acres to 84.8 million while corn acres declined by 3.8 million. Cotton increased by 1.0 million acres.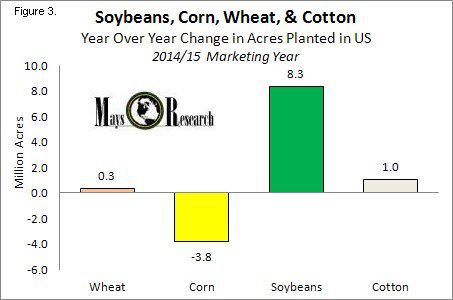 While it is true that there are not many new acres to plant on, in the US, producers did happen to find nearly 6 million acres more to plant soybeans, corn, wheat, and cotton on this year as illustrated in figure 3. On a net basis corn, cotton, and wheat provided 2.5 million acres. The remaining 5.8 million acres were new. Based on company estimates in figure 2 above, soybeans should give an extra 0.055 cents in earnings per share from switching 2.5 million acres of corn and cotton. The added 5.8 million new acres will likely be more accretive to earnings per share than the switching of crops in my opinion.
However, the largest driver of growth in Monsanto's soybean seed and genomics business is in helping farmers improve yield. The company expects the yield improvement to drive farmers in South America to plant more acres with the company's INTACTA RR2 PRO™ soybean seeds. INTACTA RR2 PRO™ is a new product that allows the soybean plant to protect itself against worms. The company's royalty agreement with DuPont, for which the company began receiving royalty payments in the second quarter of its fiscal 2014, is also a new source of seed and genomics profit growth in North America.
Company Projects EPS to double by 2019
Based on the company's mid-point estimate of earnings per share for fiscal 2014 of $5.17, Monsanto expects EPS in its fiscal 2019 of about $10.34. Based on this estimate, the company would have to grow earnings per share at a compound annual rate of about 14.9%. Between the company's fiscal 2005 and 2013, the company's 10-year compounded annual growth rate of earnings per share was nearly 25 percent. However, as illustrated in figure 5, that growth rate has slowed over the most recent 3-years to a still impressive 15.8 percent.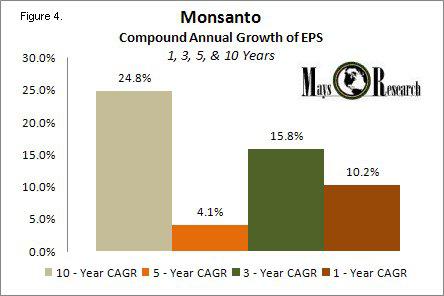 Share Buybacks
Share buybacks will support some of the company's projected earnings per share growth. The company announced a two-year, $10 billion share buyback, with $6 billion in buybacks executed within the next 9 months under an accelerated share repurchase agreement with both JP Morgan Chase Bank and Goldman Sachs & Co. Each investment bank has agreed to sell $3 billion in stock back to the company.
Under an accelerated share repurchase agreement, the company repurchasing shares buys them from an investment bank, which in turn borrows the shares from its clients or other parties willing to lend shares and sells them to the company. The investment bank must then repurchase the shares in the open market. The process can last several months, hence the 9-month accelerated period.
Financing the accelerated part of the buyback is issuance of $4.5 billion in fixed rate notes, $1.2 billion in commercial paper and available cash. An important thing investors should note about this agreement is its potential impact on the market price of the stock. According to a recent press release, the estimate of total shares delivered under the agreement by the investment banks is 38.6 million. With the company spending $6 billion under the agreement, this translates into an average of about $155.44 per share. However, if we use a recent closing price of $126.52, Monsanto will retire about 47.4 million shares. The confirmed number of shares purchased will likely be somewhere between these numbers. Since the investment banks must repurchase the shares borrowed from banks in the open market, this may put uphill pressure on the market price of the stock during the accelerated repurchase period as well as offer more price support in the case of a broader market downturn.
Monsanto expects the biggest slice of the gains in earnings per share to come from growth of the business. In my opinion, roughly 14% to 19%, or between 0.71 and 0.92 cents per share of the EPS gains will come from share repurchase. That suggests that more than 80 percent of the gains need to come from the $4 billion in gross profit growth the company estimates it can deliver over the next five years.
Capital structure and debt ratings.
The share buyback using mostly debt will effectively change both Monsanto's capital structure as well as its solvency ratios. The company is targeting a net debt to EBITDA ratio of 1.5 to 1. This ratio shows how long in years in would take a company to pay its debt if the firm's net debt and EBITDA were constant. At the end of the company's fiscal 2013, the ratio was negative, which meant that the firm had more cash than debt. Understandably, the debt rating agencies did not take kindly to the radical change in the firm's capital structure, with Standard & Poor's lowering the firm's corporate credit rating to BBB+ and Moody's marking down its rating to A3 from A1.
A quick look at the firm's estimated new solvency ratios reveals why. Figure 5 illustrates that while the share buyback and new debt issuance makes Monsanto's estimated future debt-to-equity, financial leverage, and interest coverage ratios comparable with rival Syngenta AG (NYSE:SYT), the extra debt also makes the firm's net debt to EBITDA and debt to equity ratios higher than its rival as well as a significant change from the firm's operating past.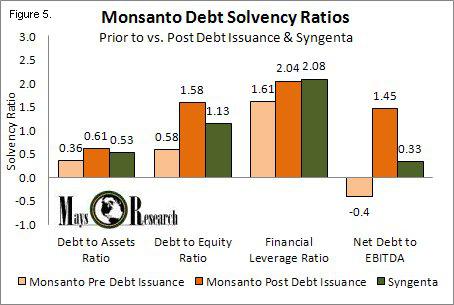 What is this 5-year growth initiative worth today?
What investors should pay today for this five-year plan is highly dependent on how much risk a given investor perceives is in the market. Between Monsanto's 2011 and 2014 fiscal years, the company grew both earnings and earnings per share at a consistent 15 percent rate with their dividend growth rate lagging behind slightly at just north of 11 percent. While growth of the dividend lagged earnings, there was a consistent relationship between earnings per share and dividend growth as illustrated by examining both figure 4 above & 6 below.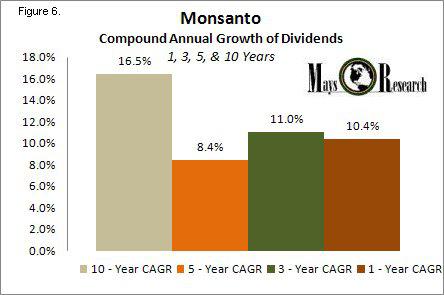 In my opinion, there is significant risk in the current stock market and as such, we are using a required rate of return that is right for the company's stock and its relationship to the market in my opinion. Using the CAPM or Capital Asset Pricing Model, Monsanto has a required rate of return of 30.8 percent based on its adjusted beta, recent 5-year treasury rates and a higher estimated current required market return. While many use a fixed expected annual market return just north of 8 percent, my model calculates an expected market return based on the last 60 months or five years of market returns. In my opinion, this method more accurately reflects current stock market conditions and risk. Figure 9 illustrates a sensitivity analysis that estimates the present value of Monsanto stock in 2019 using the 3-year compound annual growth rates of earnings per share and dividends. The present value calculation includes the mid-point of the company's fiscal 2014 earnings per share.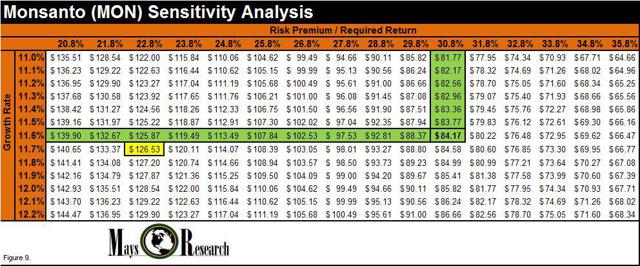 Click to enlarge
When compared to risk premium, the author used a more narrow band of growth rates because of an alternative measure of dividend growth that examined Monsanto's average return on equity and earnings retention rate of the last 3 years estimated dividend growth at 11 percent, which is very close to the company's 3-year compound annual growth rate shown in figure 8. At a recent closing price of $126.52, the market is pricing in a very similar growth rate but a lot less market risk than the author as illustrated by the yellow square in figure 9. While I have confidence in management's ability to execute their plan, in my opinion potential investors need to develop a view on current market risk before they decide what they should pay for this growth.
Disclosure: The author has no positions in any stocks mentioned, and no plans to initiate any positions within the next 72 hours. The author wrote this article themselves, and it expresses their own opinions. The author is not receiving compensation for it (other than from Seeking Alpha). The author has no business relationship with any company whose stock is mentioned in this article.