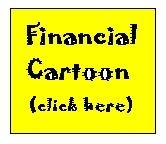 Outlook Summary: The markets are experiencing what amounts to a "tug of war" regarding bull and bear sentiments. Investors seem to be taking a "time-out" searching for clues for the markets' direction.
The Bull Case: On the bull side you have the prevailing advice of: "don't fight the Fed". Historically, this has been good guidance. The Fed has effectively pledged its monetary support in an effort to lift the economy from its current malaise at the risk of igniting a virulent form of inflation in the wake of a short-term fix.
Technical Support: Additionally, there appears to be some technical support for the bull case. The "Golden Cross", which is the 50 day moving average breaking on the upside through the 200 day moving average has been a positive equity markets' indicator. Also, the recent increase in share volume lent greater conviction to the market's direction.
Throw in some good tech earnings, firm retail sales, increased merger activity and you have a case for a further near-term equity markets advance.
The Bear Story: As many seasoned investors know, the markets are perverse and designed to make the maximum number of professionals look foolish. The bear side of the case is that the Fed's actions are already priced into the markets and will have little impact on economic growth—effectively, you're "pushing on a string". It's basically a "buy on rumor, sell on the news". And, we just got the news.
Discounted: QE II may only exacerbate the dollar's fall and support a technical rise in commodity prices—sans agriculture—which will come back to haunt us in the form of ramped-up inflation. Additionally, treasury auctions have been weak and rates have risen as of late. The banks are getting blasted as a result of "fraudulent" foreclosure practices and may have to pay-up. The banks foreclosure problem may mute advances in equity indices as financials represent a large component of many, e.g., the S&P 500. The "long" gold, "short" dollar seems to be taking a breather.
The bear's case has less of a broad based narrative. That's because it's built on a "this time it's different" reaction to the Fed.
An Aggressive Trade: I continue to accumulate the ProShares Short 20+ Year Treasury ETF (NYSEARCA:TBF) on any dips as rates are bound to rise either if the economy begins to gain traction—as the Fed hopes—or the dollar gets so devalued we begin to import inflation on ever higher commodity prices. (TBF trades inversely with treasury prices of the same duration.)
Special Consideration: This is not a trade for everyone. So I caution those with a weak stomach. The timing on this trade is highly uncertain. You could have made this bet last year and still be waiting for the stock to advance; in the interim, you would have watched it decay. So, be forewarned and do your homework.
CEF Weekly Review: The 13 closed-end fund (CEF) types on average posted a 0.1% increase for the week ending 10/15/10. The high-low spread was +2.1 versus +3.3% the previous week on an average price appreciation of 0.1% versus 0.3%, respectively. On an aggregate, unweighted basis, the weekly average price change for the 500 plus CEFs was down 0.1%.
The PowerShares CEF Income Composite (NYSEARCA:PCEF), an ETF that invests in taxable income CEFs, was down 1.1% for the week. The S&P 500 was up 0.9% for the week and extended its positive YTD performance to 5.5%.
(Click here for YTD CEF performance. The table is based on a smaller CEF sample size as all the data fields are not available for the CEF universe.)
The Eqcome CEF Fear Index for the week was flat. The average price was down 0.1% while NAV was down 0.1%. The CBOE Volatility Index (.VIX), which typically moves inversely with the stock market—but is mostly a measurement of volatility based on stock options' premiums—fell 8.1% to below 20. The VIX has been experiencing a level of complacency that was plumbed prior to its spike in late February and preceding the "flash crash" in May. It is now at a point of a contra indicator and something to keep our eyes on.
The S&P 500's recent low level of volume—running at below average 4 billion shares daily—experienced escalation throughout the week. Weekly average daily trading volume for the S&P 500 surged 13.9% from the previous week to 4.5 billion shares. Friday's volume was 5.7 billion shares.
Money Flow: "Money Flow" into the DJIA ticked up 0.5% for the week and the up/down ratio eased 1.08 versus 1.11 for the month. The technology sector experienced the greatest change, up 3.82%; the financial sector the least, down 1.32%.
The total inflows into mutual funds for the week ending 10/13/10 were up $4.23 billion with equity fund investors withdrawing $4.3 billion—despite an increase of $1.3 billion in net inflow into foreign equity funds. The Bond Bubble Express continues rolling. Bond funds continue to rake in the bulk of investor monies. Both taxable and muni funds in total increased $7.19 billion. Money market funds decreased by $5.81 billion to $2.78 trillion as of 10/13/10. The biggest drain coming from taxable government funds: $7.04 billion.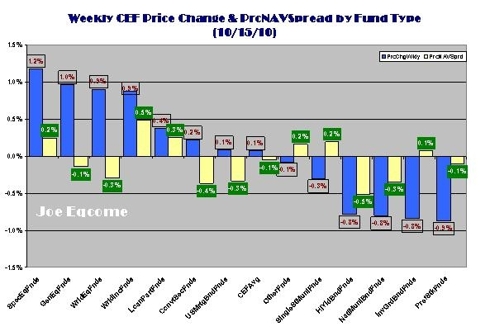 CEF Weekly Fund Type Performance: Equity-oriented CEF fund types again led the performance parade for a second week in a row while fixed-income fund types again lagged behind.
The equity type advances were broad based and not concentrated in any particular sector as it was last week in real estate, natural resources and metals.
I would have expected USMrtgBndFnds to have taken a greater "hit" this week given the chaos due to "Mortgagegate". Maybe that's next week's phenomenon.
Weekly CEF Winners and Losers: The CEFs with the greatest positive PrcNAVSprd [*] was Morgan Stanley China "A" Share Fund (NYSE:CAF). CAF price jumped 6.5% while its NAV advanced 1.5% generating a positive PrcNAVSprd of 5.1%. CAF may have benefited from the launch of Van Eck's Market Vector China ETF (NYSEARCA:PEK) which will seek to replicate an index consisting of 300 A-Shares stocks listed on the Shenzhen and Shanghai Stock Exchanges.
China's "A" shares represent 72% of its equity markets and historically has been available only to Chinese citizens. (CAF has been an investor in China "A" shares since 2006). Foreign investors were historically relegated to investing in B-shares and H-shares of Chinese companies which trade in Hong Kong. Foreign investors authorized as Qualified Foreign Institutional Investors (QFII's) may now purchase "A" shares. This may expand the dollar volume pursuing the "A" shares with the potential of an uptick in valuations.
One of the CEFs having the greatest negative PrcNAVSprd for the week was John Hancock Investors Trust (NYSE:JHI). JHI share price dropped 5.2% while its NAV increased 0.4% generating a negative PrcNAVSprd of 5.6%. The fund invests in high yield corporate and government bonds as well as a more modest position in mortgage backed securities. JHI may have been a victim of investors' shift away from this asset class coupled with last month's 9.0% cut in JHI's quarterly distribution.
JHI trades at a 5.0% premium and at a 9.4% annualized quarterly distribution yield. This is in comparison to its peer group which trades at a 2.0% premium and at an 8.0% annualized yield. JHI expense ratio is 2.4% versus 1.8% for its peer group.
Economic & Earnings Outlook: (Click here for next week's economic calendar; click here for earnings announcements and estimates.)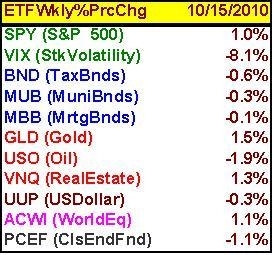 ETFs: For a more detailed EFT performance by sectors, click here.
Insider Trading: Insider trading has been slow so far in September. One major exception has been Rodney F. Dammeyer, a director of Invesco Van Kampen Trust for Investment Grade Munis Fund (NYSE:VGM). Mr. Dammeyer continues to add to his position in the most recent week by accumulation of an additional 31,200 shares at a cost of $470,278. This brings his total holdings to 99,337 shares for a cumulative investment of $1,494,827.
As mentioned last week, Mr. Dammeyer sold out of his position in VGM during March of last year. He began to again accumulate shares in August of this year with buying accelerating into September.
Mr. Dammeyer is President of CAC, LLC, a private company providing capital investment and management advisory services, and is the retired Vice Chairman of Anixter International. Mr. Dammeyer is a director of other Invesco funds.
Another insider transaction worthy of note was some insider selling in Advent Claymore Convertible Securities & Income Fund (NYSE:AVK) by Randall C. Barnes, who is listed as a director. Mr. Barnes sold 5,000 shares at $17.75 per share for his own account and a similar amount as the custodian of a "Children's Trust Account". Mr. Barnes continues to own 8,440 shares of AVK. Michael A. Smart, another AVK director, sold out of his position in August of 1,000 shares at $15.697.
AVK's return of capital component of its monthly distribution has been rising during all 2010 and its net investment income component has been declining. This may be a function of GAAP versus E & P accounting or it could indicate the distribution could be lowered to reflect a smaller contribution by net investment income. AVK's NAV per share has increased from the beginning of the year.
(Click here for a hyperlink to the Joe Eqcome's CEF Weekly Insider Report.)
CEF Distribution Announcements This Week: The following is a link to a table of CEF distribution announcements this week as well as the previous week's with yet expired ex-dividend dates. The list is not intended to be inclusive. (Click here for Joe Eqcome's Weekly CEF Distribution Announcements)
Significant CEF Corporate Events: Shareholders of The Hartford Income Shares Fund (HSF) approved the Reorganization of HSF into the Rivus Bond Fund (NYSE:BDF) at relative NAV per share. The Reorganization is expected to take place as of the close of business on October 22, 2010.
The respective Boards of Blue Chip Value Fund (BLU) and Westcore Blue Chip Fund (MUTF:WTMVX) have given preliminary approval to reorganize the BLU into the Westcore Blue Chip Fund, a registered open-end fund with a similar investment objective and strategies that is also managed by Denver Investments, with a record date at the close of business on November 19, 2010. Closing likely in 1Q '11.
Several of Cohen & Steers' managed CEFs, Cohen & Steers Dividend Majors Fund, (DVM), Cohen & Steers Global Income Builder Fund (INB) Cohen & Steers Infrastructure Fund (UTF), Cohen & Steers REIT and Preferred Income Fund (RNP) and Cohen & Steers Quality Income Realty Fund (RQI), announced repurchases for the 3Q of outstanding common shares under its repurchase program of up to 10% of each fund's outstanding common shares during a calendar year. (Click here for number of shares repurchased.)
CEF Focus Stock(s) for the Week: This year's tax loss selling/buying is compounded by an uncertain tax environment which will likely be settled by year-end.
CEFs have had a solid year in terms of share price performance advancing 8.7% based on the Eqcome CEF Price Index. So, there is not a broad swath of losses to pick-over.
Notwithstanding, the following table is a list of the top 5 CEF gainers and losers in my database. WrldEqFnds were the biggest gainers as investors, concerned about domestic economic growth, searched off-shore for better "pickings".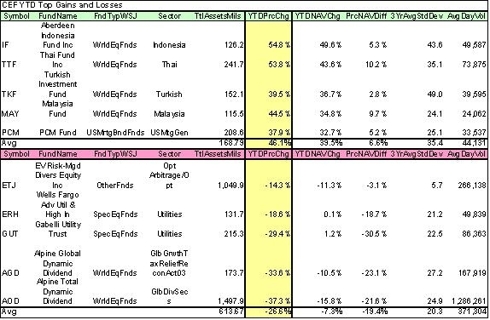 The losers were those which clearly disappointed—most notably those stocks that surprised investors with larger than expected distribution cuts. Both the Alpine funds suffered in the wake of effectively cutting distributions in half and ERH trimmed its distribution by 30%. GUT fell on a perception of a distribution cut which failed to materialize for October and November.
The one name included on the loser list is Eaton Vance Risk Managed Diversified Equity Income Fund (NYSE:ETJ) which deserves a further look. ETJ may be "tarred with the same brush as the Alpine Funds as it also employs an option strategy—albeit, different than the Alpine funds. Its annualized quarterly distribution rate is 12.8% which is mostly a return of capital due to the timing on its option strategy. It is selling at modest discount of 3% after trading at a premium for most of 2010. The stock goes ex-dividend on 10/20/10 and payable at 10/29/10.
An informed opinion of ETJ was provided by fellow blogger George Spritzer on Seeking Alpha for those interested (click here). It's worth the read for those interested in ETJ.
Disclosure: Author owns a diversified portfolio of CEFs and ETFs and is long stocks in the CEFDisc10™
---
[*] All things being equal, price and NAV should move in tandem. A price movement greater than the NAV generates a positive PrcNAVSprd and may be interpreted as negative on a near-term basis and indicate that the stock is overvalued relative to its NAV which in theory is the stock's intrinsic value. The opposite would be true for a negative PrcNAVSprd.