Market sentiment about Apple (NASDAQ:AAPL) has been on the up since April of this year when the company increased its dividend, expanded its share repurchase program and gave a Q3 2014 revenue guidance that matched analysts' estimates.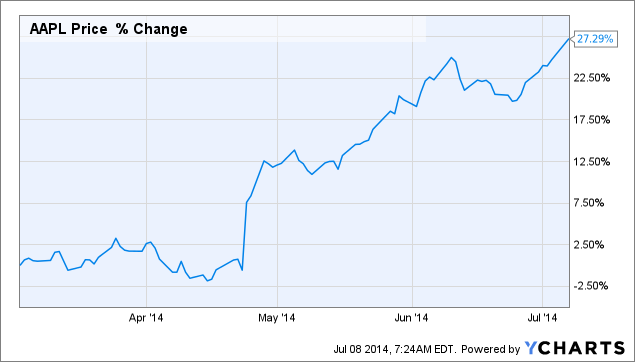 AAPL data by YCharts
The positive outlook on the stock was further boosted by the lineup of products that Apple made public at this year's WWDC. The unveiling included - among other things - two new operating systems (OS X Yosemite and iOS 8), the HealthKit and HomeKit packages, a new hand off feature between OSX and iOS devices, and the iCloud Drive.
A Word of Caution and Hopefully An Opportunity
After the WWDC, several analysts that follow the stock increased their price target. A reason commonly cited for the increase is the expected strong sales of the new iPhone when it is finally released. Rod Hall over at J.P. Morgan expects the stock to trade as high as $108 by the end of 2015. Needham & Co.'s Charlie Wolf raised his target to $97. Timothy Arcuri (Cowen & Co.) expects the stock to reach $102, and Amit Daryanani at RBC Capital Markets is targeting $100 per share.
The excitement after the WWDC has been evident. Discussions about the possibilities presented by the new products unveiled there have flourished. Others have decided instead to continue feeding the rumor mill as to what can be expected from Apple's next set of products. Even articles discussing what Apple should name one of its next rumored products have surfaced.
A cautious approach about the stock would be advisable now given all of this. One has to consider if perhaps the market has gotten a bit ahead of itself with high expectations about what Apple is going to deliver in the near future. As we are all aware, markets have a nasty tendency of turning high expectations into painful disappointments.
However, in this case I would argue that any near-term disappointment, perhaps as early as on the back of Apple's next unveiling of products, can present a great opportunity to buy at a discount an excellent business with a great future. This future is not just because of the iPhone and the iWatch, but also because of a programming language called Swift.
Swift - The Cementing of a Brand
One release at the WWDC that could have been missed by some of us, especially if not involved in the making of apps, is Apple's new Swift language. Charlie Wolf (Needham & Co.) cited Swift as one more reason for increasing his price target for the stock to $97.
The development of Swift came as part of the work done by Chris Lattner on his Low Level Virtual Machine (LLVM). Mr. Lattner had been working on his LLVM as part of the efforts to support Objective C - Apple's main development language for iOS and OS X applications.
Apple has created Swift as a tool that not only allows developers to build better apps but also that allows them to do so quicker and easier. Its programming syntax has been simplified compared to that of Objective C. This is expected to reduce coding errors.
Perhaps its most powerful tool is the introduction of "playgrounds", allowing developers to see in real-time the output of their code as it is being written.
All these improvements will result in the making of more and better apps as programmers will have to spend less time debugging code.
To better understand the importance of Swift in Apple's strategy, we need to put into context the significance that App Store sales have for the company.
- Its power to sustain Apple's ecosystem:
Earlier in January, Forbes magazine reported that for 2013, the App Store had generated revenues of $10 billion for Apple. In the article, the author further adds that although this only constitutes 11% of Apple's sales in Q4 2013, the strength of the sales "is a measure of the reach and popularity of the ecosystems around [Apple's] mobile devices…"
- Its ability to beat Android in sales:
In a February press release, the IDC (International Data Corporation) shared the findings of its Worldwide Quarterly Mobile Phone Tracker. At the end of Q4 2013, Android had a 78.1% market share of devices sold compared to iOS's 17.6%. But, as reported by Jay Yarow in Business Insider, despite this large market share disparity, iOS sales over the 2013 Christmas period were more than five times those of Android.
In the same article, Mr. Yarow does make reference to the serious threat that the significant market share disparity presents for Apple. He states that historically "…developers have gravitated to one platform and prioritize the efforts for that platform. The platform that typically wins has the most users."
It is here where the relevance of Swift loudly resonates. Swift is Apple's way of lowering the entry barriers for potentially new iOS developers, and so far, anecdotal evidence seems to validate this claim.
In a posting in Foss Patents dated June 3rd, Florian Mueller, an app developer, states the following with respect to the unveiling of Swift at the WWDC:
"The priority platform for my own app development project is Android for various reasons… I'm extremely excited about Apple's new programming language, Swift. I honestly think I've never been nearly as excited about an Apple announcement… While I liked Apple's rather expressive, verbose function and variable names, I really found Objective-C awkward… It really appears to me that Swift will make it easier to get over the iOS learning curve and result in greater developer productivity (and greater stability of programs)…"
Apple Is An Even Better Business To Buy After A Correction
To conclude, it is my contention that Swift will help Apple cement its stronghold on the apps market by making the migration from Android to iOS and OS X programming a lot easier. This, in turn, will further strengthen Apple's ecosystems - something that will ultimately help grow sales of Apple devices.
However, given the recent strength in the share price - which I attribute in part to high expectations about Apple's next product line - opportunities to buy this great business at a discount may present themselves in Q3 following a correction driven by unmet expectations.
Disclosure: The author is long AAPL. The author wrote this article themselves, and it expresses their own opinions. The author is not receiving compensation for it (other than from Seeking Alpha). The author has no business relationship with any company whose stock is mentioned in this article.