"Everything popular is wrong."

~ Oscar Wilde.
Over the last couple of months, but especially after establishing a contrarian position in BlackBerry (NASDAQ:BBRY) at the $8 level at the beginning of the year, I have started to make the BlackBerry investment case for long-term investors who were seeking some sort of uncorrelated turnaround play with an asymmetric payoff profile.
As is often the case in periods of emotional distress, investors paint the devil on the wall and extrapolate negative developments. And BlackBerry clearly has been a favorite bashing target as of late. In fact, many Bears believed that it was only a question of time until the last employee would turn off the lights at BlackBerry and its cash burn would send the once high-flying smartphone maker straight into bankruptcy court.
However, under the leadership of Chen, BlackBerry has cleaned out the house at the end of last year and took serious impairment charges in order to get rid of its legacy inventory. Fast-forward six months, and it looks like taking a big bath was the right thing to do for both the company and its shareholders.
Investors' nerves were seriously tested lately
The following chart depicting BlackBerry's revenues and earnings over the last five years certainly looks frightening: Revenues and earnings literally dropped into nirvana, putting serious strain on investors' nerves.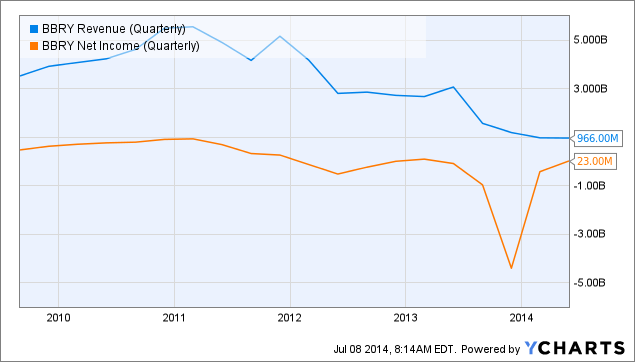 However, my contrarian investment thesis was not necessarily driven by an immediate turnaround in revenues or net income.
The central pillar of my investment thesis with respect to BlackBerry has always been that investors were way too negative about the prospects of the company, particularly considering that it continues to have a formidable and strong market position in enterprise security. And secondly, I was betting that investor perceptions about the "New BlackBerry" will ultimately change as the company transitions its business model and becomes more of an Enterprise company. Business model changes like this can't happen overnight, and I expect at least another 18-month holding period until the investment thesis plays out.
Chen has repeatedly stated that he sees BlackBerry holding on to its hardware segment. And to be quite honest, I have never been a big fan of the device business. Competition is literally extreme, margins are low and the risk of losing your competitive edge is very real, as the particular case of BlackBerry has shown.
However, change is coming and investors are slowly changing their perceptions, as evidenced by BlackBerry reclaiming the $11 mark. In terms of change, we have definitely seen innovative product rollouts, most notably the Z3 and the Passport could also help revive smartphone sales. The Z3 is soon about to roll out in the Middle East, most notably in the United Arab Emirates and in Saudi Arabia.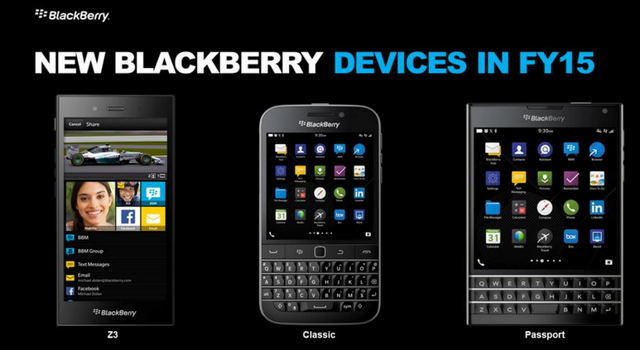 (Source: Company)
Investor perceptions
Investor perceptions change slowly, but usually, they change if the company can present a credible outlook and a vision for its future. Investors don't have to look farther than the U.S. financial sector meltdown in 2008 to see that companies that are pronounced dead often do have a future, and a bright one indeed.
Nokia (NYSE:NOK) is another interesting example as to what can happen to a tech company and its stock price if it can transform its business model by selling off its device business and redefining its market position.
Mostly, investment theses like BlackBerry or Nokia are driven by emotional factors and the degree to which investors believe a turnaround is possible. For the most part, investors hide in the crowd and accept the majority opinion in order to prevent reputational risk and regret.
I have hit on the need for investors' desire to be part of a herd in my older article about BlackBerry entitled "Analysts Hate BlackBerry, Which Is Exactly Why You Should Buy" and the implications of such article are as true as ever. Investors seek the support and strength of the group.
If BlackBerry achieves operating profitability in fiscal year 2015, investors will likely pile into BlackBerry's stock as the risk of a "failing" turnaround is severely reduced. Of course, the majority of gains in BlackBerry's stock will already have accrued to those investors who bought maximum uncertainty.
Final assessment
It generally pays to take a close look at those investments that other investors pass up as unworthy way too readily. BlackBerry has a couple things going for itself, including the Z3 and its rollout in Asia and the Middle East, a still unwaveringly strong market position in security, a strong QNX operating system, which could become the standard in automobile technology and of course, BlackBerry Messenger and a diverse set of monetization strategies.
In addition, the "Internet of Things" hype could quickly add substantial fantasy to BlackBerry's shares once the company has regained investor confidence.
Citron recently published another BlackBerry piece (here) and gave a target price of $20. I think this target price still undervalues BlackBerry and its future prospects as an enterprise/security company.
BlackBerry currently quotes at approximately $11 per share, which is about the same as its combined cash, investment and patent value. Its messaging/security business can pretty much be had for free, while the market certainly is not yet optimistic about its future earnings potential.
Having said that, BlackBerry's shares continue to have outsized return potential, while its downside risk appears to be limited, due to the $5-6 per share the company has on its balance sheet in the form of cash and investments.
In fact, I wouldn't be too surprised if BlackBerry becomes the turnaround story of 2014 and 2015, and it may very well double or triple in value if the company indeed manages to return to operating cash flow profitability -- which it may very well do sooner than expected.
Strong, long-term Buy.
Disclosure: The author is long BBRY, NOK. The author wrote this article themselves, and it expresses their own opinions. The author is not receiving compensation for it (other than from Seeking Alpha). The author has no business relationship with any company whose stock is mentioned in this article.