NL Industries (NYSE:NL) is an investment we've been working on for most of the week: the story involves a dead man, two of his daughters and the IRS. It is a business with sizable amount of history in a traditionally sleepy sector (Industrials), but now can be simply valued as a holding company. We think the underlying of value of this holding company, as measured by its investment assets, is not reflected in the current share price. This is primarily a result of the changing tax landscape around the company.
In the analysis, we introduce the firm and apply a traditional valuation technique. We then discuss possible reasons for a discount. Along with other substantial reasons, we see the recent tax situation surrounding the company as a significant driver. In our opinion, NL Industries is a compelling short-to-medium term investment opportunity.
Background
NL Industries, previously known as National Lead Industries, has been in business for more than two hundred years. For a sizable portion of its existence, as detailed by the Business Archives at Harvard, NL Industries was known for developing white lead-based paints. These paints, sold under the "Dutch Boy" label, were a popular brand. However, in the late 1970s, the business hit a rough patch as the hazards of lead-based paint became well-known.
This left NL with a long shadow of environmental claims. In the 1980s, the business was taken over in a leveraged buyout (LBO) by an enterprising corporate raider, Harold Simmons. Simmons, politely described as a "tremendously inventive" takeover artist, captured control and successfully turned it into a holding company it is today.
Presently, NL Industries, through its stake in Kronos (NYSE:KRO), is primarily invested in the production of titanium dioxide (TiO2). Titanium dioxide is a mineral used to add white to products. TiO2 can be added to paint and is significantly less toxic than lead. TiO2 is also used in toothpaste, Apple products and Oreo Cookies. Besides the KRO shares, NL also owns shares in Valhi (NYSE:VHI) (the parent holding company), CompX International (NYSEMKT:CIX) (a publicly traded company that makes security products and marine equipment) and EWI RE, a private reinsurance broker.
Traditional Valuation
Holding companies, or conglomerates, are commonly seen as less appealing securities because most have a common trap. In these corporate structures, a good business is often paired with a set of bad businesses, or a bad business is paired with a set of good businesses. For the analyst, however, the holding company structure is a boon as the transparent nature of the holdings allows us to evaluate the parts of NL at market prices.
As mentioned previously, NL's investment portfolio consists of four parts:
• 35,200,000 shares of Kronos Worldwide (30.38% of KRO)
• 10,800,000 shares CompX International, Inc. (87.10% of CIX)
• 14,400,000 shares of Valhi (4.25% of VHI)
• 100% ownership of EWI RE (which we do not value)
Figure 1: Structure of NL Industries, Inc.'s Holdings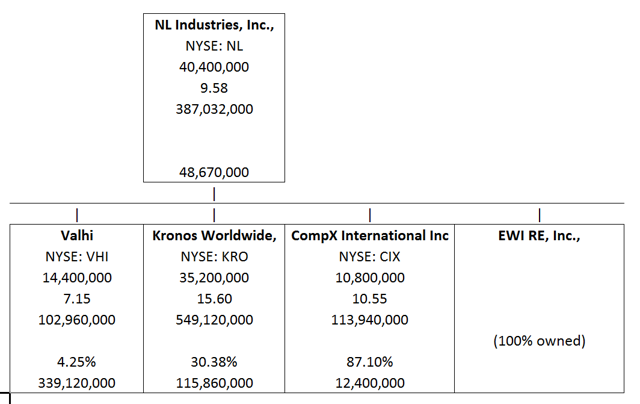 Source: Created by author. Data assembled from 10-K filing and recent market quotations. Quotations as of market close on July 1 (start of Q3 2014).
At recent prices, the public investment portfolio is priced at $766,020,000, or $15.73 for each NL share. Yet NL trades at $9.58, a roughly 40% discount to the public market prices.
Trading at a Discount
In recent years, we think NL has failed to achieve full value for its holdings, as the underlying value of the company is obscured by at least three (3) important culprits:
An intricate ownership structure requiring significant work for an analyst to piece together
The mundane nature of an industry like chemical manufacturing
The environmental overhang from many years of litigation
Each of these is a negative. One must feel comfortable evaluating all pieces of the holding company (including ownership structure of the parent VHI, which owns 83% of NL), any future environmental litigation faced by NL (listed in the 10-K) and be comfortable with NL's core investment in Kronos. However, only recently, did a fourth horseman emerge to keep the share price of NL Industries depressed: the short-term incentives to reduce the burden of taxes owed by the decedents of Harold Simmons, triggered by the death of the former chairman.
Tax Situation
Harold Simmons ran NL for many years. The "Golden Boy" was worth many billions and previously #40 on the famed Forbes List. He died late last December on 12/27/2013.
According to Bloomberg, he intended to pass most of his estate to two of his daughters. However, estate transfers take time, and the IRS provides an alternative method to calculate estate taxes due. For some types of property, an alternative valuation can be given six (6) months after the date of death. The IRS provides some guidelines for this alternative valuation.
Given the possibility for alternative valuation, it might be natural to think the value of the asset might be temporarily depressed. We think this single event has placed additional negative pressure on the stock. In our opinion, the stock price of NL has likely suffered and as a result is undervalued.
Putting Together the Dots
One of the more interesting pieces of information we gathered was the record of insider sales in Valhi from the SEC. Valhi is the parent company to NL and controlled by the Harold Simmons Foundation. All these sales took place before the alternative valuation date. In these cases, the Simmons clan was selling 50-75% of the daily volume of the issue.
Figure 2: Percentage of Daily Float Sold by Harold Simmons Trust for VHI (parent of NL) through 6/23.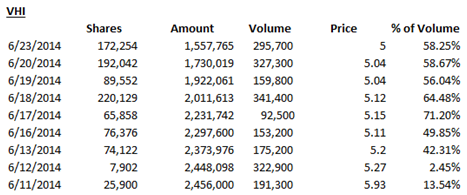 Source: Created by author. Data assembled from Yahoo! Finance and related SEC filings. % of Volume refers to the number of VHI shares sold by Harold Simmons Trust divided by daily volume.
In our opinion, the table provides a snapshot of how to pin a share price to a "temporarily" low value by liquidating large blocks of shares; the marginal prices can be moved while maintaining corporate control. Now, VHI is not the same as NL, but the activity gives us a pretty good insight.
This activity forced us to reexamine NL's filings. NL deferred its dividend payment in the first quarter. NL also suspended regular dividends in May (10-Q). Suspending or reducing the dividend usually signals something is amiss about the company, but in this case, it seems to be a trial balloon. When the stock went lower, the controlling family was unlikely provided any support for the shares, and our insight is that they may have avoided a heap-load of taxes in the process.
Conclusion
In sum, we think the value of NL has yet to be realized. In at least one dimension, it would seem the incentives between management and the small shareholders are no longer at odds, as the firm moves beyond the tax situation created by the transfer of the estate. However, and we cannot stress this strongly enough, there's always risk to situations where the minority shareholder exhibits almost no control.
Reasonable Discount? For NL, we expect the stock to return to an appropriate discount (perhaps 25%-30%) to the collective value of the equity parts. Because NL is primarily a holding company, one can always calculate the value of the subsidiary holdings and decide roughly what the price of a share of NL should be. At recent closing prices, NL investments are worth $15.73; with a 25% discount, the shares should trade at $11.80.
Poised for a Bounce? We have already seen this reversion with VHI (30%+ increase around the alternative valuation date) and expect NL to be revalued back to its historical ranges in the next quarter or two.
Favorable Trade Winds? Finally, an additional benefit could be gained with an increase in the appetite for a sector that was bruised in 2013, the producers of titanium oxide.
Although not large, we are conservatively hunting for at least 8-10% upside from current prices. For our base case, we expect to see the price appreciation in the near term, although it might take a board meeting or two. NL would especially benefit from the reinstatement of the dividend. Finally, we think the investment is asymmetric to the upside. Positive macroeconomic tailwinds, a reorganization of the company by the new owners, or a go-private transaction are all potential catalysts for unanticipated, positive returns.
Disclosure: The author is long NL. The author wrote this article themselves, and it expresses their own opinions. The author is not receiving compensation for it (other than from Seeking Alpha). The author has no business relationship with any company whose stock is mentioned in this article.