Over the recent years, Procter & Gamble's (NYSE:PG) top line growth has been challenged due to foreign currency headwinds, intense competition and soft consumer spending in developed markets, and the company has been more of a 'cost cut story' to drive bottom line growth. In the last three years, Procter & Gamble's total revenues grew by only 2.75% on average. In an attempt to grow its top line numbers, the company has increased its focus on core businesses, expansion in developing market and innovation. In my opinion, the initiatives will help the company move to a path of healthier and sustainable organic revenue growth in the long term. However, the stock will continue to trade at a discount to its peers, Colgate (NYSE:CL), Coca-Cola (NYSE:KO) and PepsiCo (NYSE:PEP), until the company delivers broader category acceleration to prove that it is more than just a cost cut story.
Procter & Gamble has a solid brand portfolio and a global presence. The company's developed markets have high margins, but offer less growth, as the markets have matured and consumer spending stays weak. Its large international market exposure, especially developing market exposure, remains a vital growth catalyst. Increasing income and growing population will support Procter & Gamble's growth in developing markets. The company has been undertaking initiatives to strengthen its operation in developing markets by addressing the available white spaces and focusing on innovation.
China and India are the two leading developing markets for Procter & Gamble, contributing 8% and 2% to the company's total sales, and the numbers are expected to grow further as Procter & Gamble continues to increase geographic penetration and increases price points. Also, the company plans to grow its business in developing markets by introducing new products and categories and by undertaking measures, including growing market share and building per capita consumption, to enhance per capita consumption of its products. Along with advertisement, the company has been undertaking an educational program to increase awareness of categories being offered, which will augur well for the company's customer base.
Innovation has been essential to business success, mainly because of changing consumer preferences. Procter & Gamble has been targeting innovation to cater to the changing consumer needs and wants, address completion and strengthen its performance. Innovation is among the company's top priorities, and it has focusing on '20 biggest new products' to maintain market dominance and keep its product portfolio solid. Innovation initiatives seem to stay productive, as Procter & Gamble's recent innovations have been among the most successful and breakthrough innovations in 2014. Furthermore, in efforts to support innovation and deliver superior value, Procter & Gamble inaugurated the Singapore Innovation Center (SgIC) in the second quarter of 2014.
Procter & Gamble has been relying on productivity enhancement and cost cuts to grow its bottom line numbers in recent years, as its top line growth stays challenged. The company's $10 billion cost cut program, which is set to expire in 2016, has been delivering better-than-desired results. Procter & Gamble has been optimizing its manufacturing fleet, supply chain and logistics in developed, as well as in developing markets, to extract savings. The company has accelerated some of its 2015 savings in 2014, as it is expecting manufacturing productivity of at least 6% in 2014, up from a target of 5%. Also, it is forecasting productivity savings of $1.6 billion in 2014 versus a target annual run rate of $1.2 billion. Also, the company recently disclosed an incremental cost savings of $200-$300 million annually starting in 2015. The incremental savings will be generated through the transformation of distribution centers and consolidating shipping, which will strategically locate it closer to customers and key population centers, which will help the company lower its inventory and costs.
As the ongoing productivity program, which targets cost savings of $10 billion, is set to expire in 2016, in my opinion, the company in the upcoming quarters will announce an incremental productivity program, which targets cost savings in the latter half of the decade. Incremental cost savings will prove to be an important stock catalyst.
Final Words
The company's cost cut initiatives will prove accretive to EPS in upcoming years. Also, the company's initiatives, including geographical expansion and innovation, will augur well for the stock. However, the stock will continue to trade at a discount to its peers, as the market awaits acceleration in revenue growth. Procter & Gamble is currently trading at a discount to its peers, including Colgate, Coca-Cola and PepsiCo, which is justified given the challenges faced by the company to grow its top line numbers. Procter & Gamble is trading at a forward P/E of 17.7x, versus its peers' average of almost 19x.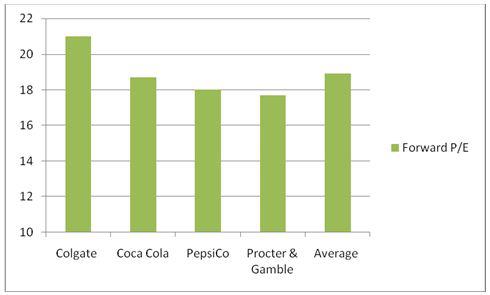 Disclosure: The author has no positions in any stocks mentioned, and no plans to initiate any positions within the next 72 hours. The author wrote this article themselves, and it expresses their own opinions. The author is not receiving compensation for it (other than from Seeking Alpha). The author has no business relationship with any company whose stock is mentioned in this article.