As a novice income-driven investor with a knack for higher-yielding stocks, dividend-related events are always something I tend to keep an eye on. It is these types of events that have a tendency to influence my decision in terms of which stocks I should keep on my radar and which ones I should not. With that said, and in the wake of its latest dividend increase, I wanted to highlight several reasons why I've chosen to stay bullish on shares of Fifth Street Finance (NYSE:FSC).
A Brief Summary of the Company
Headquartered in White Plains, New York, Fifth Street Finance is a specialty finance company that lends to and invests in small and mid-sized companies in connection with an investment by private equity sponsors. The firm's primary investment objective is to maximize its portfolio's total return by generating current income from its debt investments and capital appreciation from a number of equity investments.
Recent Dividend Behavior
On Monday, July 7, Fifth Street Finance announced a monthly dividend increase of $0.0083/share, which brings its upcoming dividend payout to $0.0917/share. It should be noted that the increase will be paid on September 30 for shareholders of record as of September 15. This boost represents a 10% increase from its prior dividend of $0.0834/share, which had been paid to shareholders during June, July and will paid to shareholders in August of this year.
Upcoming Earnings Outlook
When it comes to the company's upcoming earnings, there are a number of things potential investors should consider. For example, analysts are currently calling for FSC to earn $0.26/share in terms of NII for its Q2 earnings that are due out on August 4 (which is $0.01/share higher than what the company had reported during Q1 2014, and $0.04/share higher than the company had reported during the year-ago period). In order to meet and/or exceed its quarterly NII estimates, I'd like to see a 2.5%-to-3.5% increase in the company's net funded originations, a 2.0%-to-3.5% increase in the company's total investment income, and lastly, a 1.5%-to-2.0% decrease in the firm's quarterly expenses.
Fifth Street's Recent Trend Behavior
On Monday, shares of FSC, which currently possess a market cap of $1.39 billion, a forward P/E ratio of 9.47, and an annualized dividend yield of 11.03% ($1.10), settled at a price of $9.97/share. Based on a closing price of $9.97/share, shares of FSC are trading 4.38% above their 20-day simple moving average, 6.86% above their 50-day simple moving average, and 7.75% above their 200-day simple moving average.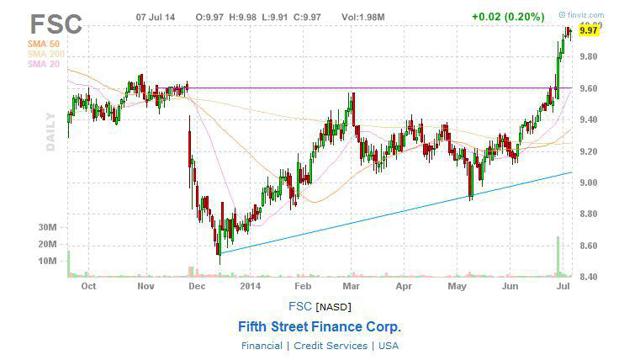 It should be noted that these numbers indicate a short-term and mid-to-long term uptrend for the stock, which generally translates into a buying mode for most near-term traders and many long-term investors. If the company can demonstrate a stronger-than-expected earnings performance when it announces Q2 results on August 4, there's a very good chance the company's trend behavior will move in a sustainably positive direction.
Conclusion
For those of you who may be considering a position in Fifth Street Finance, I strongly recommend keeping a close eye on the company's recent dividend behavior which has demonstrated a solid uptrend over the last year, and its ability to demonstrate reasonable increases in its total originations, quarterly net investment income and the continued reduction in overall expenses, as each of these catalysts will fuel future earnings growth.
Disclosure: The author has no positions in any stocks mentioned, but may initiate a long position in FSC over the next 72 hours. The author wrote this article themselves, and it expresses their own opinions. The author is not receiving compensation for it (other than from Seeking Alpha). The author has no business relationship with any company whose stock is mentioned in this article.