On Thursday, rumors escalated that data storage systems maker EMC may be bought out by Oracle Corp. (NASDAQ:ORCL), which sent shares of EMC up nearly 5% during trading hours. With that said, though, more than one analyst deemed such a deal unlikely. However, not that long ago, Oracle acquired Sun Microsystems, which gave the company an exposure to the hardware industry for the first time, so an acquisition of a storage maker does not seem completely out of the question (Oracle is definitely known for making acquisitions). But, EMC would be a very large buyout candidate (market cap of $43 billion) and also has a majority ownership of VMware, a virtualization company, making the deal somewhat more complex than at first glance (not to mention the potential for a bidding war).
Nonetheless, we thought it would be appropriate to take a look at the potential acquisition target, EMC, using AFG's Valuation and Economic Margin tools. First off, looking at EMC's wealth creation chart (shown below, click to enlarge), we see that the company has done a relatively good job at achieving positive Economic Margins throughout the majority of its history. The trend of its EMs points to some cyclicality within its business operations, as it tends to struggle more during recessionary times (2002 & 2009), but also does well during periods of economic vitality (1996-2000 & 2004-2007). The company has also been consistently growing, both organically and via acquisition. We like companies that achieve positive economic margins and are growing their assets - what we call a wealth creation strategy.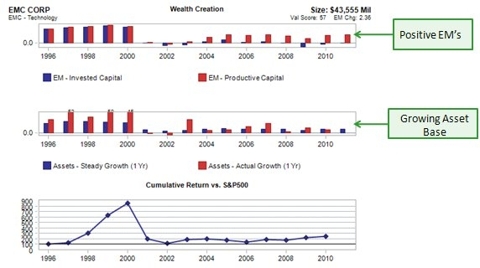 source: www.economicmargin.com
Next, we need to look at EMC's default intrinsic value to better determine if the company is currently a good investment, or in other words, its shares look undervalued. While looking at EMC's intrinsic value chart (shown below, click to enlarge), we see that the company is currently trading at a premium.
Usually, for a company to be a good acquisition target, it should be trading at a discount to its intrinsic value (to take that one step further, the eventual purchase price should not exceed the target company's intrinsic value). EMC does not currently fit that mold.
However, as is the case with most acquisitions, synergies can be realized post-merger to create a more efficient cost structure and/or generate new revenue opportunities through cross-selling, which would not have been achievable by the acquisition target on a stand-alone basis. Only then would a purchase price higher than the stand-alone company's intrinsic value potentially be justified.
This could be possible if Oracle were to acquire EMC. However, since the potential acquisition is only a rumor, and both EMC and Oracle did not comment on the matter, we do not know what potential synergies either management team might expect if they are actually considering a deal (remember, analysts didn't think the deal sounded likely either). Therefore, we can only assess EMC for where it currently stands, which we have done with the help of AFG's Wealth Creation and Intrinsic Value charts, and re-evaluate the situation if a deal actually comes to fruition (click to enlarge).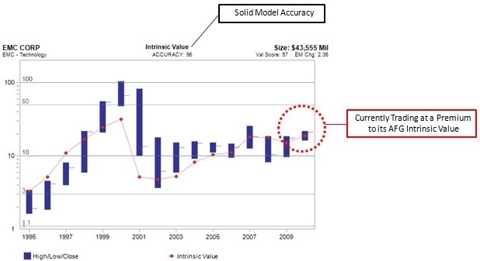 source: www.economicmargin.com