International Speedway Corporation (NASDAQ:ISCA) owns or operates 13 race tracks in the US, including Daytona.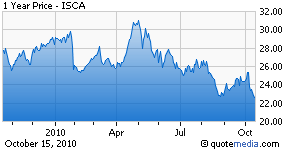 The company generates revenue form the admissions, broadcasting, advertising, food and merchandise sales at the 100+ races it organizes every year. The company is currently trading at $25 per share and came into my idea pipeline as it is rated by Morningstar as a wide-moat 5 star company.
1- Business Performance Risk
Status

FCF / Sales

Last twelve months (LTM): 21%, at the high end of historical performance which has traditionally been in the high 10's

ROE

LTM: 4.3% below the company's 5 year average of 9.4%. The company's ROE has been volatile over the last 10 years and was almost 0% in 2009

ROA

LTM: 2.5%, below ISCA's 5-year average of 5.4%. Similar to ROE, ROA has been volatile over the last 10 years

Revenue Growth

LTM: -6.7%. Revenues have been volatile for ISCA with the last 2 fiscal years being in the red after a few years of high growth.

Cash distribution to shareholders

ISCA pays a meager dividend, yielding 0.7% for a payout of ~15%

Over the last 5 years the company has retired 8% of its stock
ISCA appears to me as a risky business with strong free cash flow generation but low and declining ROE/ROAs. In addition, the company seems to be facing serious headwinds with revenue having declined for almost 3 years in a row now.
In terms of returns, the company spends 15% of its earnings on a 0.7% dividend yield and would need to spend 50% of earnings on growth, making the accommodating assumption that the company could grow at 5% and return its ROE to ~10%. It would then have about 35% of earnings left to spend on buybacks, yielding about 1.5% return to investors. Even under this favorable scenario the intrinsic returns of the company seem limited to less than 8%!
2- Balance Sheet Risk
| | |
| --- | --- |
| | Status |
| LT Debt / Equity | 0.2x – has been declining over the last 5 years |
| Current Ratio | 1.1x, in line with past practices |
Limited debt; aggressive but manageable current ratio as the company has enough cash on had to cover its current liabilities
3- Valuation Risk
| | |
| --- | --- |
| | Status |
| Cash Return | 10.5x |
| P/E | 24.3x!, below the industry average of 30x, but much higher than the S&P 500 at 13.7x. |
While the cash valuation appears attractive the P/E of the company tells a different story; one in which there probably isn't much margin of safety.
Conclusion
ISCA's business performance points to a risky business with some cyclicality, low returns and current declines in sales… which is enough to deter me! Add to that relatively high valuation and I will clearly pass on ISCA's stock and will not perform a Company Analysis.




Disclosure: No position