By Craig Bowles
Overview
Wells Fargo & Company (NYSE:WFC) is scheduled to report 2Q 2014 earnings before the opening bell on Friday, July 11th. The results are expected to come through at approximately 8:00 a.m. EST, with a conference call webcast at Wells Fargo Investor Relations to follow at 10:00 a.m. Wells Fargo is the first of the major banks to report, and has the potential to impact the broader market indices, including the S&P Index Futures and corresponding ETFs.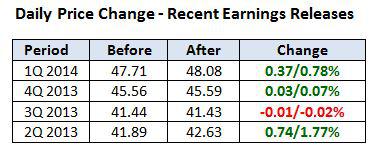 Outliers & Strategy
Key measures:
Earnings Per Share (EPS): The value for this measure typically compares with consensus estimates. The current Street estimate is $1.01 (range $0.93 to $1.06) Source: Yahoo Finance.
Revenues: Analysts expect a decline of 2.6% y/y to $20.81 bln (range $20.33 bln to $22.74 bln).
Wells Fargo's Price/Book of 1.7 compares to the 5-year average 1.3 and industry average of 1.1. Price/Revenue of 3.4 compares to the 5-year average of 2.0 and industry average of 2.3. Price/Cash Flow is slightly better than the 5-year average, but valuations appear a little rich.
Wells Fargo insiders sold 5,496,401 shares over the last twelve months and 1,255,581 over the last three months. In April, Wells Fargo received Fed authorization to repurchase 350 million of its shares through Q1 2015, so $17 bln would be quite an increase over 2013's $5.356 bln (which more than doubled 2011's buyback).
Wells Fargo shares have a one-day average price change on earnings of 3.34%. Options are pricing in an implied move of 1.62% off earnings.
Recent News
07/02: Wells Fargo boosted its forecast of 2014 asset-backed bond issuance to $195 billion, a rise of $30 billion from its previous estimate, according to a post on Bloomberg.com.
06/20: Wells Fargo made another round of layoffs in its mortgage operations due to declining demand, according to a post on Charlotte Bus Journal.
06/19: Blackrock and Pimco are suing Wells Fargo, Citigroup (NYSE:C), HSBC (NYSE:HSBC) and BNY Mellon (NYSE:BK) over their trustee roles for more than 2,000 bonds between 2004 and 2008, according to a post on Bloomberg.com.
06/10: Wells Fargo lost an appeal in its reckless lending case with the U.S. government. Banks that settled were required to pay $5 billion in fines and to provide consumer relief, including mortgage write-downs and refinancing, valued at $20 billion, according to an article by WallStreetJournal.com.
04/02: The Fed approved Wells Fargo's $24 billion capital return plan of dividends and stock buybacks, reviewed in a post by Forbes.com.
Technical Review
Wells Fargo has trended steadily higher since 2011, with slight pullbacks in the second half of each year, so seasonality suggests a pause in the advance is due. The stock is testing new highs, with resistance at $53. Recent support was $51, with larger support at $49, below which is the $45.50 area where the 200-day moving average remains. Other bank stocks haven't performed as well. Possibly because of the buyback and dividend announcement, money may have rotated into Wells Fargo from Bank of America and JPMorgan Chase in April and the first half of May. (Chart courtesy of StockCharts.com)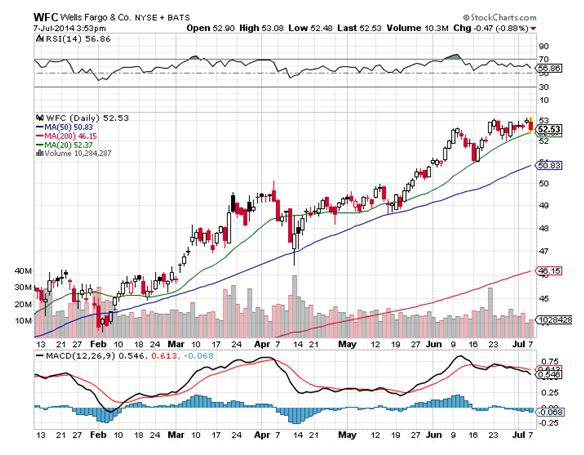 Summary
Everyone appears to be optimistic about Wells Fargo, despite its business and legal problems, because of the dividend hike and stock buyback plans. The company has beaten estimates by 2c-8c the last four quarters with limited stock price reaction. Earnings of $1.05 on revenue of at least consensus at $20.81 bln would probably be needed for a positive reaction from market participants. Out of the last four quarters, the best market reactions required at least a 5c earnings beat.
DISCLAIMER: By using this report, you acknowledge that Selerity, Inc. is in no way liable for losses or gains arising out of commentary, analysis, and or data in this report. Your investment decisions and recommendations are made entirely at your discretion. Selerity does not own securities in companies that they write about, is not an investment adviser, and the content contained herein is not an endorsement to buy or sell any securities. No content published as part of this report constitutes a recommendation that any particular investment, security, portfolio of securities, transaction or investment strategy is suitable for any specific person.
Disclosure: The author has no positions in any stocks mentioned, and no plans to initiate any positions within the next 72 hours. The author wrote this article themselves, and it expresses their own opinions. The author is not receiving compensation for it (other than from Seeking Alpha). The author has no business relationship with any company whose stock is mentioned in this article.