The BRIC stock markets have been struggling since early 2011. Russian stocks have been especially hard hit this year, as sanctions resulting from the country's Ukraine policy have sent stock values on another leg down. Even after a recent rally, the Market Vectors Russia ETF (NYSEARCA:RSX) is well behind the iShares MSCI BRIC ETF (NYSEARCA:BKF).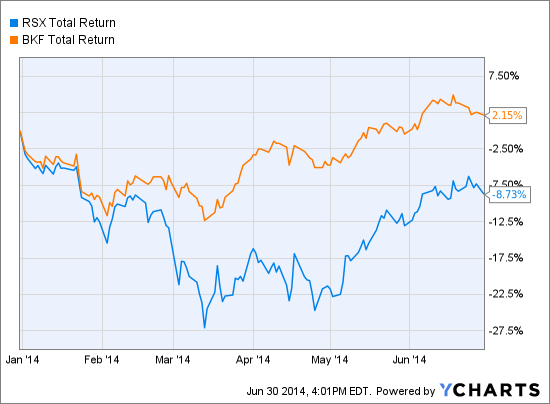 RSX Total Return Price data by YCharts
That spells opportunity to David Iben, a resolute contrarian manager who set up his own firm, Kopernik Global Investors, about a year ago. (In an eight-year stint running what is now Nuveen Tradewinds Value Opportunity, the fund's 110%+ return was nearly triple the average return of the fund's peer group.)
In a recent note to shareholders, Iben drew a comparison between one of the finest contrarian investors of all time, the late John Templeton, who dove into a battered Japanese stock market in the 1960s (when stocks were trading at low single digit PE ratios) and the opportunity Iben sees today in Russia.
The fact that Russia is a mess is a feature, not a bug for contrarians like Iben. In laying out his case for Russia, Iben invoked one of Templeton's investing commandments: "People are always asking me where the outlook is good, but that's the wrong question…. The right question is: Where is the outlook the most miserable?"
Iben clearly makes a case for Russia's misery factor, and seems practically giddy about it:
Having lost the Cold War two decades ago, still hated passionately by many, infamous for organized crime and corruption, powerful oligarchs worth billions, and an emerging market, its stock market is now selling at a mere 5 times earnings and 0.6 times book value!!
A retail global value fund, Kopernik, launched a year ago has a 15% allocation in Russia; the average world stock fund has less than 1% parked in Russia, according to Morningstar. Most of the fund's Russian slug is invested in three companies: Gazprom (OTCPK:OGZPY), JSC RusHydro (OTCQX:RSHYY) and Sberbank of Russia (OTCPK:SBRCY). All trade as ADRs.
Here are their PE ratios: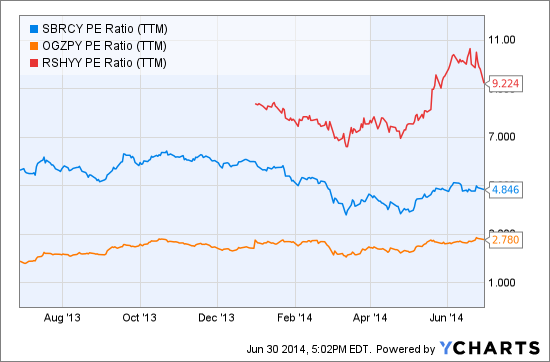 SBRCY PE Ratio (TTM) data by YCharts
Each trades at less than book value: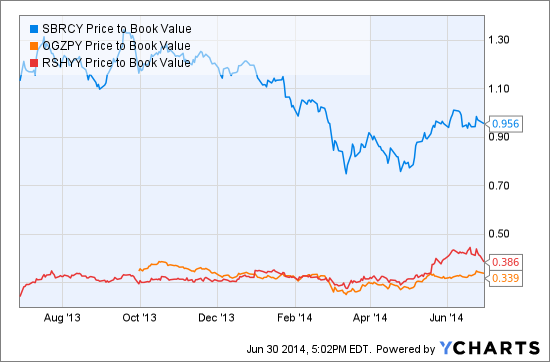 SBRCY Price to Book Value data by YCharts
If you're looking for next week's momentum stock, Russia is not gonna float your boat. For the more patient, Iben says the opportunity in Russia "…is amongst the best I've encountered in the roughly one-third century that I've been fortunate enough to be in this business."
If you've got a contrarian's stomach and some patience, Russia certainly is at the other end of the spectrum from the U.S. market, where the S&P 500's Shiller PE is ominously above 25. Past experience suggests good things don't tend to happen when the market's Cyclically Adjusted Price Earnings ratio is that high.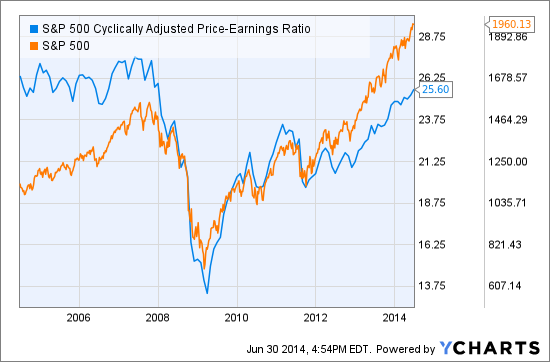 S&P 500 Cyclically Adjusted Price-Earnings Ratio data by YCharts
Carla Fried, a senior contributing editor at ycharts.com, has covered investing for more than 25 years. Her work appears in The New York Times, Bloomberg.com and Money Magazine.
Disclosure: None