The commodity sector is cooling off this week after last week's excitement centered around the positive news from China and improving economic data here in the US. It was one of those euphoric rallies where market participants abandoned all discipline and chased short-term gains. The sell-off in the utilities and other high yielding stocks had us questioning the rally and we now know that the market overextended itself in the wake of the positive economic news.
This does not mean that we are not bulls at this time, because we are, but there are times during bull markets when one must pause and collect themselves. Readers may remember that we have called for the third quarter to see moves up and down but end up relatively flat and through the first week of trading this quarter that has proven to be the case. It is VERY early in the quarter, but we would not be surprised to see this trend continue.
Chart of the Day:
Looking at commodities which could see a short-term pullback if investors' outlook on the economy dim, we would not be surprised to see copper pull back after the latest run. Long-term we like the prospects here, especially with the issues in major copper producing regions, but investors should be aware of the potential for a 5-7% retracement.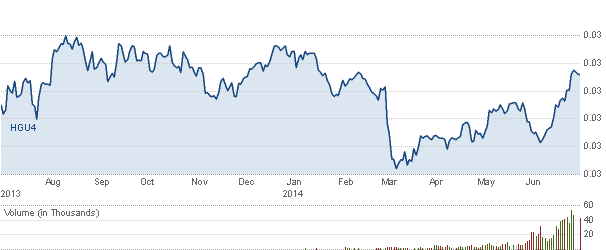 Source: CNBC
Commodity prices are as follows (at time of submission):
Gold: $1,316.40/ounce, down by $0.60/ounce
Silver: $20.935/ounce, down by $0.031/ounce
Oil: $103.16/barrel, down by $0.37/barrel
RBOB Gas: $2.9688/gallon, down by $0.0202/gallon
Natural Gas: $4.173/MMbtu, down by $0.052/MMbtu
Copper: $3.2575/pound, down by $0.0035/pound
Platinum: $1,497.10/ounce, up by $1.50/ounce
Energy Gets Hit Hard
Yesterday saw some large moves in the energy sector with Chesapeake Energy (NYSE:CHK) and Encana (NYSE:ECA) pacing the larger names lower and GasLog (NYSE:GLOG) leading some of the newer issues lower. Most energy names are at or near their 52-week, and even all-time, highs right now so the pullback we have seen in recent sessions is not a surprise and should be viewed as an opportunity in our opinion.
As we look at the energy sector and see names such as Chesapeake and Encana monetizing their excess acreage positions, or selling projects already producing, the valuations have not been disappointing. In fact, the most recent deal that Chesapeake Energy announced in the Marcellus with Rice Energy (NYSE:RICE) at $15,000/acre left us feeling much better about some of the other E&P names we own with acreage in more oily plays. We are not forgetting that the Marcellus is prolific and has cheap natural gas production, but when one can buy acreage in areas with good NGL and oil production for the same amount it stands to reason that there is some unrealized value there.
We are not banging the table at this point in time and saying that one should be buying all of the energy names, but if this does turn into a 10%+ correction we would be very tempted to buy premier names on the dip.
One Name To Watch Closely
Although a lot of the dust has settled in regards to the future of Hess Corporation (NYSE:HES) and the direction the company will go, the stock has caught our attention in recent weeks as it has posted steady gains leading to fresh highs. The market pretty much knows what to expect from Hess moving forward in terms of where the focus will be to create shareholder value, but in the short term the stock does pose an opportunity for traders.
If Hess cannot break through $100 one has to prepare for a possible move lower, possibly as much as 10-15%.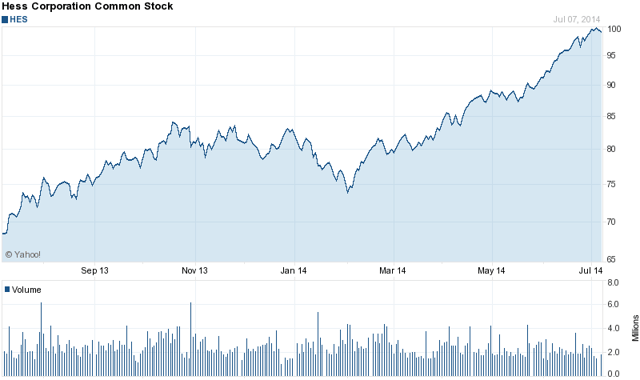 Source: Yahoo Finance
If the $100.12/share high holds, then our experience would tell us that Hess shares are due for a pullback, possibly back to the $88/share level. If the energy sector bounces back and Hess moves through $100/share and can build a base above the $105/share level we would not be surprised to see the name eventually move to $120/share later down the road. As the market finds its footing this week, this is one name we are watching as a potential trading opportunity.
Disclosure: The author has no positions in any stocks mentioned, and no plans to initiate any positions within the next 72 hours. The author wrote this article themselves, and it expresses their own opinions. The author is not receiving compensation for it (other than from Seeking Alpha). The author has no business relationship with any company whose stock is mentioned in this article.