Several months ago, I began investigating the banking sector based on four core investment theses: 1) the U.S. (and global) economy is really going to improve by the end of the year, driving higher business and consumer loan demand, 2) interest rates will increase, driving higher spreads between loans and deposits, 3) bank dividends will return to traditional levels (3%+), providing a backstop to price declines and 4) the bad news, with respect to litigation and regulatory penalties, is mostly known and adequately reserved.
As a value investor, I was intrigued that the financial sector underperformed the S&P 500 over the past year, and one bank, JPMorgan Chase (NYSE:JPM), significantly underperformed the financials. I have come to believe that JPM is: undervalued, should experience material (about 10% per year) EPS growth over the next couple of years (helped by higher interest rates and a strengthening economy), has a nice, subject to increase, 2.8% dividend, and may be the best of the large banks to own from a risk adjusted perspective.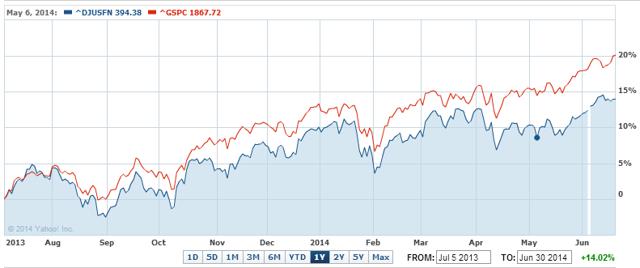 Click to enlarge
Source: Yahoo!
Upward Side of Banking Cycle
My macro contention is that we are in the upward side of the banking cycle, as the economy has not fully hit its stride (driving demand for lending) and interest rates have not yet increased (driving higher spreads). Therefore, I am using a valuation target of 11x forward earnings for large banks, the high side of my conservative 9x-11x forward earnings valuation range. By way of reference, Value Line suggests JPM historically trades (average for all points in the business cycle) for 11x trailing earnings and S&P Capital uses a price target based on 11x forward.
Avoiding the Flames
In considering which bank to buy, I put a lot of stock in the old, "where there is smoke there is fire" adage. In other words, if I see a recurring pattern of miscues at a company, I tend to think there are 1) more that have not surfaced, 2) management is going to be distracted cleaning up messes and not focused on the core business and 3) the stock is likely to underperform. Additionally, the market tends to discount "worst of breed" stocks relative to their peer group. Banks like Bank of America (NYSE:BAC) and Citigroup (NYSE:C) seem to fall into this category. When I don't see any more smoke, I will reconsider these "problem children".
What the Metrics Say
As the below chart indicates, excluding troubled C and BOA, JPM compares favorably to SunTrust (NYSE:STI) and Wells Fargo (NYSE:WFC) with respect to forward PE and yield and is the only one of the group to be given four stars by S&P Capital. JPM's PEG is slightly higher than STI and WFC; while valuing growth, I give a little more credence to closer in estimates (out year estimates are subject to high(er) volatility).
Key Metrics: Selected Large Banks
| | | | | | | | | | | |
| --- | --- | --- | --- | --- | --- | --- | --- | --- | --- | --- |
| Stock | Price | 2014 | 2015 | 2016 | Div. | Yield | S&P | F-PE | PEG | Metric |
| JPM | $56.67 | $5.33 | $5.92 | $6.44 | $1.60 | 2.8% | 4* | 9.6x | 1.09 | 11x |
| BAC | $15.94 | $0.91 | $1.50 | $1.71 | $0.04 | 0.2% | 3* | 10.6x | .76 | 11x |
| C | $47.98 | $4.62 | $5.37 | $5.76 | $0.04 | 0.1% | 3* | 8.9x | 1.23 | 11x |
| STI | $40.27 | $3.11 | $3.28 | $3.67 | $0.80 | 2.0% | 3* | 12.3x | 1.03 | 11x |
| WFC | $52.50 | $4.11 | $4.29 | $4.80 | $1.40 | 2.7% | 3* | 12.2x | 1.03 | 11x |
Source: TDAmeritrade; Price @ 4PM July 7;PE: 2015; PEG: P/('15/'16)
Past Disappointments Discounted; Upside Opportunities
JPM, unlike most of its peer group, has dramatically underperformed the S&P 500 over the past twelve months. C, not included in the below chart, also underperformed as it dealt with the rejection by the Federal Reserve of the bank's capital plan, as well as regulatory problems and fraud at its Mexican (Banamex) unit.

Click to enlarge
Source: TDAmeritrade
The gap with the S&P 500 widened on April 11, when JPM fell 3.7% after reporting disappointing earnings. Lower fixed income trading and mortgage income were the primary disappointments. Over the last (almost) three months, the gap has widened even further.

Click to enlarge
Source: TDAmeritrade
As April's bad news was absorbed, analyst's earnings estimates for both 2014 and 2015 declined.
JPM Changes in Earnings Estimates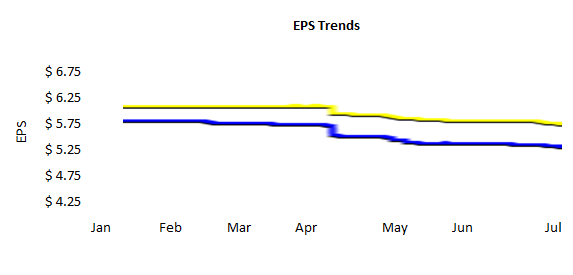 Source: TDAmeritrade; Blue: 2014 ($5.33/share), Yellow: 2015 ($5.92/share)
Buying Opportunity?
I'm not recommending JPM as a "trade", however, I do believe most of the bad news has been reflected in the earnings estimates and the stock price. As a value investor and a bit of a contrarian, the "good news" about 2015 earnings estimates being lowered for JPM is the creation of a buying opportunity. Certainly, over optimism about the timing of the recovery needed to be adjusted, as did the reality of lower trading revenues. However, there is (company and industry) upside as the economic recovery begins to gain steam and (conversely to many stocks) the prospect of higher interest rates (and spreads) begins to be positively factored into forward earnings estimates.
When JPM reports earnings prior to the market open on July 15 (Yahoo!), consensus earnings estimates are $1.30 per share, 19% lower than the prior year, with a "whisper" number of $1.34 per share (earningswhispers.com). A decent quarter and/or a hint of optimism about the future could be a positive catalyst for JPM.
Looking beyond the next quarter, JPM is projected to deliver 20% earnings growth between 2014 and 2016. As suggested, if the economy improves and interest rates (moderately) increase, there appears to more upside opportunity than downside risk.

Source: TDAmeritrade
Potential Risks to JPM
The largest risks to JPM appear to be (in the order addressed): the health of its CEO, Jamie Dimon, under reserved litigation, continued low interest rates and economic weakness.
JPM's CEO, Jamie Dimon, disclosed on July 1 that he had "curable throat cancer" and will need to reduce his activities for (at least) the next few months. Though Mr. Dimon is well respected and a strong presence, it is worth noting that JPM's organization and culture are strong and not dependent on one man. I view Jamie Dimon's reduction in activities, with respect to the impact on stock performance, as non-material in the six-to-twelve month period I typically use as a time horizon to "validate" projections. JPM did decline following the announcement, so the current "news" has already been factored into the stock price (a more serious diagnosis would likely by viewed negatively in the short term).
Without disproportionately dwelling on Mr. Dimon's health, it may be postulated that this issue, combined with JPM's mediocre recent performance and valuation may have combined to create a price "floor" with respect to non-performance based news.
JPM has moved fairly aggressively to settle much of the legacy litigation (a significant amount originated from activities from the acquired-under-stress Washington Mutual, not the "core" JPM) from the housing bubble era. Though JPM has a $10 billion reserve for legal and settlement costs, there remains the risk that reserves are not sufficient (though many believe the industry as a whole will start to "take" reserves as positive earnings adjustments). Additional reserves, though one-time events, would impact earnings estimates and be negatively viewed by the market.
If interest rates continue at record lows, JPM will not see higher spreads. This risk is becoming more remote as employment continues to grow (unemployment fell to 6.1% in June) and the Federal Reserve continues to wind down its tapering program. Keep in mind that the Fed has indicated it is willing to be flexible and continue to intervene in the markets when it deems necessary.
The economy can stagnate or fall back, hurting business loan growth and mortgage origination. Potential catalysts to a slowdown could be events in the Middle East severely impacting the price of oil or creating so much uncertainty as to cause businesses to defer investment. If interest rates rise too rapidly (or prices rise too quickly), the housing market (and mortgage originations) would be negatively impacted as would the overall business expansion.
Summary
I like the banking sector in general, and JPM in particular, as a way to continue to invest in the current economic (and stock market) expansion. The financial sector has underperformed the S&P 500 over the past year creating opportunity. Price targets based on an appropriate-for-this-stage-of-the-recovery multiple of 11x forward earnings provide an adequate reward potential given the risk (over a six-to-twelve month time horizon). The leading banks have dividend yields that are approaching a generous 3% payout, with room for further increases.
JPM has underperformed its peers while sporting a forward PE, on recently lowered estimates, of less than 10x 2015 earnings; the dividend is credible at 2.8% and should grow. The Company is proactively addressing its regulatory and litigation issues and appears adequately reserved. The illness of CEO, Jamie Dimon, while unfortunate and a potential market risk, should not materially impact operations or strategy in the near term.
Disclosure: The author is long JPM. The author wrote this article themselves, and it expresses their own opinions. The author is not receiving compensation for it (other than from Seeking Alpha). The author has no business relationship with any company whose stock is mentioned in this article.