Cloud storage and file management company Box raised $150 million from investors TPG and Coatue yesterday. Box has now raised funding in excess of $550 million, which is not common for a private internet company but it does happen. The bizarre part of the story is that Box had already filed an S-1 document in advance of its anticipated IPO which was originally pegged for April.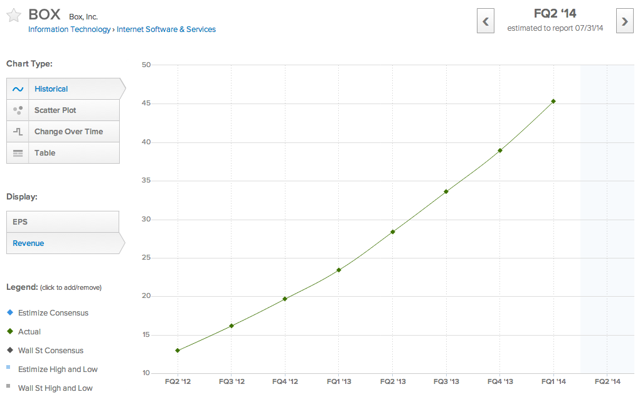 In the S-1 filed with regulators back in March, Box revealed some damning information about the state of the company's financial health. Revenue in the quarter ending April 30, 2014 came in at $45.33M, up 94% from the $23.414M reported last year. The revenue growth is fantastic, but the cloud storage company also increased its quarterly net loss from $34.0M to $38.4M. Yikes.
Box's last round of funding took place in December when the company raised $100 million at a $2 billion valuation. The latest round of funding saw Box fetch a valuation of $2.4 billion, only a small relative increase from December. But the scary part here is that Box raised 9 figures worth of cash back in December, and the company is burning so much money that the funds won't even last 1 year. It's reported that Box took the additional funding to wait for a better IPO environment which allegedly picks up after Labor Day. Software as a service stocks have been battered in general this year, which is likely the reason that Box is holding out for an increase in market sentiment.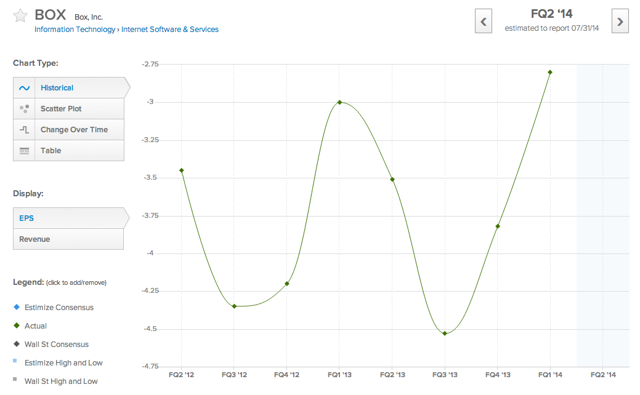 Another red flag in the revised S-1 form released yesterday is the sliding rate of growth in billings. In the quarter ending April 30th Box reported a 56% billings growth rate compared to a rate of 94% one year prior. The annual rate of billings growth in 2011 was 177%, and 182% in 2012 before falling to 103% in 2013. Data from the latest quarter in the revised S-1 suggests that the annual billings growth rate could be headed lower again this year.
When discussing potential risks to the company in its S-1 form, Box cited the following 2 threats:
We have a history of cumulative losses, and we do not expect to be profitable for the foreseeable future;


The market in which we participate is intensely competitive, and if we do not compete effectively, our operating results could be harmed;
Box is fighting a race to the bottom on price in an industry with a completely commoditized product. There are low barriers to switching data storage providers, so it doesn't really matter which company enterprises purchase cloud storage from. The only differentiating factors in the industry are price, security, and potentially privacy if data scraping becomes an industry norm. A consumer may be willing to pay slightly more for a brand with better perceived security, but a single data leak or hack could bring a cloud storage company to its knees, and that's a massive risk for an unprofitable company that has raised over $500 million.
Another company fighting in a similar land grab is Uber. Raising a ton of capital is one way to fight a race to the bottom. Uber recently raised $1.2 billion in a massive round of fundraising and has wasted no time at all in slashing prices to compete with Lyft and traditional taxi services on cost. Just yesterday Uber touted a 20% slash on UberX fares in New York, and now the private firm is bragging that their on demand car service is for the first time ever cheaper than yellow cabs in Manhattan.
If executed properly with the right hefty dose of marketing, raising capital to cut margins and compete on price can be an excellent way to build a business in an intensely competitive environment if a large market is up for grabs. Uber has also has a scalable repeatable business model which means the prize it could reap is enormous. First it was on demand rides, next it's on demand logistics from Uber Rush, but anything could be next. Expect Uber to get loud about its new lower prices in the coming days.
The problem for Box is that it isn't clear that a lucrative market is going to exist for cloud storage in the near future. Box is fighting an uphill battle against giant competitors like Google (NASDAQ:GOOG) and Microsoft (NASDAQ:MSFT) which operate several other businesses. Google has shown us that it's not afraid to take a loss in 1 segment to collect data and it's not difficult to imagine a world where a data juggernaut like Google essentially just gives cloud storage away for free in exchange for information, or possibly the right to serve advertisements. Raising funding to race to the bottom on price can be an awesome strategy, but it's not clear that there will ever be a market for a cloud-storage company like Box to take.

(From Amendment 1 to Box's S-1 Filing)
And if the strategy in delaying the IPO was to hold out for a higher valuation when the IPO market picks up, Box may have even done itself a disservice. The revised S-1 shows that the period ending April 30th of this year featured a rising loss from operations compared to last year (although largely because of sales and marketing costs), and a higher net loss. Higher net losses are not generally a good strategy for increasing valuation. If Box wants to fetch the big bucks after Labor Day, they will have some convincing to do. Maybe Box should have just gone ahead with the IPO as scheduled and taken the money and run.
Disclosure: None