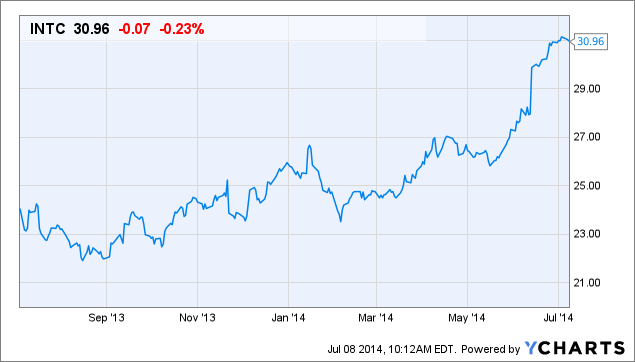 Background: Intel Corporation (NASDAQ:INTC) designs, manufactures and sells integrated digital technology platforms worldwide. The company was founded in 1968, and is based in Santa Clara, California. The market cap is $154 billion, and on any given day, the company trades about 35.6 million shares. The company reports July 15.
52-Week Range: $21.89 to $31.36
Forward Price-To-Earnings Ratio: 14.6
Price-To-Book: 2.7
The upcoming second-quarter earnings are highly anticipated by hopeful investors expecting an earnings growth report after the market closes on July 15, 2014.
The analyst mean profit appraisal is presently 52 cents a share, a gain of 13 cents (33.3%) from 39 cents during the corresponding quarter last year.
Analysts are estimating as low as 45 cents per share, up to the most optimistic estimate of 55 cents per share. If earnings come in as expected or higher, this quarter will not only beat the same period last year, but also last quarter's 39 cents per share.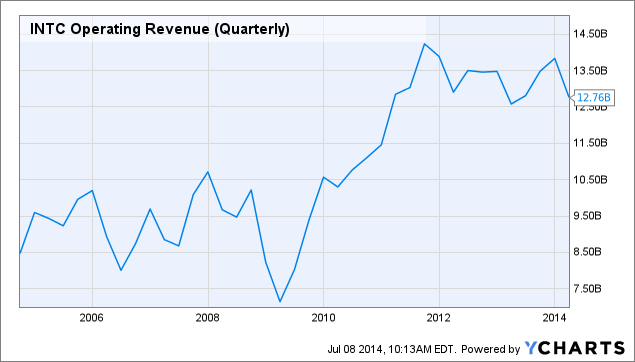 INTC Operating Revenue (Quarterly) data by YCharts
Analysts are more or less sidestepping this one like a politician dancing the Washington two-step. A hold can mean everything from "I want to rate it a sell, but that would not be good for business," to "I have no clue." In total, 24 out of 46 rate this a hold, and 16 recommend this company as a buy and 6 recommend selling.
Seven out of 46 analysts now rate Intel a strong buy, down from 8 analysts a month ago. New investors from a year ago are happy and smarter than some analysts rating this company a hold. The shares have soared, increasing 31% over the last 52 weeks. Analysts are calling for a price target of $29.94.
When investors evaluate the options market, especially the contracts expiring immediately following the earnings release, they gain an increase in comprehension of what other traders are expecting.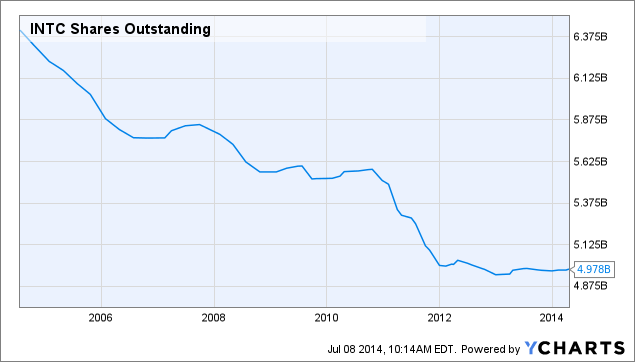 Traders and investors are expecting a $1.36 change higher or lower, or about a 4% change during the next 12 days.
That means, as a shareholder or potential investor, you should anticipate the stock to trade as low as $29.67, or jump higher to $32.39, and still remain within one standard deviation. If you're not already prepared for such a broad move (and there's no guarantee it won't move beyond the expected range), you want to make the necessary adjustments.
After last quarter's results, the shares increased only slightly by .6%, or 16 cents from the close before earnings release to the closing after. The closing price before the release was $26.77, and 26.93 after. Option sellers made money, buyers lost, at least after the first day post earnings release.
The widely followed fast moving average above the slower moving average is bullish. The 60-day moving average is above the 200-day moving average, which is one of the first things I look for. Intel is in a classic bull trend. The moving averages are increasing, and shareholders are happy. Trend followers love this pattern, and will hold their long position until a technical break results in a signal to exit.
I recently wrote why I think Intel is a superior investment over Advanced Micro Devices (NYSE:AMD), so I'll cover just the basics here. All else being equal, when it comes to CPUs, Intel commands a greater price. I know in some cases Advanced Micro Devices has an edge, but as investors, we're not concerned with the edge - we want to focus on the overall picture, and Intel wins this battle hands down.
Both Intel and Advanced Micro Devices make graphics processing units (GPUs), and Advanced Micro Devices is gaining market share for higher-end graphics cards. Outside of Advanced Micro Devices, Intel competes against Qualcomm Inc. (NASDAQ:QCOM).
Qualcomm's stock has been relatively flat, while also trading near the 52-week high. Qualcomm and Intel have comparable price-to-earnings multiples, and while Intel is larger than Qualcomm based on market cap, they're both in the same ballpark in size and earnings.
Qualcomm's command in the mobile computing space has been a thorn in Intel's side, but Intel's and indeed the space's most profitable market is enterprise computing, where Intel dominates.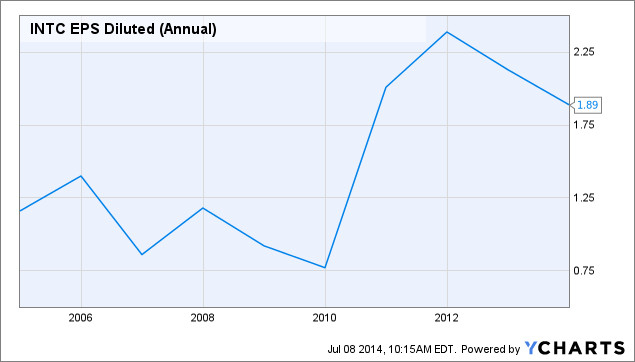 INTC EPS Diluted (Annual) data by YCharts
The next big advance in computer power advancement from Intel and AMD could come from relocating memory from the motherboard to onboard the CPU. If Intel moves ahead with its blueprint, instead of having Samsung (OTC:SSNLF) or Micron (NASDAQ:MU) memory chips in memory expansion slots on the motherboard, the same amount of memory will be located inside the Intel (or AMD) CPU.
Doing so will greatly increase the processing speed and eliminate one of the biggest computing bottlenecks. Micron shareholders should monitor this very closely, as its market dominance in memory chips could evaporate away relatively fast.
While adding memory within CPUs could create rapidly melting ice under the feet of Micron and Samsung, it should greatly increase the margin, revenue and income for Intel (and Advanced Micro Devices), while at the same time lowering the cost of computing power.
Obviously, fear of significant market obsolescence of memory chips is holding Micron shares lower. While Micron's earnings are growing rapidly, the shares are incredibly cheap, based on the forward earnings multiple that remain in the single digits. Micron's shares also have over 10% short interest. The company reported earnings recently, and for greater color on what the market was expecting, take a look at my Micron earnings preview.
In other words, the number of CPU sales could remain the same, and Intel can grow revenue and earnings within that category, while creating greater value for the consumer. It's difficult to remain anything but bullish when viewed from a one-year or more time horizon.
Disclosure: The author has no positions in any stocks mentioned, and no plans to initiate any positions within the next 72 hours. The author wrote this article themselves, and it expresses their own opinions. The author is not receiving compensation for it (other than from Seeking Alpha). The author has no business relationship with any company whose stock is mentioned in this article.