FedEx Corporation (NYSE:FDX) is best known for its overnight delivery services but the company operates a broad portfolio of transportation, e-commerce and business services. The organization is structured in a unique way - FedEx companies attempt to compete collectively in the marketplace while largely operating independently under the respected FedEx brand.
Understanding FedEx's operating segments sheds light on the company's important growth and profitability drivers. Thus, I've built a revenue forecast on an operating segment basis for FedEx:
The company's operating segments are as follows:
FedEx Express segment (60% of Sales) provides express transportation, air and ocean freight forwarding and customs brokerage, and logistics services.
FedEx Ground segment (25% or Sales) provides small-package ground delivery. The segment also includes

FedEx SmartPost, which acts as a small-parcel consolidator.

FedEx Freight segment (13% of Sales) provides less-than-truckload ("LTL") freight transportation as well as time-critical transportation.
FedEx Services segment (3% of Sales) provides FedEx's internal entities with sales, marketing, information technology, communications and back-office support. The segment comprises of FedEx Services, FedEx TechConnect, and FedEx Office. FedEx Services offers sales, marketing, information technology, communications and back-office functions, FedEx TechConnect customer service, technical support, billings and collections, and

FedEx Office document and business services and package acceptance.

Corporate segment (-1% of Sales) represents the company's intercompany transactions. Certain FedEx operating companies provide transportation and related services for other

FedEx companies outside their reportable segment. Billings for such services are based on negotiated rates, which the company believes are approximately at fair value.
Profitability
FedEx generated over $3.4 billion of operating income in fiscal year end (FYE) 2014. Earnings growth of 7.3% in FYE 2014 outpaced revenue growth of 2.9%. Operating income margin improved as well, growing from 7.3% in FYE 2013 to 7.6% in FYE 2014. FedEx should continue to realize margin expansion as it benefits from favorable shifts in sales mix. In FYE 2014, operating income by revenue segment was as follows:
FedEx Express generated $1.2 billion in operating income on $27.1 billion of sales -> 4.4% margin

FedEx Ground generated $2.0 billion in operating income on $11.6 billion of sales -> 17.2% margin

FedEx Freight generated $0.3 billion in operating income on $5.8 billion of sales -> 5.2% margin
As depicted in the sales segment analysis in the LR model, FedEx Ground is also the fastest growing segment for the company. FedEx Ground has grown at a 3-year compound annual growth rate of 11.0%, versus 3.3% and 5.4% for FedEx Express and FedEx Freight respectively.
DCF Valuation Model
These revenue and profitability growth drivers are reflected below in the Levered Returns discounted cash flow analysis model to determine an Enterprise Value. I then deduct net debt to conclude the total equity value and resulting per share value for the company:
Other Key Assumptions
Capital Expenditures: FedEx has historically spent between 7.5% to 9.5% of sales on capital expenditures. I've selected 8.0%, which is consistent with the 10-year average capital expenditures as a percent of sales.
Working Capital: To estimate FedEx's yearly working capital requirements, I analyzed the working capital accounts over the last four quarters: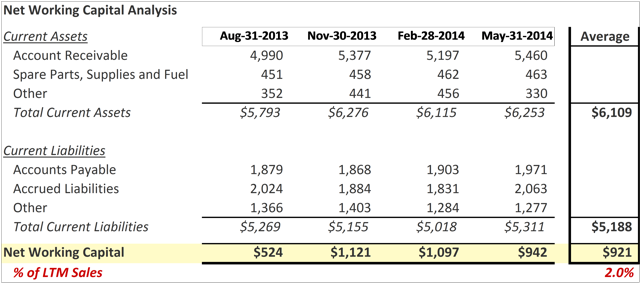 Source: SEC Filings
Discount Rate: To estimate the discount rate for FedEx, I used the Levered Returns discount rate model, which you can assess below:
Conclusion
As the DCF analysis implies, FedEx from a valuation perspective looks interesting here with a fair value price target of $183. FedEx is currently trading at an Enterprise Value to EBITDA (EV / EBITDA) multiple of 7.8x and forward P/E multiple of 17.50x, both at discounts to United Parcel Service (NYSE:UPS) which is currently trading at 11.3x EV / EBITDA and 19.59x P/E. Even at $183, FedEx would still only trade at 9.3x EV / EBITDA ($55,812 / $6,033). Recently though, FedEx stock has made a 9.5% run up since June 16, 2014 to $153.61 at July 6th. The next pull-back might present a fantastic buying opportunity.
Disclosure: The author has no positions in any stocks mentioned, and no plans to initiate any positions within the next 72 hours. The author wrote this article themselves, and it expresses their own opinions. The author is not receiving compensation for it. The author has no business relationship with any company whose stock is mentioned in this article.