Facebook (NASDAQ:FB) has been able to pivot its business model successfully several times in its first couple of years as a publicly-traded entity. The first bear argument centered around Facebook was that it would not be able to monetize mobile. Facebook obliterated that bear argument, and mobile now consists of a majority of its revenue. Next, Facebook was beaten up for its expensive purchase of Instagram for $1 billion. Today, that move seems exceedingly brilliant, as Instagram boasts a lofty 250 million users, and is beginning to monetize. Finally, Facebook's stock plummeted as concerning reports emerged of decreasing teen user engagement. However, Facebook squashed those rumors when the Forrestor Facebook Study was released touting Facebook and Instagram as having the highest user engagement rates among teenagers.
The newest bear argument that is beginning to form and is preventing this stock from reaching new heights is a lack of new revenue generation methods. With market saturation in the U.S. and Canada, which provide the highest average revenue per user, the thought is that revenue growth will decelerate. However, Facebook has several opportunities to continue to achieve significant revenue growth.
Video Ad Spending Flourishing
Video ad spending is expected to outpace all other ad spending avenues for the next 4 years, according to PWC. The segment is expected to experience a tremendous 24% compounded average growth rate. Google's (NASDAQ:GOOG) (NASDAQ:GOOGL) Youtube already generated $3.5 billion in revenue in 2013 with its video ad business and with such a high growth rate, Facebook is prudent to enter this advertising space.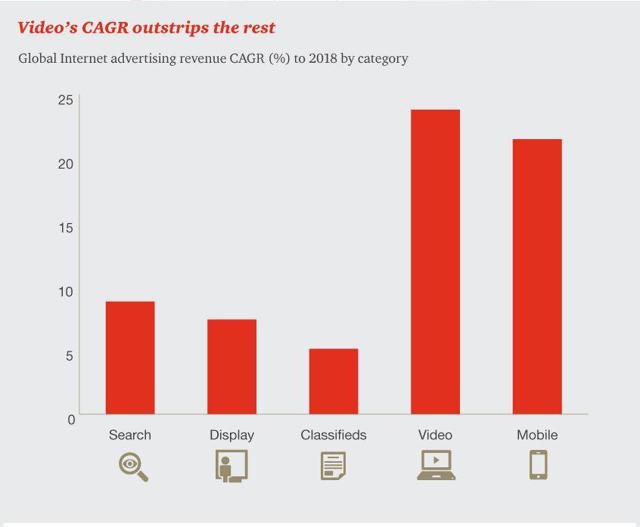 Click to enlarge
Source: PWC
Video Ads Moving The Needle
Facebook began rolling out video ads to a select amount of users in March. These ads can be serious revenue generators, as they cost advertisers between $1 million and $2.5 million per day, according to reports. However, Facebook did not roll these out too quickly in order to ensure they did not hurt the user experience. With the LiveRail acquisition, Facebook will be able to expand the number of these ads greatly. More can be found on the implications of the LiveRail acquisition in this article.
Facebook New Update- Setting Up A Battle With Google
According to a report by TechCrunch, Facebook adjusted its app on iOS to allow users to quickly watch a series of videos before returning to the news feed. The users will be prompted to watch other videos and will have to close the media player to return to the news feed. This alteration of video watching opens up the ability for Facebook to add in sponsored videos within the carousel of videos. This slight change coupled with higher quality videos, due to the LiveRail acquisiton, will make it difficult for users to differentiate the sponsored videos from organic ones, thus furthering Facebook's goal of integrating ads without hurting the user experience.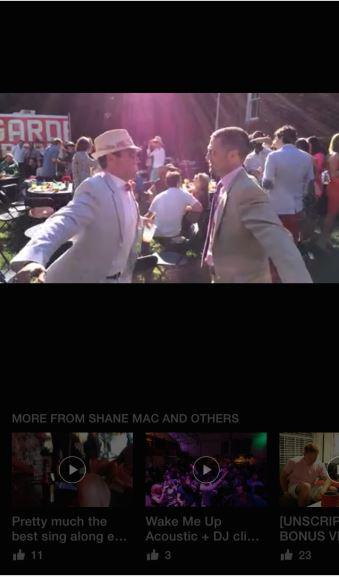 Source: TechCrunch
An ancillary effect of this update will be users will be encouraged to upload more videos, as the number of views and likes should rise. This feature is analogous to the "related news" suggestions that Facebook gives users on news links in their news feed. User engagement should increase after this change, and revenue per user will ultimately rise along with it.
Google should be wary of this update. Facebook has created a competitive advantage in two distinct ways. First, its 1.28 billion users reached a critical mass, and it now benefits from a network effect. The second and less apparent competitive advantage is with user data. Facebook by far has the most user data out of any social media platform. Google, Yahoo (NASDAQ:YHOO), Twitter (NYSE:TWTR), and SnapChat do not even pale in comparison. This unique information can then be used by advertisers to directly target ads to the demographic they would like.
Facebook will benefit from the network effect because users will not turn away from the service as their friends are all on it. With that, if Facebook is able to create a compelling alternative to Youtube, it may be able to cannibalize its business, as it can integrate it seamlessly with the Facebook platform. Although Youtube had the clear first mover advantage to the space, Facebook still has a realistic opportunity to battle it. Further, the vast amount of user data will drive advertisers to Facebook, as it will be easier for them to target their ads. The return on their investments in ad dollars will be unquestionably higher on Facebook's platform as compared to Youtube's.
Mobile Monetization
Although Facebook earns substantially less from emerging market users, it is developing a strategy to generate more revenue from them. Facebook's acquisition of Ascenta and Pryte marks a different way for it to monetize WhatsApp compared to its usual advertising revenue generation methods. Ascenta is a satellite drone company that will allow Facebook to cheaply send wireless access to remote areas. Pryte is a company that makes it easier for consumers without wireless data plans to use online services by selling short-term passes that provides internet access. With WhatsApp being popular particularly abroad, Facebook has a clear strategy in place.
Facebook will be able to sell internet access to remote areas. This strategy will disrupt the antiquated internet service provider industry. Facebook will achieve its initiative of connecting the world and will be able to make money in doing so. A more extensive analysis of this possible strategy can be found here.
Final Remarks
Facebook has many other avenues to generate revenue growth. The argument that Facebook will face decelerating growth with the onset of a market saturation in the U.S. and Canada is short-sighted. User growth in these two lucrative markets is not the only method to achieving outsized revenue expansion. Facebook's LiveRail acquisition, new alteration to its video feature, and monetization prospects for mobile make Facebook a compelling long-term investment opportunity.
Disclosure: The author is long FB, and is also long FB LEAP call options. The author wrote this article themselves, and it expresses their own opinions. The author is not receiving compensation for it (other than from Seeking Alpha). The author has no business relationship with any company whose stock is mentioned in this article.