By Karen Schwartz

Sell-side analyst price targets for AstraZeneca (NYSE:AZN) are up, despite concerns over upcoming patent expiration and less-than-ideal results from experimental cancer drug trials. The pharma giant continues to benefit from June's favorable court ruling on Crestor's US patent and an FDA committee's favorable recommendation for the expanded use of its Brilinta heart drug. A raised earnings per share target for the year and a lift in net share repurchase goals from $1 billion to $2 billion at the end of July pushed positive sentiment on the company.
The median price based on the thirteen most recent 12-month targets tracked by Alacra Pulse is 3500p, up from 3300p in August.
The mean price for tracked analysts who have changed or reiterated their targets since the beginning of August is 3450p, which would represent a gain of 10% from Wednesday's closing price of 3340p.
Click image to enlarge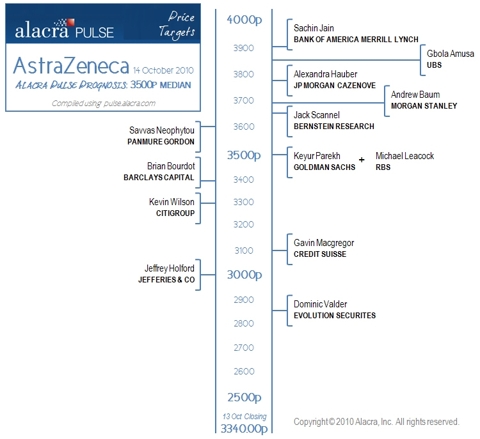 Click to enlarge
Bank of America Merrill Lynch's Sachin Jain reiterated his "Buy" rating and boosted his target to 3900p from 3700p. He believes that emerging markets growth, pipeline potential, continued operational efficiencies and a share-buyback program should offset the impact of AZN's "pipeline cliff."
UBS analyst Gbola Amusa lowered his target to 3850p from 4100p, but maintained his Buy recommendation.
Jefferies analyst Jeffrey Holford, meanwhile, raised his target from 3000p from 2900p, though he maintained a "Hold" rating on the company.
Michael Leacock at RBS, who has a target price of 3500p, cut his recommendation to Hold from Buy.
Shore Capital's Brian White kept his Buy recommendation despite news that Astra's experimental prostate cancer pill zibotentan had failed to improve survival in clinical trials.
"[The zibotentan] news extends a period of poor results for AstraZeneca's oncology franchise," he said, later adding that "despite the observation that zibotentan development continues in other prostate cancer settings we have not included sales of zibotentan in our forecasts."
Last month Exane BNP Paribas downgraded Astra to "underperform" from "neutral," citing "limited upside" to its research and development program.
The company also came into the fall set to pay nearly $200 million to settle personal injury claims tied to schizophrenia and bipolar disorder drug Seroquel. Charles Stanley analyst Jeremy Batstone-Carr noted that the drug maker was "trying to draw a line… to get rid of overhanging legal issues from the past to address the future with as clean a sheet as possible."
Zacks holds a #2 Rank (short-term Buy rating) on AstraZeneca, given the court ruling on Crestor's US patent (which was upheld and validated until 2016), a major win for the company, and the US Food and Drug Administration Committee's favorable recommendation for the approval of Brilinta for acute coronary syndrome.