Bad weather and missed merchandise trends combined to slam Francesca's Holdings Corporation (NASDAQ:FRAN) in the first half of 2014. This Zacks Rank #5 (Strong Sell) recently lowered guidance as it reconfigured its strategy.
Francesca's operates 513 small stores in 44 states in strip malls, shopping malls and neighborhoods which sell a mix of apparel, jewelry, accessories and gifts in a homey setting. It targets female shoppers aged 18 to 35 and brings in new merchandise every week to keep offerings fresh.
E-Commerce Taking Center Stage in 2014
The company also has a website, francescas.com, which accounted for just 2.6% of sales in 2013 but the company has made a commitment to e-commerce for 2014.
Over the next several years it expects e-commerce sales to grow to around 10% of total sales. To capture that market, the company is overhauling its website this year and launching a mobile app.
Weather and Inventory Doomed Q1
On June 10, Francesca's reported fiscal first quarter 2014 results and missed on the Zacks Consensus by $0.02. Earnings were $0.20 compared to the consensus of $0.22.
Francesca's blamed the severe winter weather for part of its troubles as in February it closed 360 boutiques either for part of a day or for a full day. But it also saw notable weakness in jewelry.
Comparable store sales, which includes e-commerce, fell 7% compared with the first quarter of 2013.
Warned on Q2 and Lowered Full Year Guidance
Despite improving sales trends in the second quarter, excess inventory continues to plague the company. It announced it would get rid of inventory in May and that it would hit Q2's earnings by $0.04 to $0.05.
That means that there will be pain in the first half of the year but hopefully better days ahead in the second half when it rolls out its fall merchandise.
Francesca's lowered full year guidance to $1.05 to $1.17 from $1.16 to $1.31. That means that analysts have also cut their estimates.
The Zacks Consensus Estimate fell to $1.09 from $1.22 in the last 90 days. Still, analysts see earnings growth of 3.9% this year.
Shares Fall to New 52-Week Low
Investors have fled the stock this year. After the earnings miss, shares sank to a new 52-week low.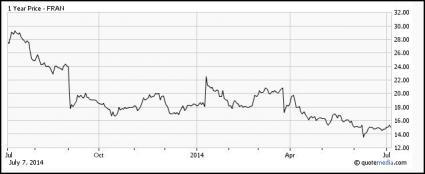 Yet shares are now attractively valued with a forward P/E of just 14x. Over the prior 2 years shares have been expensive, with a forward P/E over 25.
The Zacks Rank is a short term recommendation of 1 to 3 months. Francesca's is looking for a second half rebound which is a longer time horizon.
But if you're not willing to wait for a turnaround in the shares, and you really want to be in retail, you might want to consider Finish Line Inc. (NASDAQ:FINL). The Zacks Rank #2 (Buy) recently blew past the earnings estimate and is expected to grow earnings 12.7% this year.
[In full disclosure, the author of this article owns shares of FRAN.]