Three weeks ago, SolarCity (NASDAQ:SCTY) announced it is acquiring Silevo, a small U.S.-based solar module manufacturer. The move was similar to the one taken by Elon Musk when he announced Tesla's (NASDAQ:TSLA) Gigafactory plans. As everybody knows, the plans are to move Tesla into battery manufacturing and drastically reduce its costs.
If we further examine Musk's way of thinking, it is impossible not to think of Space-X. I highly recommend you watch Bloomberg's piece on Elon Musk. In one of Musk's interviews, I remember that he explained his thought process with Space-X. He said that he lined up all the materials needed to build a space rocket and thought how these materials could be better connected to create a rocket. He called it "rearranging the atoms."
Such a "rearrangement" was possible with Space-X due to the fact that very few rocket manufacturers exist around the world. It might work out with Tesla's plans, as vertically-integrated battery manufacturing is also not broadly present.
But will it work with SolarCity's plans? I believe the answer is "no." Let's go through the reasons for that.
Reason 1: The Technology Is Not "Groundbreaking"
Silevo has a target of 24% efficiency in cells. This is a very high target indeed, but the current efficiency Silevo manages to reach is 21%. That is not far from what Trina Solar (NYSE:TSL) is starting to produce. Even domestic SunPower (NASDAQ:SPWR) recently got an NREL certification for a 25% efficiency cell. In the technology front, it is very clear that SolarCity isn't buying something the competitors don't have with the Silevo acquisition.
Reason 2: Patriotism Vs. Economy
Elon Musk is known for advocating U.S. job creation by manufacturing in the U.S. While this is an admirable goal, SolarCity's shareholders should know that it's not the most economical alternative. Let's examine the two other big U.S. manufacturers, First Solar and SunPower.

Click to enlarge
Source: SunPower 10-K
SunPower, a front runner among the leading solar modules of the world, and the one that makes the most efficient solar cells, chose to base its production in Malaysia, the Philippines, Mexico, and France.

Click to enlarge
Source: First Solar 10-K
First Solar (NASDAQ:FSLR), another leading American manufacturer in the area of thin-film solar modules, chose to base its production mostly in Malaysia as well.
Why did these two companies choose other locations than the U.S.? Because it made sense, economically. This takes into account land costs, infrastructure, proximity to suppliers, labor costs, and more. The solar manufacturing business is not for the faint of heart. There is literally no room for error. A business where one cent on costs per watt could mean the difference between great profits and uncountable losses is not one to take chances with.
Reason 3: Vertical Integrated Solar Companies Are Not New
Based on SolarCity's presentation announcing the Silevo acquisition, an average shareholder might have gotten the impression that SolarCity is going to be the first and most integrated solar company in the world.

Click to enlarge
Source: SolarCity presentation, June 17.
That is just a false statement. There are manufacturers based in China that are far more integrated than SolarCity will be, and on a much bigger scale. For example, JinkoSolar (NYSE:JKS), the world's cost leader in solar modules, is building and owning solar projects (utility scale, not residential), and is integrated up to polysilicon manufacturing. They have more than 2 GW of capacity, two times bigger than what SolarCity will be.
Given that the future business model of SolarCity is already practiced, why and how could it see a lower production cost than the world's cost leader? Unless SolarCity sees some outstanding tax benefits by building its facility in N.Y., I don't see how they will enjoy a lower cost per watt.
Why Start That Big?
Even if SolarCity had reached the conclusion that it should go into manufacturing, should it start that endeavor with a 1 GW facility? The world's cost leader is employing 7,000 production workers to make about 2.1 GW of modules per year. That is 3.3 workers for each MW.
SolarCity's plans will require hiring approximately 3,300 employees. As of December 31, 2013, SolarCity had 4,312 employees. Starting the manufacturing facility will require increasing the workforce by almost 70%, at best.
I think that starting with a smaller operation would have been a much better way to determine whether the benefits outweigh the costs of manufacturing in-house solar modules. Achieving low costs is also possible in a ~500 MW facility. But hey, I don't believe "small" is in Elon Musk's vocabulary.
The Risk/Reward Just Isn't Worth It
Although I think this move by SolarCity carries great risks for current shareholders, it will also provide a reward if the company can pull this off. As we have seen, efficiency is not an issue and probably by the time SolarCity's facility will be online, high-efficiency modules will be available to purchase from Chinese competitors.
Now, I assume SolarCity is able to purchase solar modules at a price of about $0.70/watt. If SolarCity executes its production scales flawlessly, I believe they can reach a production cost of $0.55/watt. In 2015, the company is expecting to install about 1 GW of systems. That potential $0.15/watt saving will mean $150M of annual savings. On March 10, 2014, SolarCity presented at the 26th annual ROTH conference. The following slide was presented: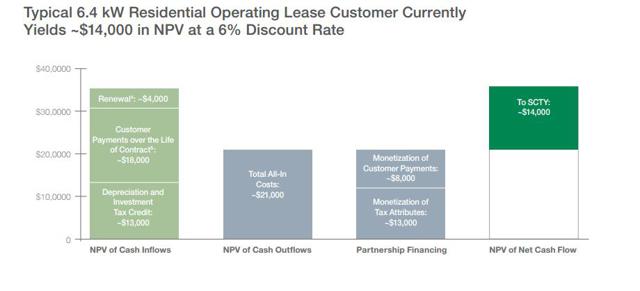 Click to enlarge
According to the above slide, it cost the company $21,000 to install a 6,400 watt system: $21,000/6,400 watt = $3.28/watt.
Given that cost, the $0.15/watt reduction is only a 4.5% cost reduction. And that is if SolarCity is able to achieve the alleged $0.55/watt production cost. Another benefit is securing a regular supply.
The risk is not reaching a competitive cost and having to run the facility underutilized and bear substantial costs.
Looking Forward
Looking forward, if the production facility actually reaches good enough costs, it might offer SolarCity an entirely different kind of advantage. Producing 1 GW/year of panels on U.S. soil might enable SolarCity to enter a new market, the utility-scale market. Developing and operating utility-scale projects in the U.S. using in-house panels could offer a great business opportunity.
Of course, there is no assurance SolarCity will enter that market, but in my view, this could be a safety net if current plans don't work out as planned. I have full confidence that those 1 GW of modules could find their place in the marketplace as a last resort.
Conclusion
After shareholders have had time to digest this announcement, I think every shareholder needs to consider if the added risk and the implied reward suits them.
I invite all of you to join the discussion, do you think SolarCity upstream adventure will pay off?
Disclosure: The author has no positions in any stocks mentioned, and no plans to initiate any positions within the next 72 hours. The author wrote this article themselves, and it expresses their own opinions. The author is not receiving compensation for it. The author has no business relationship with any company whose stock is mentioned in this article.