Big UK banks that stared into the abyss during the financial crisis are slowly regaining the favor of sell-side analysts. Barclays (NYSE:BCS), which escaped the worst of the crisis, had been the darling of several analysts, but suffered a setback this week on fears that it may have to raise more capital. Time then for a fresh look at the bailed-out Lloyds Banking Group (NYSE:LYG).
More than half the sell-side analysts tracked by Alacra Pulse have a Buy rating on the company, and analysts at Societe Generale, RBS, Evolution Securities, Bank of America Merrill Lynch and UBS have all raised their price targets since the beginning of August.
Reflecting the uncertainty about Lloyds' prospects, there is an unusually wide range of targets for a bank. Societe Generale's Patrick Lee expects the share price to almost double in the next year, raising his target to 140p from 110p. "The upgrade is partly driven by higher earnings, but we also believe the group has c.22p of excess capital per share," he wrote.
At the other end of the scale, Morgan Stanley's Steven Hayne has a target of 63p (up from 55p) and an Underweight recommendation. He sees better value in French banks and in the UK prefers Barclays and The Royal Bank of Scotland Group (NYSE:RBS).
Canaccord Genuity this week initiated coverage of Lloyds with a Buy rating and a price target of 88p, which also happens to be the median of the 13 most recent targets set by sell-side analysts tracked by Alacra Pulse.
The mean price of tracked analysts who have changed or reiterated their 12-month targets since the beginning of August is 91.50p, representing a gain of 30% from today's closing price of 70.18p.
Click image to enlarge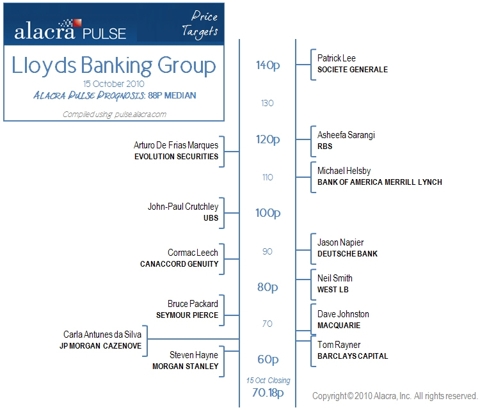 Click to enlarge
Canaccord's Cormac Leech notes: "Year to date, Lloyds has outperformed the Eurobanks index by c.48%. We estimate a further c.28% upside in our base-case scenario and 20% potential upside on a scenario-weighted basis."
Execution Noble's senior banking analyst Joseph Dickerson said last month he believes the company is ahead of the market's expectations in terms of its balance sheet and earnings profile. He has a Buy rating on the company and sets 'fair value' at 131p. "One step in narrowing LLOY's valuation gap, in our view, will be a material reduction in [the government's] stake in the bank which would likely trigger a virtuous circle of improved funding costs, a reduced stock specific risk premium and increased free float," Dickerson said. "With this virtuous circle a tangible prospect, investors who have ignored LLOY need to have a look."
And he is not alone. Ian Gordon, banks analyst at Exane BNP Paribas, noted last month that the £25bn Lloyds had raised puts it ahead of its financing targets for the year, against its its £132bn funding gap: "This [£25bn] doesn't in itself guarantee that all of the residual £132bn state-supported wholesale funding will be refinanced or rolled off without extension, but it makes it increasingly likely," he said.
But Michael Hewson, a market analyst at CMC Markets, pointed to the "wider demand for capital" on the way, especially in light of new Basel III capital requirements. Given the current level of uncertainty with respect to the European banking sector and the likelihood of further cash calls by other European banks to comply with Basel III, the likelihood of further upward movement in bank shares prices looks remote in the short term," he said.
Likewise, Seymour Pierce analyst Bruce Packard, who has a 72p target and a Hold rating, noted the impact that could have on banks' capital situations in the near term: "We would be nervous of anyone claiming that Royal Bank of Scotland and Lloyds Banking Group will have excess capital in two years' time."