Tom Armistead's recent Seeking Alpha article entitled "Shiller's CAPE Data Suggests S&P 3,500 in Five Years" reminded me of a similar article I wrote on April 3, 2013 entitled "Buy-And-Hold Returns? S&P 500 To 3000 By 2018." What spurred me to write that piece over a year ago was that the S&P 500 Index (NYSEARCA:SPY) had just joined the Dow 30 (NYSEARCA:DIA), Dow Transports (NYSEARCA:IYT) and the Russell 2000 (NYSEARCA:IWM) indexes in finally crossing its previous all-time high of 1575. While the two projections (Tom's 3500 in 2019 and my 3000 in 2018) appear to be very similar, they come about through dramatically different approaches.
Shiller's CAPE is an acronym for Cyclically-Adjusted-Price-Earnings. The approach compares current stock valuations to a 10-year average of earnings adjusted for inflation. CAPE attempts to apply a broad economic perspective to the subjective and mundane task of valuing businesses and equities. Based on reconstructed data covering the past 100+ years, when CAPE Ratios exceed 16.3 markets are considered "overvalued" and those under 16.3 are considered fairly or "undervalued."
However, the CAPE approach does have its critiques and detractors. For one, it doesn't take into consideration changes in generally accepted accounting practices (GAAP) that might impact the consistency of long-term average. Another currently relevant criticism is that CAPE fails to take into account the impact of long-term interest rates fluctuations, especially today's artificially low rates resulting from the Fed's QE programs. Finally, because it has such a long-term perspective it fails to signal turns in trends.
I arrived at my 3000 target for 2018 from what I called the "convergence to the mean" growth rate. Since 1939, the market had gained an average 7.5%/year, even after taking into account two 14-year secular bear markets. Furthermore, since 1939, the market has stayed within a channel with boundaries 45% above and below that 7.5% average annual rate of appreciation.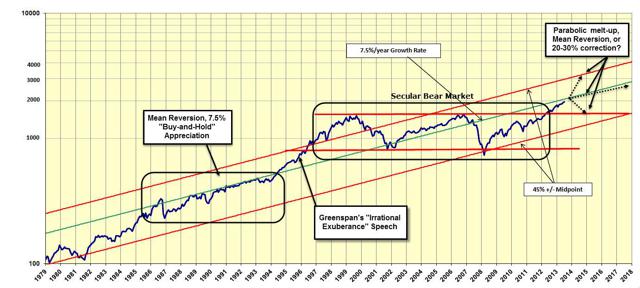 Greenspan made his "Irrational Exuberance" speech towards the end of 1996 when the market was about to cross above the long-term 7.5% appreciation mean trendline on its way towards and above the upper boundary during the Tech/Internet Bubble and ended in the 2000-2002 Tech Bubble Crash.
The next six months will be crucial as the end of QE coincides with the market approaching the long-term mean trendline at around 2100-2150. At that point, three alternatives are possible:
1) a speculative, parabolic melt-up could carry the market to the upper boundary;
2) markets could stabilize and begin tracking the more normal, long-term 7.5% appreciation rate, or;
3) a 20-30% correction could carry the market back down towards the upper boundary of the Secular Bear Market.
This time, the market's direction will depend less on another "Irrational Exuberance" speech than on how successfully those at the Fed unwind QE and allow interest rates to return to historically normal levels.
Disclosure: The author is long SPY. The author wrote this article themselves, and it expresses their own opinions. The author is not receiving compensation for it (other than from Seeking Alpha). The author has no business relationship with any company whose stock is mentioned in this article.