While the market is up 8.5% this year, our Top 10 list is up 24%, beating the market averages by a factor of 3 times. So, is it too late to buy the stocks on our list? Have they already gone up so much that they're just too expensive to buy now? The answer is that while some of them are getting close to becoming fully priced, there is at least one that still has plenty of room to grow for the rest of the year. Can you guess which one? Here's the list I published on Dec. 24, 2013.
Ticker

Company Name

Price on

12/24/13

Price on

7/7/14

YTD

Gain

Forest Labs

58.17

99.00

70.2%

Trinity Industries

27.66

44.89

62.3%

SNDK

SanDisk Corp.

70.26

106.76

51.9%

AllianceBernstein

21.50

26.57

23.6%

Arrow Electronics

52.99

61.61

16.3%

Lear Corp.

80.42

91.76

14.1%

Michael Kors

80.80

90.27

11.7%

KKR Corp.

24.35

24.86

2.1%

Maximus Inc.

44.00

42.99

-2.3%

New Oriental Education

29.96

27.10

-9.5%

YTD gain

24.0%

SPX

S&P 500

1,833.32

1,977.65

8.1%

Vang Tot Stk Mkt

94.85

102.44

8.4%

RUA

Russell 3000

1,100.02

1,181.42

8.0%
New Oriental Education is China's biggest learning center operator, and has been listed on the New York Stock Exchange since 2006. It focuses on English, core subjects and college entrance exam training. With the stock down almost 10% since I recommended it last December, it looks like a bargain to me. Naturally, we want to find out if there's something ominous going on with the company before jumping in, so I did some digging and could not find anything that would be a serious red flag.
There are nine analysts covering the stock, with two bulls, two bears, and five neutral opinions. But what stands out, at least to me, is the relative quality of the analysts involved. The two bulls -- Morgan Stanley and Jefferies -- are more credible and have a larger following among institutional investors than the two bears, Columbine Capital and Trading Central. There might be some confirmation bias going on beneath the surface for me, but I am very familiar with the work and reputations of these analysts. Here is the list of analysts who follow EDU: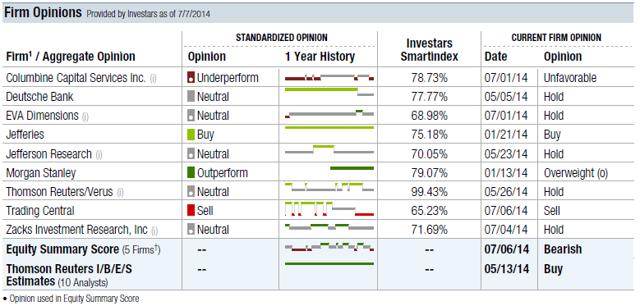 Source: Fidelity.
Of the 20 publicly traded for-profit school stocks covered by Zacks, EDU is the largest with a market cap of $4.55 billion. It sports a very reasonable P/E of 15.75, and earnings are expected to grow at a rate of more than 21% over the next five years. That gives EDU a PEG ratio of 0.76, one of the lowest in the industry.
Here's what TheStreet.com had to say about EDU in a recent article:
"Instead of driving to soccer practice, the Chinese version of a "soccer mom" shuttles her only son or daughter to a math tutor on Saturday mornings, an English training center Saturday afternoons, and Sunday morning piano lessons. The kid might relax a little before starting Sunday night homework.

This sort of running around for weekend schooling -- aimed at helping a child get ahead even in kindergarten, get into college and get a good job -- is a big reason why companies offering educational services are now stock investor favorites in China.

Parents across eastern Asia push extra education for pre-high schoolers. But in terms of customer volume no country comes close to beating the business potential in China, home to about 235 million children aged 14 and under. Moreover, Chinese parents are motivated by the one-child policy, which only recently was relaxed by the central government, to spare no expense that might help a son or daughter succeed."
The conclusion I reach after weighing the valuation metrics, the growth prospects, and the analysts' opinions, is that this is an opportunity with a very attractive risk/reward profile. If the Chinese economy were to slip into an outright recession, EDU would probably get hurt. But I don't believe that it would suffer permanent damage, given the importance of the business it's in and the substantial financial resources it has.
Disclosure: The author has no positions in any stocks mentioned, but may initiate a long position in EDU, KKR, MMS over the next 72 hours. The author wrote this article themselves, and it expresses their own opinions. The author is not receiving compensation for it (other than from Seeking Alpha). The author has no business relationship with any company whose stock is mentioned in this article.