The 40-day, SEC-enforced quiet period on underwriter analysis publications that began with the June 11 IPO of Trinseo S.A. (NYSE:TSE) will conclude on July 22, allowing the IPO underwriters to publish research reports on the global manufacturer of specialty emulsion polymers and plastics.
The underwriters' detailed research reports will likely lead to at least a brief increase in the price of TSE shares, beginning two days prior to the expiration.
Steady Gains Post-IPO
TSE's IPO priced at $19 per share, the high end of its expected range, and experienced a small 6.6% first-day return. The stock has seen steady gains over the past week. TSE closed at $21.65 per share on July 7th.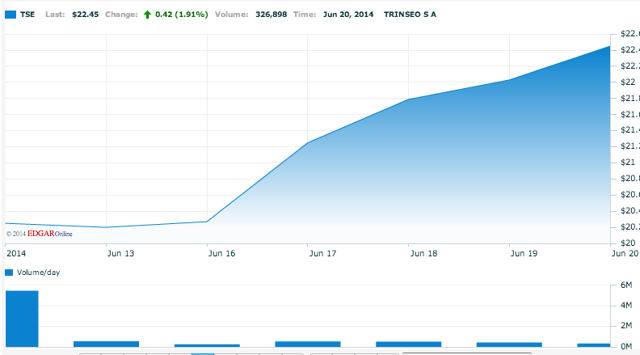 (Nasdaq.com)
Several Reputable Underwriters
TSE's IPO underwriters, including Citigroup Global Markets Inc.; Goldman, Sachs & Co.; Deutsche Bank Securities Inc., Morgan Stanley & Co. LLC, BofA Merrill Lynch, Barclays Capital Inc., HSBC Securities (NYSE:USA) Inc., Mizuho Securities USA Inc., Jefferies LLC, Scotia Capital Markets, SMBC Nikko Securities America, Inc., and Wells Fargo Securities, LLC, will seek to maintain the stock's strong early momentum and accelerate its growth after the release of positive research reports beginning with the conclusion of the quiet period.
Evidence That Quiet Period Expirations Can Open Buying Opportunities
As The Journal of Finance (VOL. LVIII, NO. 1; 2003) explains, share prices generally begin to rise a few days ahead of the quiet period expiration, as savvy investors anticipate positive reports from underwriter analysts and begin to buy shares.
Lead author Dan Bradley, PhD, CFA, of the University of South Florida and his colleagues report that analysts initiate coverage for 76% of firms with the expiration of the quiet period, almost always with a "Buy" or "Strong Buy" rating. Bradley and his colleagues also find that firms with coverage initiated see abnormal positive returns of 4.1% in the two days preceding and the two days following the date of initiation.
This conclusion is supported by the work of Carter, Piwowar, and Strader (2001), who also find that the mean analyst rating at the expiration of the quiet period is a "Buy," and that higher returns correlate to higher ratings.
The early buys generate an atmosphere of increased demand, leading share prices to increase in advance of the quiet period expiration and creating a short-term buying opportunity.
Bradley et al also find a significant correlation between the number and reputation of IPO underwriters and rising share prices at the conclusion of the quiet period. The past three years of our own research have generated data that align with the above academic publications.
When coverage is initiated by more than one analyst, returns have been found to increase to an even greater extent - to 6.4%.
TSE's Manufacturing Business: Formed From Dow Chemical
TSE manufactures and markets specialty emulsion polymers and plastics that are incorporated into products, including tires, food packaging, carpet, medical devices, electronics and much more worldwide. The firm was formed out of the Dow Chemical Company's Styron Division after Bain Capital Partners acquired the division in 2010.
TSE serves its broad customer base through a global manufacturing presence, with manufacturing facilities in high growth markets like Indonesia, China and Brazil. As of March 31, 2014, TSE had a total of 35 manufacturing plants operating in 14 different countries, as well as 11 research and development facilities spread across the globe.
TSE's Competition, Risk of Price Fluctuations
TSE competes with other materials providers, including some that may have greater access to financial and technical resources than TSE. The market for TSE's products is significantly affected by price fluctuations in raw materials, as other firms use different materials for the chemical processes used to produce competing products.
TSE's competitors include the likes of LG Chem Ltd., BASF Group (OTCQX:BASFY), Zeon Corporation, Lanxess AG (OTCPK:LNXSF), Bayer MaterialScience AG (OTCPK:BAYRY), Wacker Chemie AG (OTC:WKCMF), Saudi Basic Industries Corporation, Styrolution Group GmbH, Total S.A. (NYSE: TOT), and Versalis S.p.A.
Management With Strong Industry Experience
Christopher D. Pappas has served as the President and CEO of TSE since June 2010.
He previously worked in several executive positions with NOVA Chemicals, including President and CEO of NOVA Chemicals, Vice President and President of Styrenics, and President and COO.
He also served as the Commercial Vice President for DuPont Dow Elastomers. Mr. Pappas is a Director of FirstEnergy Corp. (NYSE:FE).
Conclusion: Another Buying Opportunity For a Growing Firm
TSE's early growth on the market is a promising sign for the materials firm.
Though TSE does face massive competitors, it has the scale to butt heads with them, and has a strong position in several of the markets it serves.
The firm holds the top market position in styrene-butadiene latex in Europe and the second position in the U.S.
Though TSE had a small loss in calendar 2013 and is significantly indebted, investors seem to have responded to the firm's strong first quarter.
The upcoming quiet period may represent a chance for investors to ride the firm's early success.
We invite readers wishing to join the discussion on IPOs to click the +FOLLOW button above the title of this article and follow @DRDInvestments on twitter.
Disclosure: The author is long TSE. The author wrote this article themselves, and it expresses their own opinions. The author is not receiving compensation for it (other than from Seeking Alpha). The author has no business relationship with any company whose stock is mentioned in this article.