GlaxoSmithKline (NYSE:GSK) has been undergoing some significant restructuring over the recent past in a bid to cement its position in various core operations.
The company has formed key partnerships in the production of various drugs, as it seeks to establish vibrant access to emerging markets and regions of East Asia. GSK's recently approved Anoro Ellipta seems to set the stage for more approvals of some of the company's respiratory products, as Japan paints a green light for the product in prospective markets.
Glaxo's recent performance appeared muted, and its return on investment YTD has not been the most impressive. However, its high dividend yield makes a lucrative cushion for the failure to deliver capital gains in tandem with industry peers.
Swapping Oncology for Vaccines makes sense
GSK recently announced a strategic agreement with Novartis (NYSE:NVS), which is aimed at swapping key assets that would result in vital business benefits, including concentrating its operation in areas that it seeks to dominate in the coming years. The company would be swapping its Oncology business with Novartis' vaccines business in a bid to strengthen its presence in the vaccines market.
The deal between GSK and Novartis will form a new world-leading consumer healthcare business with 2013 pro forma revenues of over $11 billion. GSK will have majority control with an equity interest of 63.5%. GSK Chief Executive Officer Sir Andrew Witty discussed the positive benefits to shareholders and for the company:
"This proposed 3-part transaction accelerates our strategy to generate sustainable, broadly sourced sales growth and improve long-term earnings. Opportunities to build greater scale and combine high quality assets in Vaccines and Consumer Healthcare are scarce. With this transaction we will substantially strengthen two of our core businesses and create significant new options to increase value for shareholders.

We also expect to return £4 billion to shareholders following completion of this transaction, whilst maintaining a strong capital base and our commitment to increasing dividends."
The proposed deal is expected to increase GSK's annual revenues by $2.2 billion split across the divisions; Pharmaceuticals 62%, Consumer Healthcare 24% and Vaccines 14%.
Now, there are crucial benefits associated with this move. While the company is set to bring on board an unprofitable unit from Novartis, it is giving away a profitable oncology business. One would wonder what GSK sees in Novartis' underperforming vaccines business. It's simple; the company is focused on long-term benefits.
Key Strategic Highlights
GSK is acquiring Novartis' vaccines business for $5.25 billion. It will be paying a royalty fee of 10% on a selection of vaccine products, and has agreed to pay a contingent of $1.8 billion. On the other hand, Novartis has agreed to pay a contingent of $1.5 billion for GSK's Oncology R&D business, which it has acquired at $14.5 billion.
Note that GSK's vaccines business has been doing well and the company is a force to be reckoned with in the market. Therefore, by acquiring Novartis' underperforming vaccines business, GSK will be able to leverage this deal that would result in long-term benefits for shareholders at an affordable rate. Upon completion of the deal, around 70% of GSK's revenues will be focused around four key franchises, which are Respiratory, HIV, Vaccines, and Consumer Healthcare.
GSK will become a global leader in Consumer Healthcare, with over $12 billion in revenue in 2013. Upon the completion, GSK expects to be an industry leader in over-the-counter categories, including Wellness, Oral Health, Nutrition and Skin Health. Further, within the Wellness category, GSK is adding over $6 billion in complementary portfolio assets to become the world's largest OTC business with leading positions in over 35 countries.
Considering the rising trends in both risk and upfront capital involved in bringing new drugs to market, pharmaceutical companies will begin to concentrate on a smaller portion of therapeutic areas in order to maximize efficiency. Fitch Ratings points out that GSK's move to dispose of its cancer drug portfolio is seen as a net positive, as the company did not have the scale to compete within the specific industry. Furthermore, the acquisition of Novartis' vaccines business will strengthen GSK's ability to focus on its higher performing areas with its research and development pipeline that includes vaccines and respiratory drugs.
Fitch further discussed how the deal will effect the credit rating and its impact on GSK's financial ratios:
We do not expect the transaction to affect either company's credit rating, [and further] will little impact on GSK's financial ratios, given that a large portion of the proceeds will be passed through to shareholders via extraordinary share buybacks, but we expect some margin benefit in the long term from cost savings. The group's business profile would benefit from becoming the global leader in the vaccines segment in addition to the improved position in consumer healthcare. This creates a more stable growth platform with still sufficient diversification.
The fact that Novartis' vaccines business has been underperforming over the recent past means the valuation has gone down, all be it theoretically, because once GSK fits it into its own vaccines business, the long-term benefits are incremental. GSK will be inheriting a recently approved vaccine against meningitis B, first of its kind, named Bexsero. Bexsero was approved by European Health Officials in 2013, and has been given the go ahead by regulators in Canada, Australia, and partial approval in the U.S. to stop the outbreaks of meningitis across select university campuses.
Now, one interesting fact about GSK's move to focus on vaccines is that this is bound to generate predictable revenues for the company with marginal benefits in the long term from cost savings. GSK estimates that total annual cost savings over $1.5 billion, 80% coming from contributions of Consumer Healthcare and Vaccines, and 20% from savings associated with the divestment of the company's oncology portfolio. The potential savings will be generated from reductions in selling and administrative overhead, removal of infrastructure overlaps and a reduction of third party contracting.
GSK will divest its Oncology portfolio and related R&D activities for a lucrative aggregate cash sale of up to $16 billion to Novartis which has the opportunity to leverage its global scale and experience in this specific therapy area.
GSK is looking to reshape what has been an underwhelming performance over the recent past, as highlighted in recent results.
Recent results offer little to impress
GSK released its Q1 2014 results in April 2014, which saw the overall revenue decline 2% after adjusting for currency translation. The pharmaceutical business declined by 10% in the US due to high competition in the respiratory drugs market.
The growth remained moderate elsewhere - with Europe pegged at 3%, Emerging markets 2%, and Japan 13%. The vaccines business was up 3%, while the consumer healthcare business grew by 6% in rest of the world (excluding US and Europe).
The company's operating margin shed some 270bps from Q1 2013 to 27.3%. The net profit (excluding adjustments for restructuring) edged 20% lower to £1.07 billion.
The company's guidance for FY 2014 remains muted, as it expects sales growth to face headwinds due to various factors, including Lovazo losing its exclusivity, ongoing restructuring and supply problems in the US.
Nonetheless, the company expects core EPS to grow by 4-8% in 2014, with analysts optimistic of a $3.49 EPS for the current year.
GSK may not be the ideal income stock for the moment
The company's return on investment YTD stands at a paltry 2.50%, which is significantly below the sector average of 9.45%.
This is particularly unconvincing to investors considering the fact that key industry rivals like Merck (NYSE:MRK) and Novartis have enjoyed better returns at 18.28% and 13.75%, respectively.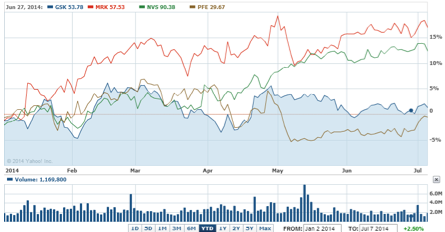 Source: Yahoo Finance
Nonetheless, GSK's performance is not the worst in the industry with the giant Pharma company, Pfizer (NYSE:PFE), which recently failed in a bid to acquire U.K's AstraZeneca (NYSE:AZN), returning (-0.33%).
However, GSK's impressive 5-year average dividend yield of 4.90% is likely to provide the necessary cushion for low capital gains. The Q1 2014 dividend increased by 6% and the company is planning a further £1-2 billion in share buyback.
GSK product pipeline
Looking at the company's stage pipeline for pharma drugs, GSK appears to be strategically focusing on respiratory and HIV segments in 2014.
Breo and Anoro have already received approvals in various markets while Incruse, which has been approved for use in the US, is awaiting release this year. However, one of the most significant and recent developments in the product involves the approval of Anoro Ellipta in Japan.
Anoro Ellipta enters Japan, as GSK product pipeline continues to turn green
On July 4, GSK and Theravance (THRX) announced that their respiratory drug Anoro Ellipta has been cleared by Japanese Health authorities for use to relief symptoms of airway obstruction in patients suffering from chronic obstructive pulmonary diseases [COPD]. This approval came after positive data from eight studies in a population of ~6,000 patients.
Now, based on these developments and considering the population involved in the study, Anoro Ellipta seems set for bigger things. This opens the stage for the drug as the company seeks to have it approved in other markets. The drug is also approved for use in the US and Europe. The approval of the drug for use in Japan could not have come at a better time considering the double-digit growth (13%) in the company's business in the country in the most recent quarter.
David Baker, Senior Vice President and Head of GSK Global Respiratory Franchise, discussed the importance of Anoro Ellipta in Japan and how this is a huge milestone for GSK:
"There are many people living with COPD in Japan whose ability to breathe is compromised by their condition. Our goal at GSK is to provide physicians with an expanded range of COPD medicines which enable a patient-centric approach to treatment, as recommended by global guidelines. We are delighted that Anoro Ellipta is now approved in Japan, making it the first GSK COPD treatment to gain Japanese regulatory approval in five years, and we believe it will be an important new once-daily dual bronchodilator treatment option for appropriate COPD patients."
Meeting the Japanese guidelines brings hope to investors, as GSK may have figured out the appropriate means that will allow for further approval of the company's products. Six respiratory drugs are in the last stage pipeline, 40 NMEs in Phase II/III stage and 2 new US filings planned this year. Anoro Ellipta's successful approval for use in Japan could soon be followed by several other approvals in the coming quarters, as the company seeks to revamp its aging product pipeline with new exclusive products.
In addition, the company's diabetes drug Tanzeum has obtained FDA approval and is planned for launch in Q3 2014.
Conclusion
GSK's restructuring is on course to reshaping the company's recent performances. The ultimate change may not happen tomorrow or by the end of this year, as this a long-term strategy aimed at changing the company's big picture.
The pharmaceuticals market has been undergoing a paradigm shift in the recent past, as companies have sought to move from the traditional "jack of all trades" to specialist manufacturers. GSK has not been left behind and its latest move to swap its oncology business with vaccines outlines a key milestone.
Theoretically, the company may not be the best in terms of return on investment, which also justifies its consensus hold rating by Deutsche Bank and Piper Jaffray, among other leading analysts. However, as mentioned, its high dividend yield has been a welcome cushion for underwhelming capital gains in the current year.
The bottom line is that GSK's restructuring is likely to put it in a position in which incremental revenues would be highly predictable thereby boosting its valuation metrics. However, for now, the stock is only a buy for long-term investors who would be willing to swap capital gains for dividends, as the company continues to revamp its product pipeline.
Disclosure: The author has no positions in any stocks mentioned, and no plans to initiate any positions within the next 72 hours. The author wrote this article themselves, and it expresses their own opinions. The author is not receiving compensation for it (other than from Seeking Alpha). The author has no business relationship with any company whose stock is mentioned in this article.