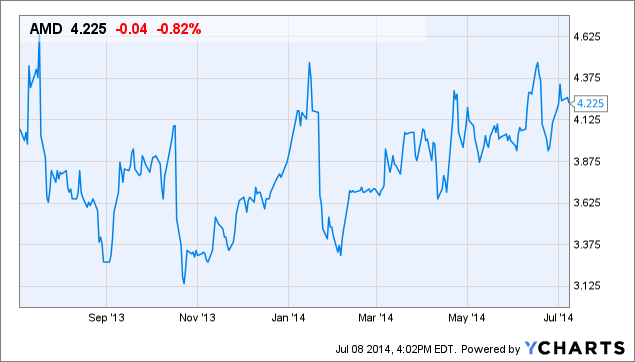 AMD data by YCharts
Background: Advanced Micro Devices, Inc. (NYSE:AMD) operates as a semiconductor company worldwide. The company was founded in 1969 and is headquartered in Sunnyvale, California. The shares are liquid and trade an average of 24 million shares per day and the company has a market cap of $3.2 billion.
52 Week Range: $3.04 to $4.65
Forward Price To Earnings Ratio: 19.1
Price To Book: 6.4
A profitable second quarter earnings report is expected by Wall Street after the market closes on July 17, 2014. The consensus mean is 2 cents a share, a gain of 11 cents from a loss of 9 cents during the corresponding quarter last year.
Analysts' estimates this quarter range from losing 1 cent to a high of 4 cents per share. If Advanced Micro Devices meets or exceeds in the upcoming report, the earnings will also match or surpass last quarter. Last quarter, the company produced earnings of 2 cents, a 2 cent beat over estimates.
Most of the analysts are bestowing this company a hold rating. Fifteen out of 29 are now rendering a hold recommendation. Eight recommend this as a buy and 6 recommend selling.
Five out of 29 analysts now rate Advanced Micro Devices a strong buy up from 4 analysts a month ago. The number of analysts rating Advanced Micro Devices a strong buy during the last three months has moved up and down. Most recently, Pacific Crest downgraded the chip maker from Sector Perform to Underperform on June 23rd, 2014, Argus upgraded the shares on June 16th, 2014, to a Hold rating, and Canacord Genuity initiated Coverage with a Buy Rating and a $5 price target.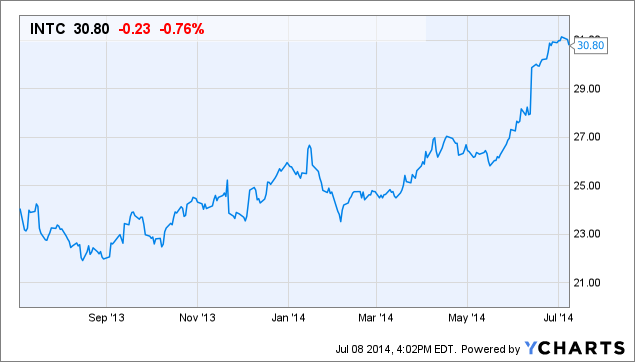 INTC data by YCharts
I often write about Intel (NASDAQ:INTC) including an earnings preview, and I believe it's a strong buy for growth and collecting dividends. I wish I could, but I can't say the same for Advanced Micro Devices. I love the products, and I think they're a superior value in many cases, but it's the value that's a problem for shareholders.
The company has to discount most of its CPUs relative to Intel chips to sell them. Discounting is another way of saying demand is soft and the brand is an alternative. As long as comparable Intel chips sell for more than Advanced Micro Devices' chips, the company will struggle to gain more than enough market share for Intel to keep government regulators off its back due to monopoly concerns.
That doesn't necessarily mean you shouldn't buy and or own shares. Advanced Micro Devices' precarious situation isn't a secret, and the market has already discounted it. But it does indicate the growth prospects are limited absent a competitive advantage breakthrough. Intel can squeeze margins and profit at will.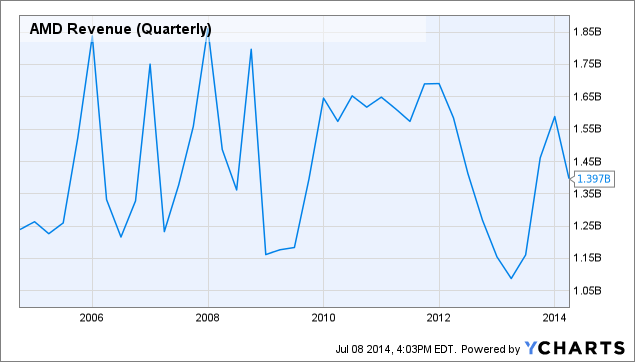 So between the two, I like Intel's investment thesis more and suggest owning Advanced Micro Devices only if you want highly speculative exposure. With a good run, the shares could double once again, but if due to a rising tide, Intel stands to profit even more.
Investors can gain valuable insight through the options market. The price of calls and puts indicates the level of expected price volatility through the earnings release. The greater the premium, the farther investors believe the stock's price may change.
Option buyers and sellers are betting on a price change of a 52 cent up or down move in the stock price, or about a 12% change during the next 11 days.
In other words, shareholders or potential investors should reasonably expect the stock to trade as low as $3.74, or as high as $4.78, and still remain within one standard deviation. If you're not already fully prepared for at least that much volatility (and there's no guarantee it won't move beyond the expected range), you want to make the necessary adjustments before the last minute.
In the last 12 months, the shares have modestly moved higher. The one-year return is 4.4%, and the average analyst target price for Advanced Micro Devices is $4.21.
After last quarter's results, the shares increased an impressive 11.7%, or 43 cents from the close before the earnings release to the closing after. The closing price before the release was $3.69 and closed at $4.12 the day after.
From the closing price before last quarter's results, until now, the shares increased 15.4%, or 57 cents. The closing price before the release was $3.69, and currently is about $4.12 as of this writing.
Based on last quarter's results and the current implied volatility of options, it appears that all else being equal, selling premium is superior to buying. Shareholders wanting downside protection may be just as well off selling covered calls instead of buying puts.
Regardless of the change in price, investors can capture the time premium between now and after the earnings release by selling call options while also protecting your portfolio. Simply buy back any calls sold after the report. If the shares jump higher, what you lose in stock appreciation is likely more than made up through the expected fall in implied volatility.
Disclosure: The author has no positions in any stocks mentioned, and no plans to initiate any positions within the next 72 hours. The author wrote this article themselves, and it expresses their own opinions. The author is not receiving compensation for it (other than from Seeking Alpha). The author has no business relationship with any company whose stock is mentioned in this article.